California vs. UCLA Live Blog: Cal Going for First Conference Win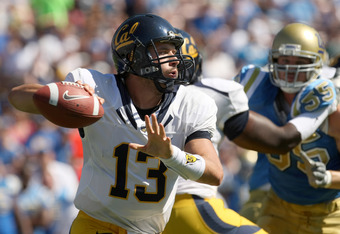 Stephen Dunn/Getty Images
Welcome to my live blog for today's California-UCLA matchup, brought to you straight from my living room in Walnut Creek, CA.
After dropping their conference opener, Cal needs a win to stay relevant in the Pac-10. After dropping their first two contests in embarrassing fashion, UCLA has won three in a row, and Rick Neuheisel's pistol offense looks like it's finally beginning to take.
I'm the Featured Columnist for Cal Bears football, so you'll have to excuse me if my account of the game is somewhat biased. Regardless, all of us should be in for some fun over the next several hours.
Cheers.
I want to thank everyone who stuck around for bearing with me. This was my first live blog, and I have to say it was more stressful than I had anticipated. Fun though.
I'll have a proper game recap posted later today, feel free to check that out for a laugh or two.
Till then, adieu.
There's your ballgame, folks. Cal gets their first conference win of the year, and UCLA's three game win streak goes down in flames.
Bottling up the pistol is a huge statement by the Bears, and they may not be dead quite yet.
UCLA can't do anything with the field position gift. Turnover on downs. Cal takes over on their own 6.
Ross fumbled the ball on the return. UCLA recovers on the Cal 9-yard line. Shrug.
Pendergast isn't taking his foot off the gas. Another corner blitz, another sack. That's (I think) five on the day for Cal.
Richard Brehaut is in at quarterback for UCLA. Looks like Neuheisel doesn't want to take any chances with Prince's bum knee.
Turnover on downs as the Bears fail to convert on fourth down. Riley took a pretty good shot from Patrick Larrimore, but he appears to be okay.
Looks like the Bears are in garbage time mode. Sofele is in with Vereen on the bench. Unless something crazy happens, this game is over.
UCLA has no choice but to go for in on 4th-and-5, and Prince throws an incompletion.
Cal takes over on the UCLA 39-yard line.
Touchdown Bears! Marvin Jones gets the ball on a reverse and takes it 48 yards for the score.
35-7 Cal with 8:56 to play.
278 rush yards for the Bears.
Allen just recorded his third catch of the game. This shouldn't be significant, but it's more than he had in the last two games combined.
Ross muffed the punt, but he managed to recover the ball on the Cal 32-yard line.
Hard to blame him for the miscue. The dude has fielded every single one of Locke's punts. He must be getting tired by now.
Another three and out for UCLA. Locke will punt from his own endzone.
Anger's punt is downed at the UCLA 3-yard line.
The Bears may be sputtering on offense, but they're definitely not about to make it easy for UCLA to get back in this thing.
A couple of Vereen runs gets Cal into Bruin territory.
By the way, Riley seems to have nothing open down the field every time he drops back to pass. One supposes that the UCLA secondary is doing work.
Meanwhile, Allen gets nothing on a reverse, and the Bears are forced to punt.
That's the end of the quarter right there.
UCLA got on the board, but that's about all that happened in the last 15 minutes.
Another three and out. Another Locke punt. So it goes.
UCLA takes over on their own 27.
By the way, Prince needs three more attempts to match his season high. One suspects that wasn't what Neuheisel and his staff wanted to see today.
Riley just got destroyed by Akeem Ayers on 3rd-and-short. That man is a king-hell beast.
Anger in to punt.
The roughing call goes for naught.
Locke in to punt again.
Mychal Kendricks gets the fourth sack of the day for the Bears. UCLA is definitely trying to pass the ball a little more in the second half, and it cost them big time right there.
3rd-and-22 becomes 3rd-and-27 after a false start.
Huge break for UCLA as Chris Conte is called for roughing the kicker. That's a 15-yarder and a first down for the Bruins.
Three and out for the Bruins on their ensuing possession.
Locke on to punt for the sixth time.
Tavecchio's kick goes off the right upright (sound familiar?).
Bruins take over on their own 31.
Ayers gets in Riley's grill once again, and totally disrupts a screen attempt to Vereen.
Tavecchio in for a 48-yard attempt.
This article is
What is the duplicate article?
Why is this article offensive?
Where is this article plagiarized from?
Why is this article poorly edited?

Cal Bears Football: Like this team?