Michigan vs. Michigan St. Football: Live Blog, Stats, Analysis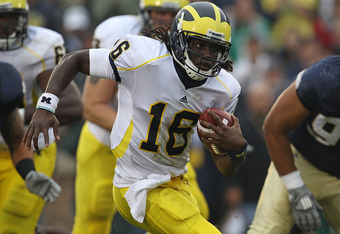 Jonathan Daniel/Getty Images
Good afternoon, college football fans. This is Keyon Jeff, college football feature columnist here, live blogging today's Michigan-Michigan St. matchup from the Big House in Ann Arbor.
There is more at stake in today's match up than just the Paul Bunyan trophy. The Spartans and Wolverines are both 5-0 and ranked in the Top 20.
College football's leading rusher and early Heisman Trophy candidate Denard Robinson faces his biggest challenge so far against a strong Spartan defense. Can Michigan St. contain the Michigan quarterback phenom?
Join me for the next three hours or so, and see if Michigan or Michigan St. remains tied on top of the Big Ten. I'll talk about everything from X's and O's to the ESPN commentators and have some fun along the way.
Thanks for following me during the game. This was fun covering a Big Ten game. I usually watch SEC contests on Saturdays. See ya'll next week. Peace!
Final Stats:
Denard Robinson: 17/29, 217 yds, 1 TD, 3 INTs; 21 carries, 84 yds.
Kirk Cousins: 18/25, 275 yds, 1 TD
Edwin Baker: 22 carries, 149 yds, 1 TD
Michigan: 34 carries, 160 yds (averaged 324 yards a game)
Michigan St: 43 carries, 261 yds (averaged 220 yards a game)
I guess it's safe to ask now if Denard Robinson had been a fraud through the first five games of the season?
Game over! Michigan St. wins 34-17! Three consecutive victories over Michigan.
I guess Major Hester made the right decision, delaying pacemaker surgery to see MSU win this game.
Punting was the right move by Rich Rod. Michigan was at their own 30. You can't go for it that deep in your own territory.
Conroy hits 28-yard FG to put MSU up 34-17 with 7:14 left in game.
Shoelace throws into double coverage and MSU corner Chris Rucker intercepts the pass.
Shoelace's Heisman hopes will take a big hit unless he leads a comeback.
Michigan finally doing to gang tackling.
Denard Robinson plows for a 4-yard touchdown run. Extra point good. Wolverines cut into deficit 31-17, with 14:56 left in 4th quarter.
3rd quarter comes to an end with MSU up 31-10.
If Spartans go on to win this game, what are the chances they win the Big Ten title? They don'y play Ohio St. this year, but they're toughest remaining games are on the road at Northwestern on 10/23 and Iowa on 10/30.
Larry Caper broke three tackles on 8-yard touchdown run. Extra point good. MSU pumps up lead to 31-10, with 4:55 left in 3rd quarter.
Wolerines tackling has been garbage, while Spartans have been taking down guys one-on-one.
Did you see Rich Rod's face on that clipping penalty? He looked like Lurch from the Addams Family!
Shoelace throws second red zone interception of the game. MSU takes over at the 7-yard line.
How do you short-arm a 10-yard pass Shoelace?
Mark Dell double moves Cullen Christian and beats him on a 41-yard TD catch. Extra point good. Spartans now up 24-10, with 12:32 left in 3rd quarter.
James Rodgers is the only senior in the Michigan secondary. They can't afford to lose him.
Just got ESPN The Magazine The Body Issue in the mail. They sent me one with Camilo Villegas on the cover instead of Diana Taurasi or the U.S. women's water polo team. That's BS! Who wants a naked male golfer on their cover? I should cancel my subscription right now!
Michigan FG attempt blocked as 2nd quarter ends. MSU leads 17-10 at halftime.
Shoelace: 9/15, 141 yds, 1 TD, 1 INT; 12 carries, 46 yds
Cousins: 10/14, 114 yds.
Baker & Bell: 10 carries, 135 yds, 2 TDs
That was better catch by Martavious Odoms than a pass by Shoelace. Pass was way underthrown.
38-yard FG by Dan Conroy increases MSU lead to 17-10
Huge sack by Michigan, probably knocking Spartans out of FG range.
This article is
What is the duplicate article?
Why is this article offensive?
Where is this article plagiarized from?
Why is this article poorly edited?

Michigan Wolverines Football: Like this team?