South Carolina Vs. Alabama: Live Blog, Stats, Analysis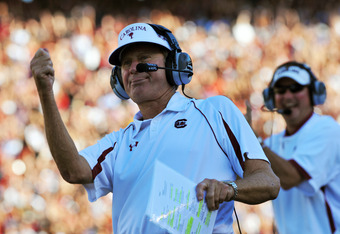 Al Messerschmidt/Getty Images
I don't think I'm overstating the case in proclaiming this a big time matchup today in the SEC. This one could go a long way to deciding a lot of major bowls later down the road. College Gameday was about a mile away on USC's Horseshoe, the most historic and beautiful part of South Carolina's campus. Kirk Herbstreet even picked a South Carolina upset, while Corso donned the Elephant head.
It may be Alabama's toughest road test left on the schedule, and after the Iron Bowl, the biggest hurdle between them and another perfect regular season.
For South Carolina, this could go a long way in legitimizing their push for an SEC East championship and a rematch with likely either Auburn or Alabama in the SEC Championship.
There are star players and intriguing matchups all across the field, many of which we'll discuss today.
But for now, let's just enjoy a great SEC matchup while the rest of the conferences look on in envy.
We'd love to have your comments in the comments section.
Outcomes from this game:
South Carolina now the clear favorite in the East.
The West is a MESS.
Alshon Jeffery just put his name in the Heisman race
Alabama must win out and probably needs help to win another NC
Final Score
South Carolina 35 - Alabama 21
Triple 0's
Wow, wow, just wow.
Well, it looks like South Carolina now is the favorite to be in Atlanta out of the East and who knows in the West now.
Can't say enough about the job Gillmore did shutting down Julio Jones today. On a day when 'Bama threw this much to hold him down like that was huge.
Man, that fake field goal was a terrible call by Saban, a desperate call that is really uncharacteristic of Saban.
Gonna brag one more time that I called that fake from a mile away.
Alabama gets the ball back with under 2 minutes and needs two touchdowns here. Half the nails are in the coffin here.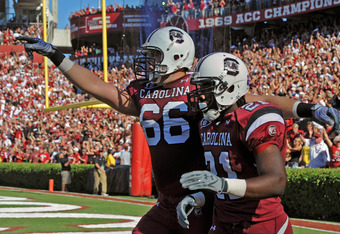 And that's a man first down for Lattimore there. A stacked box and a handoff and Lattimore gets it easily.
Alabama uses its final timeout, and a first down here doesn't put the nails in the coffin, but it surely means they're on the way back from the hardware store with a nice big hammer and some big nails.
So they just showed the replay of that safety. Raise your hand if you saw South Carolina playing like they have after that.
Don't really see any hands.
The only question here is can South Carolina keep their composure for the remainder of the game? If they just play smart football, this game is over.
This is territory South Carolina has rarely found itself in, can they handle it?
Alabama cannot just throw the ball on anybody. They have to be balanced and they cant be right now due to the time and score and they are really paying the price.
A stop here nearly seals it.
Who would have thought Lattimore would outgain Ingram and Richardson combined.
Julio Jones just beat Gillmore for the first time all day.
South Carolina 35 - Alabama 21 7:01 4th Quarter
Wow, what a counter punch. The only negative for South Carolina there was that the drive didn't take up more time.
South Carolina may not be putting the nails in the coffin, but they are surely cutting the boards into shape.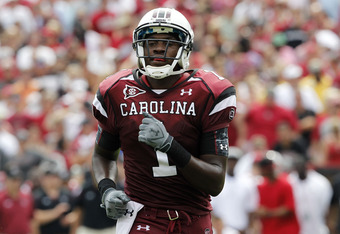 I think I've said a few times that Alabama can't cover Alshon Jeffery. Wow, just wow. that may have been the game. Still a while to go, but Jeffery just got himself into the Hesiman discussion if South Carolina wins here.
Well, I guess Lattimore is okay. Can he wear down Alabama's 3-4 front in crunch time like he did against UGA?
whew, nothing gets the heart rate going like a 4th down sneak play.
Lattimore looks to be having health issues on the sideline. You have to just go quaterback sneak/dive with garcia here, right? Although the way DiMarco has blocked you may want to run a play with him leading here.
So South Carolina gets a reprieve there.
Can Garcia and Lattimore start putting this one away?
man, that was obvious, he wouldnt have made it.
check my time stamp there on the last post.
Saban cannot call a play that even I saw coming.
Outside of busted coverages, Alabama's WR's are just not getting open at all. Gillmore has DOMINATED Julio Jones.
the major thing that last drive and then that play does is it brings Alabama's running game back into the equation.
wow, what a play. That's on Jeffery, he has to catch that ball or at the very least, he can't bat it back up. By the way, can the announcers please stop calling him jeffries?
Here is Alabama's shot to win this game, they need to cash in here. South Carolina needs to hold it to a field goal.
This article is
What is the duplicate article?
Why is this article offensive?
Where is this article plagiarized from?
Why is this article poorly edited?

South Carolina Football: Like this team?