TUF Season 12: St-Pierre vs. Koscheck: Live Blogging the Madness Pt. IV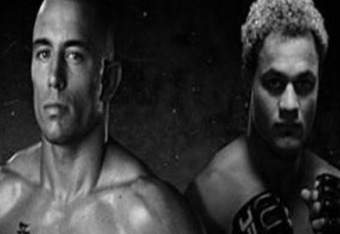 Hola fight fans, tonight's episode of The Ultimate Fighter promises to be a good one for the Ultimate Fighting Championship's flagship reality show.
We got our first taste of the obnoxious antics that make the non-fighting portions of the spectacle such a treat in Episode 3. We also got a look at everyone's No. 1 draft pick, Michael Johnson—he didn't overwhelm the competition, but you have to consider it might've been first (real) fight jitters.
That or the specter of Mike Tyson sitting cageside might've unsettled the dynamo. Whether it was nerves, Iron Mike, or just a mediocre performance from an overrated athlete remains to be seen as do the bona fides from the rest of the house.
With Alex Caceres aka Bruce Leeroy turning the volume up on his juvenile antics and more than a few tempers right up against the edge, something's bound to snap in Episode 4. It might even happen inside the Octagon.
So stay tuned.
The Iceman seems like a fitting place to end things. Until next week.
Some good carrots in the teaser for Episode 5—Bruce Leeroy's managing to anger his own team in only the fifth installment (which might be a record), some guest coach that looks to be a cheap-shot specialist (and demonstrates on Leeroy), an appearance from Jon Fitch's inexplicable hair, and a Chuck Liddell sighting.
The man does nothing but sell the sport.
Kos says he's heart-broken, but I wonder if it's because his guys are losing or because HE is losing to GSP. And looking foolish in the process.
I'm a big fan of Dana White—his real-life persona is a carbon-copy of his television one. Whether you like it or not, it's genuine. And I find it harmlessly entertaining at worse.
Main is slowly giving up as he allows Watson to sink in the rear-naked choke. He turns a vivid shade of red before verbally submitting. That's 3-0 for Team St-Pierre so we should get some awesome histrionics from Kos.
Somebody from Team Kos is screaming for Main to get up and he really needs to because he's getting beaten with a wet noodle at the moment. Whenever he's on his feet, he's doing sincere violence. But he's not doing enough of it to make up for Watson's gentle control of the rest of the round.
Main is breathing hard as Watson has a relatively easy time moving to side control before the Team Koscheck fighter shows some life. The life is good enough to move out of immediate danger, but he's still looking pretty gassed.
Both guys look tired, but Main is crushing it in the stand-up. Watson eats a few punches and decides to take the proceedings to the ground. Smart move.
Whoa, whoa, whoa.
AMC, BET, Hallmark, and MSNBC aren't available via Dish Network? They just killed a HUGE demographic with those four. That's brutal.
Wow, this is a tour de force of horrid commercials—Miller Lite, Burger King, The Social Network...
Yikes, somebody save us.
I won't lie, the vortex bottle sounds cool. Too bad Miller Lite comes out.
Do you see what I'm saying? I know that one was on Blu-Ray, but...
Watson lands more mini-shots that do nathan but score points while maintaining top position. Elbows score from Watson, but he's still doing zero damage. It's one of those rounds you hate to give to the fighter, but that's a 10-9 for Watson in my book due to control and the other boring stuff.
Furious upkicks from main miss as Watson wades in for the mount, then thinks better of it. After measuring his victim, he seems to land a nice right than gives Main pause. But only that.
This has to be tiring both hombres out, and Watson finally collapses. Main takes advantage with an attempted arm bar and he's slowly prying the limb free before losing the sub attempt.
After a brief clinch, Koscheck's guy jumps onto Watson's back and sinks his hooks in with his adversary standing. They've now been in said position for a good 60 seconds and nothing of real consequence has changed.
GSP's guy is backing up and that's a good idea because the alternative looked to be going to sleep.
Main lands the first shot, but it's a wild one that only surprises Watson. He responds with a nice job that rocks Main a bit, but it also seems to wake him up as he lands a nice flurry on Watson.
Alright, let's see how these jiu-jitsu experts choose to exchange.
Haha, gotta love the subtlety of the opening shot—nothing but T 'n' A, literally and exclusively.
Yep, there's a commercial you'll only see on Spike. And I'd say it was too effective because I was way too trapped by the visual to even tell you who the outdoor gear manufacturer was. Rocky something?
ANOTHER horror movie?
This one's from Wes Craven so it gets a pass, but still—they must be cheap as hell to make and highly profitable because the rash of them recently has been insane. And way before Halloween was even on the horizon as it is now.
Along with the chome-tastic fashion apparel, you'll also see a growing number of mohawks at MMA events. Between all that and the tattoos, it's a pretty crazy people-watching experience. Throw the fights on top of it and it's quite the evening.
Main wants to use this fight—a first-round bout on TUF—to send shivers down the spines of the guys in the house and current UFC lightweights. That is, in a word, ambitious.
This article is
What is the duplicate article?
Why is this article offensive?
Where is this article plagiarized from?
Why is this article poorly edited?