10 Questions That Will Be Answered at TNA's Bound for Glory PPV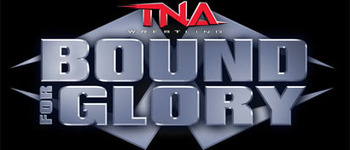 The past couple of months have been intriguing for TNA fans. With some interesting storylines coming to a conclusion, fans will want all their questions answered on Sunday night at Bound For Glory. Will Hulk Hogan compete in the ring? Will we finally find out who "they" are? Will Kurt Angle be forced to bring his illustrious wrestling career to an end? I'll look at these and several other questions that will be answered at TNA's biggest PPV of the year; Bound For Glory.
Who Will Walk Out of Bound for Glory As TNA Knockouts Champion?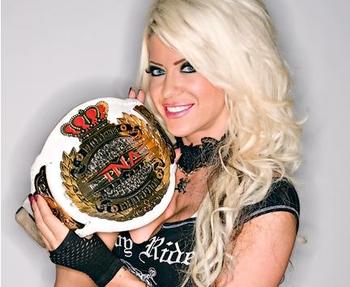 Current TNA Knockouts Champion; Angelina Love
TNA Knockouts champion Angelina love will have only a 25% chance of retaining her title when she faces Velvet Sky, Madison Rayne and Tara. The quartet will fight it out for the rights to "The Beautiful People" at Before The Glory but just three days later, they will be doing battle again at Bound For Glory. The second time around, it'll be a fatal-4-way match for the TNA Knockouts Championship. Will Angelina Love be able to retain her title or will Velvet Sky, Tara or Madison Rayne win the gold?
Will the MCMG Be Able To Defeat Generation Me?
With both members of the Guns back in action, they'll be looking to retain their titles.
Since their match at No Surrender, Generation Me have caused nothing but hell to the Motor City Machine Guns. They attacked Alex Shelley after the match and left him with an injured neck. Something which they attempted to do to his tag team partner Chris Sabin two weeks ago on iMPACT! But with both member of the Guns ready for action, they will take on Jeremy and Max Buck at Bound For Glory. It took the Guns four years to win the titles but can they keep them?
Will Sting, Kevin Nash, and The Pope Reveal the Conspiracy Theory?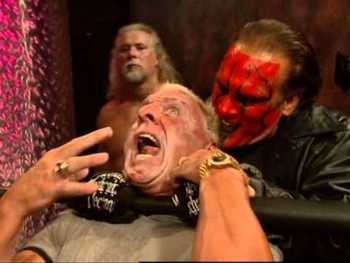 Sting and Kevin Nash attack Ric Flair
Since his feud with RVD, Sting has made no secret of his thoughts of deception in TNA. He and Kevin Nash joined forces recently and have now recruited The Pope D'Angelo Dinero. The group seem to think that there is some sort of conspiracy theory going on in TNA involving Eric Bischoff and Hulk Hogan. Will we finally find out what has been going on or will we still wonder what all that "smoke and mirrors" is referring to?
Will Hulk Hogan Be Able To Compete in the Ring?
Hogan has been challenged to join the 6-man tag match at Bound For Glory
In the latest edition of iMPACT! Sting called out Hulk Hogan and challenged him to join their 6-man tag match at Bound For Glory. Hogan has been having back problems lately and has spent a majority of the past few weeks in hospital. Will the Hulkster be able to compete at Bound For Glory?
Will Samoa Joe Join Nash and Co.?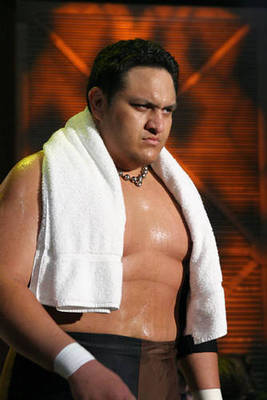 Kevin Nash has been trying to persuade Joe to join him and Sting
Kevin Nash has been trying to recruit Samoa Joe since he and Sting joined forces. In last week's iMPACT! - after Joe's losing effort to Mr. Anderson - Nash tried yet again in vein to persuade the Samoan Submission Machine to join his side but will Joe change his mind?
Will This Be the End of EV2.0?

EV2.0 have been involved in a hard fought feud with Fortune
Hardcore Justice was supposed to be a one night only show to remember the best ECW had to offer. The newly formed Fortune stable (headed by Ric Flair and AJ Styles) took exception to them stealing their limelight and attacked them. This was the beginning of a two month battle in which both sides have put their bodies on the line. At Bound For Glory, EV2.0 and Fortune will face off and if Fortune win, will it be the end of EV2.0 in TNA?
Who Are "They"?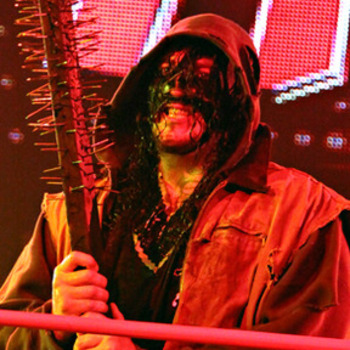 Abyss with his "girl" Janice
For a while now, Abyss has been focused on causing havoc throughout TNA. He seemed to be following the orders of somebody and then started to mention that "they" told him to do things. He attacked and subsequently put TNA World Champion, Rob Van Dam, out of action after a bloody assault with his "girl" Janice. He continued his demonic attacks when he was seen using a branding iron on a man, this weapon being called Bob. Abyss says that on 10.10.10 "they" will come and turn TNA upside down. Whether it be Dixie Carter's parents or somebody else, will TNA fans finally find out who "they" are?
Will RVD Be Able To Get Revenge on Abyss?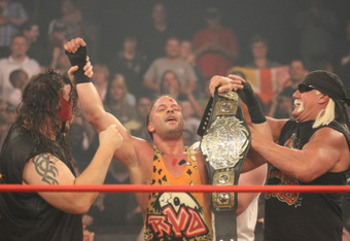 RVD celebrates capturing the TNA World Heavyweight Championship
RVD didn't take long to capture the biggest prize in TNA and he was doing a good job of keeping his grasp on it until he was brutally attacked by "The Monster" Abyss. Abyss attacked him backstage and left him in a hospital bed which forced TNA to strip RVD of the title. Van Dam might be out of the title picture for now but he will make his return to the ring at Bound For Glory when he tries to gain some sort of revenge against Abyss. We learnt on last week's iMPACT! that this match will now be a Monster's Ball match. Will RVD prove he's ready to get "his" title back or will Abyss heap more pain on "The Whole F'N Show"?
Will Kurt Angle Be Forced To Retire?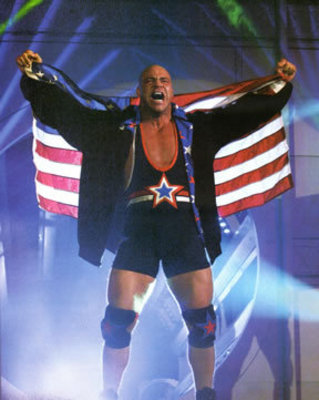 Angle will be doing his all to make sure he doesn't have to retire at Bound For Glory
Since his return to TNA, Kurt Angle has had one goal: to become TNA World Heavyweight Champion. Angle said he would go through the top 10 ranked wrestlers in TNA one by one and then face the champion. He also said that if he lost a match on his way to the title, he would retire from professional wrestling. After RVD was stripped of the title, Angle was put in the World Championship tournament where he and Jeff Hardy went to a 30 minute draw. At Bound For Glory, Angle, Hardy and Mr. Anderson will battle it out for the ultimate prize in TNA but will Angle be forced to retire from wrestling for good?
Who Will Become the New TNA World Heavyweight Champion?

The prize on offer: the TNA World Heavyweight Championship
Since RVD was stripped of the title, the TNA World Heavyweight Championship has had no owner. TNA created a tournament to decide who would battle it out a Bound For Glory. Mr. Anderson booked his spot with a victory over The Pope D'Angelo Dinero but Kurt Angle and Jeff Hardy couldn't be separated by a 30 minute draw at No Surrender or by a rematch on iMPACT! At Bound For Glory, it'll be a triple threat match for the biggest prize in TNA. Will Kurt Angle accomplish what he set out to since his return to TNA? Will Jeff Hardy win his first TNA championship? Or will the only person who won his semi final match, Mr. Anderson, win the strap?
Keep Reading