MLB Playoffs Predictions 2010: Ranking the 10 Best Fastballs of the Postseason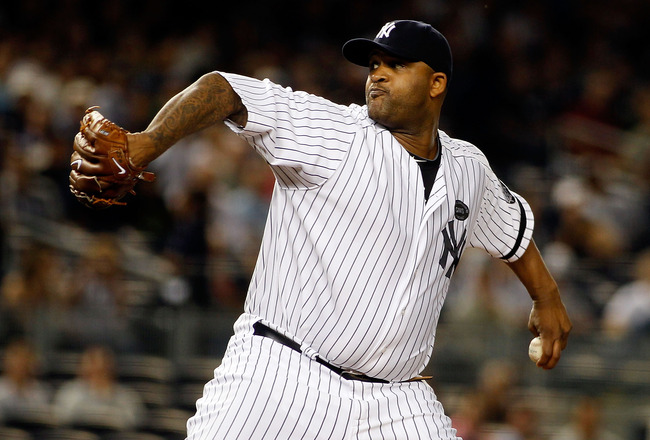 Sabathia is a hard throwing left hander.
Mike Stobe/Getty Images
The best fastballs in Major League Baseball's 2010 playoffs don't guarantee a successful trip to the World Series, but they certainly won't hurt.
In order to succeed in the MLB playoffs, teams need great pitching. If teams have good pitching staffs, they always have a chance to win baseball games. History shows that ball clubs with good pitching win World Series rings. Hard-throwing pitchers always contribute, whether starting or coming out of the bullpen.
Here are the top 10 fastballs of the postseason.
10. Rafael Soriano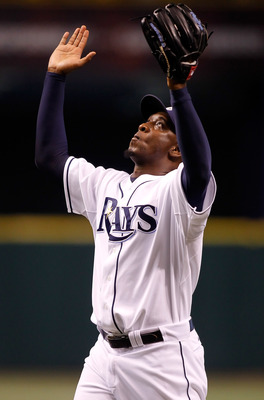 J. Meric/Getty Images
Tampa Bay Rays' closer Rafael Soriano has been successful all season long with his mid-90s fastball. Soriano saved a career-high 45 games for the Rays while only blowing three. The right-hander came over from Atlanta and had a career year with Tampa Bay. Soriano will continue to close out games for Tampa Bay and will be successful with his fastball.
9. A.J. Burnett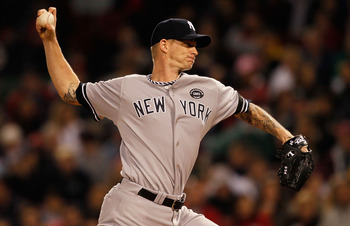 Jim Rogash/Getty Images
Many may disagree with this pick, but even though A.J. Burnett has struggled, it does not take away the velocity on his fastball. Burnett's lack of command has caused him to have a disappointing year with the Yankees.
Burnett usually reaches up to 95 MPH on his fastball, and when he is in control, he is dominant. If Burnett can gain command in the playoffs, look for him to be extremely effective.
Burnett has some of the best stuff in baseball, and when he eliminates his mental mistakes, he can be one of the best pitchers in baseball.
8. Billy Wagner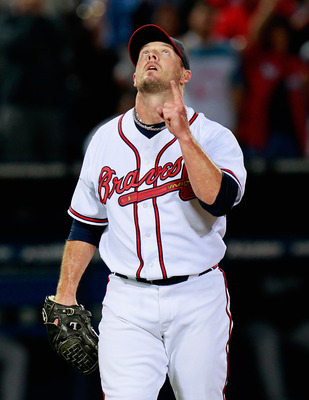 Kevin C. Cox/Getty Images
Atlanta Braves closer Billy Wagner has always been able to light up the radar gun. It is important to have a strong bullpen, especially a closer who can seal the victory. Billy Wagner had a solid year with Atlanta, saving 37 games with a 1.43 ERA. Wagner used his mid-90's fastball to get by batters, and will look to do the same in the postseason.
7. Kerry Wood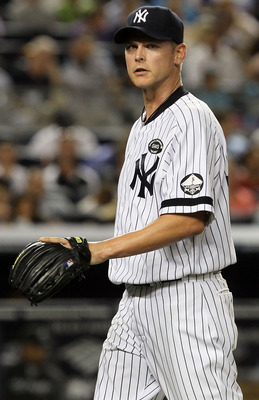 Jim McIsaac/Getty Images
Since being traded to the Yankees, Kerry Wood seems to have resurrected his career. Wood has emerged as New York's eighth-inning guy, and has done it with his fastball.
Kerry Wood has topped out around 95-96 MPH on the gun. Wood has walked some guys and given up hits, but his stuff allows him to get out of jams.
6. CC Sabathia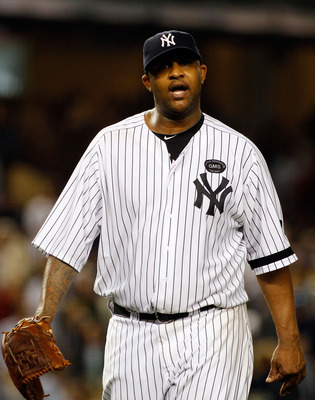 Mike Stobe/Getty Images
The 21-game winner has never had a problem with velocity. The potential Cy Young winner consistently clocks at around 93-94 MPH. Not only does he throw hard, but he is an innings eater and is exactly what every team looks for, especially in the postseason. With a mixture of his off-speed pitches, Sabathia's fastball looks faster than it actually is.
This is what causes hitters to struggle against the big left-hander.
5. Tim Lincecum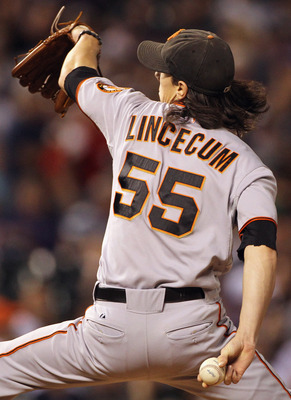 Doug Pensinger/Getty Images
Tim Lincecum has been one of the most successful pitchers in baseball since making his debut in 2007. The Giants' starter had somewhat of an off-year. Many would consider 16-10 with a 3.43 ERA a solid year, but for him, it was uncharacteristic.
The back-to-back Cy Young Award winner is looking to redeem himself in the postseason, and prove that he is the same pitcher from the 2008 and 2009 seasons. Lincecum's fastball consistently shows up at 95 MPH on the radar gun.
Look for No. 55 to use the fastball to his advantage and be successful this postseason.
4. Brian Wilson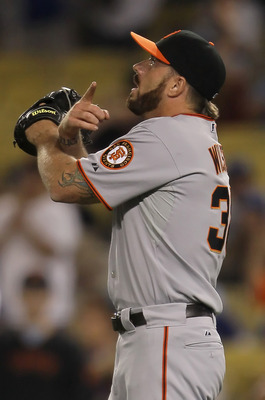 Jeff Gross/Getty Images
The San Francisco Giants' closer throws a mid-to-upper 90s fastball. Wilson's electric stuff helped him lead baseball with 48 saves while posting a 1.81 ERA. There is no question that the Giants have one of the best pitching staffs in baseball, and with Wilson as their closer, they have a chance to make a run in the postseason.
3. David Price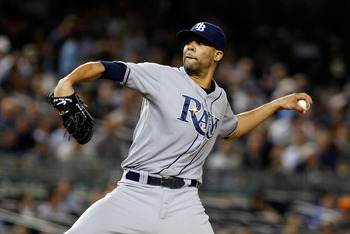 Mike Stobe/Getty Images
David Price's first appearance in the 2008 playoffs came as a reliever. This time around, he is the Tampa Bay Rays' ace and is looking to lead them to their second World Series appearance.
David Price's ability to command a 97-98 MPH fastball allowed him to win 19 games during the regular season. Price can spot his fastball on both sides of the plate, making it very difficult for hitters to have any chance against the young lefty.
2. Neftali Feliz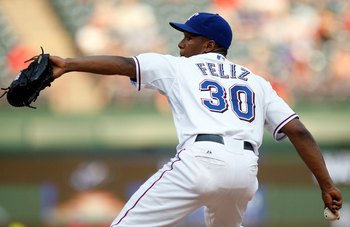 Ronald Martinez/Getty Images
The Texas Rangers' 23-year-old flamethrower lights up the radar gun with an upper-90s fastball. Since being called up, this guy has been lights out. Hitters just cannot catch up to his fastball.
This is Feliz's first appearance in the playoffs and he will be looking to continue his success throughout the postseason. Feliz will need to use his sparkling fastball effectively in order to close out games for Texas.
1. Aroldis Chapman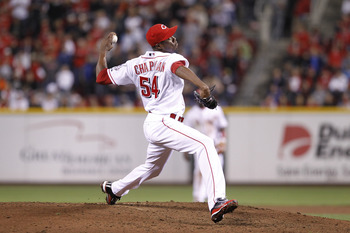 Joe Robbins/Getty Images
The Cincinnati Reds' Aroldis Chapman is absolutely incredible, and it's no surprise he came in at No. 1. This guy burst on to the scene for Cincinnati during the regular season, throwing fastballs over 100 MPH. He made his debut against San Diego and officially recorded the fastest pitch ever thrown at 105 MPH. Chapman's fastball just blows by hitters and will continue to do so in the postseason.
Keep Reading