Will Kurt Angle Retire? Who Is "They"? 2010 TNA Bound For Glory Preview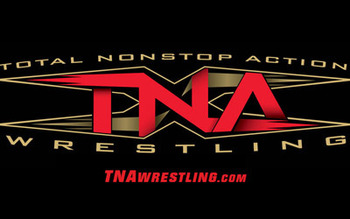 Photo Courtesy of phoenixnewtimes.com
TNA's Bound for Glory is TNA's answer to WWE's Wrestlemania. Hold on, I should say it's like Starrcade, given that TNA aspires to be the Ted Turner-led promotion with Hogan and Bischoff running things.
The card is slated to be fantastic. TNA has done an excellent job of buildup, especially for Fortune vs. EV 2.0.
Major storylines are set to end at BFG, including Fortune vs. EV 2.0, who "They" is, and the vacant TNA World Heavyweight Title up for grabs.
Many questions will be answered at BFG.
Will Kurt Angle actually retire if he lost his match against Mr. Anderson and Jeff Hardy?
Will Abyss' "They" be another TNA letdown.
Here's a snippet of the card.
-Abyss reveals "They"
-Abyss vs. RVD
-Lethal Lockdown: Fortune (with Ric Flair) vs. EV 2.0 (with Mick Foley)
-X Division Title Match: Jay Lethal (C) vs. Amazing Red
-TNA Knockouts Title: Angelina Love (C) vs. Velvet Sky vs. Madison Rayne vs. Tara
-Sting, Kevin Nash, and The Pope vs. Samoa Joe, Jeff Jarrett, and Hulk Hogan (fresh off back surgery) in a 6 man tag match.
-TNA Tag Team Titles: Motor City Machine Guns (C) vs. Generation Me
-TNA World Heavyweight Title: Kurt Angle vs. Jeff Hardy vs. Mr. Anderson
X Division Title: Jay Lethal (C) Vs Amazing Red in a Ladder Match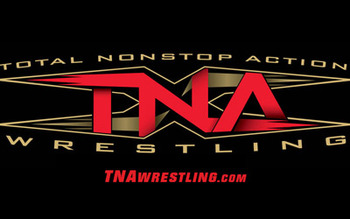 Will Jay Lethal retain the X Division belt?
Jay Lethal vs. Amazing Red for the X division belt? Leading this PPV off, this match will bring back the "X" in extreme.
What better way to make it extreme than a ladder match? Any suggestions?
This match isn't too terribly long. It's like the climax of a good action movie. It skips the boring first 1 hour 45 minutes of the movie and cuts straight to the last 15 minutes.
This ladder match ends when Amazing Red gets so close to grabbing the belt he can taste it, literally. Unfortunately, he falls while he smacks his head on the belt. Jay Lethal goes up on the ladder and easily grabs the belt.
Winner: Jay Lethal
TNA Knockouts Title: Angelina Love (C) Vs. Madison Rayne Vs. Velvet Sky Vs. Tara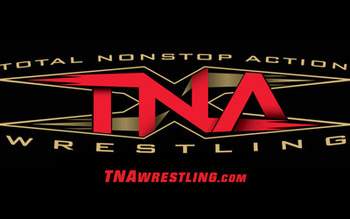 Who will come out on top in the 4 way?
In a lot of fans minds, women wrestling was just meant for eye candy.
WWE seems to think this as well.
But TNA has taken this to a whole new level.
Everytime we see the knockouts in action, it reminds me of those classic "more taste" vs. "less filling" Miller Lite commercials. Did anyone see that "meeting" on last week's Impact? Yeah, you'll then know what I'm talking about.
Now, it's a fatal four way match between all four aspiring members of the Beautiful People (Angelina Love, Tara, Madison Rayne, and Velvet Sky).
Since Hogan and Bischoff could be accused of plagiarism against the WWE, this knockouts match won't last very long.
However, unlike most WWE Divas, these women can put on a decent match.
Mickie James will interfere in this match with a guitar. A guitar! That's an upgrade from "Piggie James."
It doesn't matter though, Angelina Love will retain her title.
Winner (and retaining): Angelina Love
Jeff Jarrett, Samoa Joe, and Hulk Hogan Vs. Pope, Sting, and Kevin Nash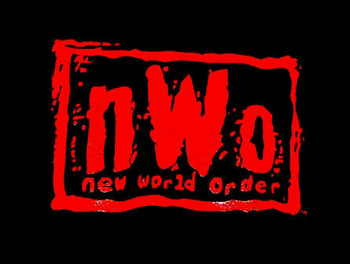 Photo Courtesy of www.attitudetees.com
Can TNA be any more obvious about their intentions for Kevin Nash and Sting?
They are "reviving" nWo Wolfpac.
Sting's got the red face paint. Nash was the leader of the Wolfpac. It all makes perfect sense. Now if TNA can just get Scott Hall back and turn Hogan heel, we have the original nWo!
To give us a historical perspective on things, their opponents might as well be old WCW guys.
Oh wait, they are! Hogan and Jarrett.
To be honest, I'm not looking forward at all to this match.
Hogan, Jarrett, Nash, and Sting shouldn't have been wrestling 10 years ago, much less now. This can potentially be a disaster. But, I've always been a fan of Sting and the nWo.
Samoa Joe and Pope were just randomly thrown in there.
I would rather have seen Samoa Joe vs. Pope. That would have been a good match.
But, moving on, I see this as a match mainly between Joe and Pope.
This will trigger a heel run for Pope definitely. If it already hasn't.
In the end, while the ref doesn't see it (shock), Sting knocks Jarrett out cold with his baseball bat.
Winner: Sting, Pope, and Kevin Nash
MCMG (C) Vs. Generation Me in a Ultimate X Match

This should be a good one!

As a huge WWE fan, it pains me to say this (NOT!), but TNA has hands-down the best tag teams. They don't just have random teams (ahem Rhodes and Macintyre, your WWE Tag Team Champions). They have REAL teams.
Instead, they have Beer Money, Ink Inc, Generation Me, and the Motor City Machine Guns.
Pick two of these and you have the potential to have a great match. Put them in a match that suits their style, it can be electric. Make it between two teams that despise each other, it can reach the elusive 5 star match.
Enter Generation Me vs. MCMG.
If TNA were smart (insert joke here), they would make this battle an Ultimate X or a ladder match.
Ultimate X matches are always entertaining. And with two high flying teams, it can be a great show. And with a ladder match already on the card, we'll go with Ultimate X.
Generation Me's heel turn has rejuvenated them. They can be depicted perfectly as the spoiled brats who want the easy path. An easy path they chose because they don't want to pay their dues. An easy path they're not getting against the MCMG.
The Motor City Machine Guns are an electrifying, death defying team. Their high energy in the ring suits their name perfectly.
Give these guys 25-30 minutes, they can perhaps surpass the epic matches the MCMG had with Beer Money.
The match ends with Alex Shelley pulling down the Tag Team Belt.
Winner (and retaining): Motor City Machine Guns
Rob Van Dam Vs. Abyss in a Monster's Ball Match

RVD vs. Abyss

"The Monster" vs. "The Whole F'n Show"
Needless to say, this is a personal feud. Therefore, what better way than to make it a monster's ball match. Abyss isn't known as "The Monster" for nothing.
Forget refs making a big impact in this match, rules need not be applied with a stoner and a man wielding a 2 X 4 with nails named Janice, his girlfriend.
Ever since Abyss put RVD in a bloody state, RVD has vowed revenge. Abyss has terrorized the locker room with his two trusty weapons, Bob and Janice.
If you think about it, it's actually similar to the Kane vs. Taker feud. Except it is a tad bit less repetitive. RVD was put in a "vegetative" state by Abyss and RVD is still portrayed as weak.
Except unlike in the WWE today, expect blood to be flowing like any horror film.
Also expect "They" NOT to interfere in the match. As for who "They" will end up being, hit the next slide.
Starting out, Abyss will get the upper hand on RVD. Abyss hits RVD several times with Janice. Yet he can't put him away. Abyss is growing more and more frustrated by his inability to hear the 3 count from the referee. Out of retribution, he hits the ref with Janice!
Several minutes of chaos occur while no ref had any inkling to get hit with Janice again. Fortunately, a ref comes out just in time to miss RVD's 3 count via the 5 Star Frog Splash.
Chairs and trash cans were all over the ring. Abyss hit RVD with a chair. RVD put Abyss through a trash can. It becomes absolutely epic! Even though epic is seriously overused.
In the end though, Janice will cheat on Abyss and win the match for RVD. I mean, RVD hits Abyss in the face with Janice!
Sorry Abyss, don't trust 2 X 4's!
Winner: RVD
After the match, "They" beat down on RVD severely. Abyss announces who "They" finally is.
Abyss Announces Who "They" Are
photo courtesy of adobeperson.com
"They" could be none other than the latest reincarnation of the nWo Wolfpac. Kevin Nash, Scott Hall, and Sting are revealed as "They."
That match between Hogan and Jarrett (with Samoa Joe an innocent bystander) vs. Nash and Sting (with Pope) could be "a distraction" in Abyss' demented mind.
Now obviously, I am a huge fan of the nWo, but this would be a terrible idea.
"They" could be old WWE stars such as Shelton Benjamin, Charlie Haas, and perhaps even Carlito. Again not a good idea.
Now with two bad ideas ruled out, here's my pick.
How about a swerve, Dixie, Bob, and Janice Carter are revealed as "They." Dixie Carter could say that Hulk Hogan and Eric Bischoff were ruining TNA. Hogan and Bischoff were "killing" the bottom line with bringing in EV 2.0.
Therefore, they told Abyss to care of Hogan and Bischoff.
Makes perfect sense right? Dixie Carter can turn into that "Mr. McMahon" character that helped WWE be so successful during the Attitude Era.
Be sure to comment on who "They" should or will be.
Lethal Lockdown: EV 2.0 Vs. Fortune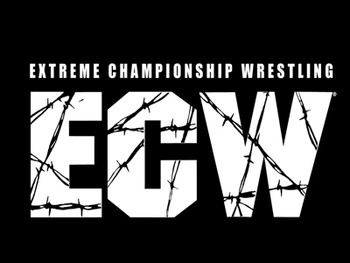 photo courtesy of antdogs.com
EV 2.0 brings out Tommy Dreamer, Raven, Stevie Richards, Rhyno, and Sabu to do war against Fortune Beer Money, AJ Styles, Matt Morgan, and Kazarian
Like RVD vs. Abyss, expect blood to be flowing. Lots of blood, from both sides. After the match, it could very well be called the Red Sea due to all the blood loss (fake and real).
It will be a 5 on 5, elimination style tag team match. It will also be in a steel cage, with any form of weapon allowed.
Fortune does have the first man in advantage, which could be huge later on.
We'll also see elder statesmen (must be polite) Ric Flair and MIck Foley surround the cage.
Starting off commentary, we'll see Fortune gain an early advantage. First person eliminated will be Raven.
From that point though, it'll be ALL EV 2.0. Using a basketball analogy, Fortune takes a 10-4 lead but EV goes on a 15-0 run to make it 19-10.
Kazarian and Matt Morgan get unceremoniously dispatched, via a chair shot and a quick pin, respectively.
Fortune regains the upper hand quickly, with James Storm hitting Rhyno with a beer bottle. 30 seconds later, AJ Styles hits the Styles Clash on Stevie Richards to knock him out.
Let's recap quickly: Stevie Richards, Rhyno, and Raven are out for EV 2.0. Matt Morgan and Kazarian are out for Fortune. This comes down to Tommy Dreamer and Sabu vs. AJ Styles and Beer Money.
Next, James Storm gets a taste of his own medicine, as he gets his head smashed by a Budweiser. Tommy Dreamer hit him, and Sabu pinned him.
Now it's 2 on 2. Shortly thereafter, Sabu and Robert Roode get eliminated.
It's down to AJ Styles and Tommy Dreamer. The Phenomenal One vs. The Innovator of Violence.
After 10 tense minutes, Ric Flair breaks the ice by distracting the ref while the rest of Fortune enters the cage and knock Dreamer out cold.
They don't call Ric Flair the dirtiest player in the game for nothing.
Winner: Fortune
After the match, EV 2.0 announces their retirement. The fans give them a well-deserved standing ovation.
TNA World Heavyweight Title: Kurt Angle Vs. Jeff Hardy Vs. Mr. Anderson

A Little Preview of the Match

Asshole vs. Olympic Gold Medalist vs. Charismatic Enigma
It's weird at a premiere PPV that it's a face vs. face showdown. But with face vs. face vs. face, it's almost unheard of. Very gutsy booking by Vince Russo, or stupid depending on your view.
Given that Angle and Hardy put on two consecutive 5 star matches the last PPV and the Impact afterwards, this might be a bit of a letdown.
Actually, this will be a letdown compared to those two amazing yet poorly-booked matches.
In hindsight, they should have had the tournament end at No Surrender and had the winner face a returning Rob Van Dam at Bound for Glory, but I digress.
Kurt Angle has stated repeatedly that if he lost a singles match on the way to the TNA top prize, he will call it a career. Now it's unlikely that Angle will retire this year. But with his injuries, you never know. Nevertheless, he is still the favorite to win.
Mr. Anderson, the lovable asshole, has yet to win any major titles in WWE or TNA. This is his opportunity to be a real asshole by ending Angle's career and breaking all of Jeff Hardy's fans hearts by winning the title.
Jeff Hardy, the Charismatic Enigma, has had noted issues in his personal life. While I won't discuss them, it's unlikely TNA management will put a belt on a guy who might be going to the slammer.
As a side note, I'd love to have his brother in TNA. He'd be a great fit. Just saying.
This match will be riveting. So many near falls can make this match a roller coaster.
Especially when Angle almost gets pinned. Hardy can hit several Swantons. Anderson can use his finishers.
Give these guys 25 minutes, and they can put on a great show. Well any match with Angle can be a great show. Any match with Hardy as well. Any match with Anderson, just ask Randy Orton.
When it's all said and done, Mr Anderson shocks the world and becomes an ASSHOLE by pinning Kurt Angle to end his TNA career.
Winner (and new champion): Mr Anderson
After the match, the fans cheer for the 3 superstars. After Hardy and Anderson leave, Kurt Angle gets a Shawn Michael's-like ovation.
Your TNA Bound For Glory Recap!
Will You watch BFG?
All in all, Bound for Glory should be the best PPV of the TNA calendar year. It better not disappoint.
With the lack of matches on there, I expect another match to be added or allow matches to go longer than usual.
To fill 3 hours, I would recommend the X Division ladder match go 15 minutes. Knockouts match to go 10 minutes, with a promo beforehand for about 5 minutes. Then, I'd let the 6 man train wreck go for 10 minutes as well. Not that I want to see a 10 minute train wreck. But then again I like Sting.
I would allow the MCMG and Gen Me to go for 25 minutes. The longer the match, the more entertaining the match, especially for a high-flying ultimate X match.
Given that RVD vs. Abyss is such a personal feud, I'd give them 30 minutes to duke it out. Afterwards, I'd let "They" and Abyss cut a promo for 5 minutes or so.
Give EV 2.0 vs. Fortune and Hardy vs. Angle vs. Mr Anderson 35-40 minutes, and you have a brilliant card loaded with potential 5 star matches. Also, it's well spaced and well timed. Heck, even let the card go over a bit.
Here's a recap of the card. Vince Russo should follow line for line on what I recommended. Now you see readers, that's how you write with humility.
Angelina Love retained her Knockouts Belt against Velvet Sky, Madison Rayne, and Tara.
Sting, Nash, and Pope defeated Hulk Hogan (who should never actually wrestle in the match, by the way), Samoa Joe, and the immortal Jeff Jarrett. Sting uses his baseball bat to win it for him. Now if he can add an extra bat to that Reds lineup.
The Motor City Machine Guns took the hard path and retained the title against Generation Me.
Rob Van Dam had an affair with Janice and defeated Abyss.
"They" is stunningly revealed as the Carter Family. Well, Abyss' weapons Bob and Janice were a hint.
Unsurprisingly, the elderly EV 2.0 falls to the younger, more talented Fortune.
Mr Anderson has graduated from asshole to ASSHOLE by ending the career of Kurt Angle. The TNA World Heavyweight Championship is his graduation gift.
What do you think about Bound for Glo- IT DOESN'T MATTER WHAT YOU THINK ABOUT BOUND FOR GLORY!!!
Keep Reading