NFL Power Rankings: The Hottest Cheerleaders of Week 4
Week 4 of NFL football is over, and you know what that means!
New pictures of NFL cheerleaders!
I know you love your football, but everybody needs a break once in a while, right?
Plus, these girls put on their skimpy outfits and braved the cold on Sunday just for our entertainment, so they absolutely deserve their own slideshow.
So here they are:
The hottest NFL Cheerleaders from Week 4.
10. Buffalo Bills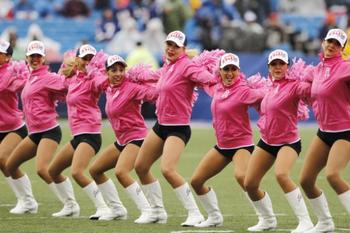 Hey, it's cold in Buffalo!
But what these girls lack in revealing outfits, they more than make up for in talent.
Buffalo Bills Cont.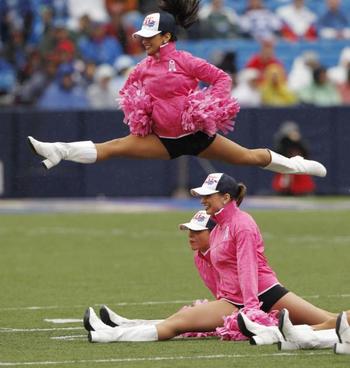 9. Green Bay Packers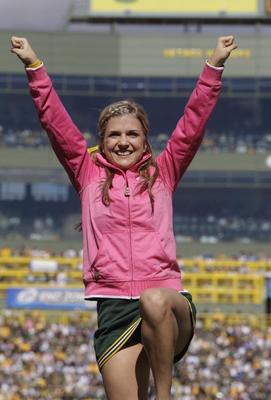 You'll notice that many of our cheerleaders wore pink this week to promote breast cancer awareness.
Green Bay Cont.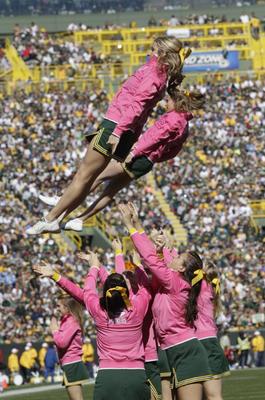 Way to show your support, ladies!
8. St. Louis Rams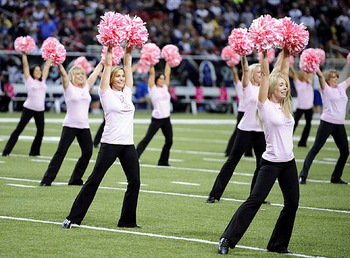 The Rams cheerleaders are also pretty in pink as they entertain fans with their...um...pom-poms.
St. Louis Cont.
You know, I was going to put the Rams cheerleaders lower on this list...
St. Louis Cont.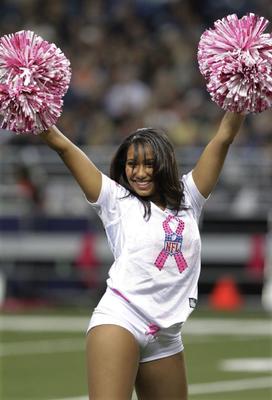 But this girl saved the day!
7. Atlanta Falcons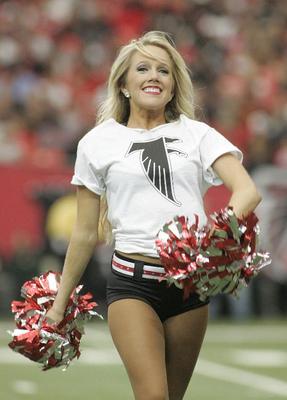 Leave it to Hotlanta to make white t-shirts look sexy.
Atlanta Falcons Cont.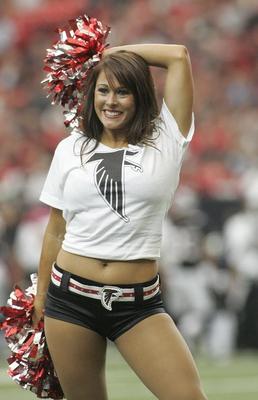 Personally, I like the brunette better, but I guess I'm a little partial.
6. Oakland Raiders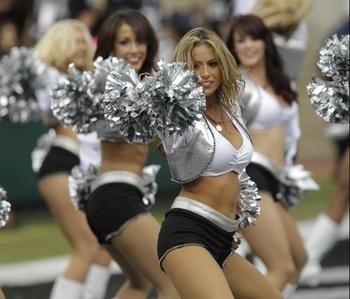 Their uniforms might be silver, but these girls are solid gold!
5. New Orleans Saints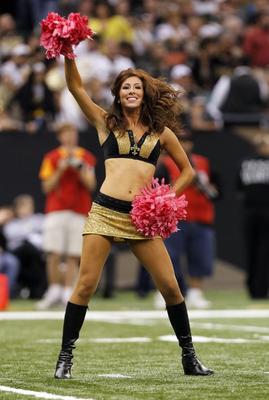 The Saints cheerleaders sure know how to get the crowd going with their dance moves...
New Orleans Cont.
And the short skirts don't hurt either.
New Orleans Cont.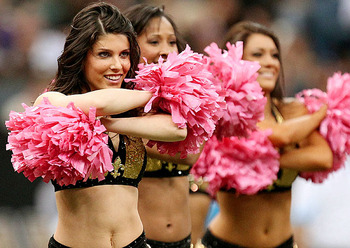 To steal a line from Bring It On, she is totally having cheer-sex with somebody.
4. Jacksonville Jaguars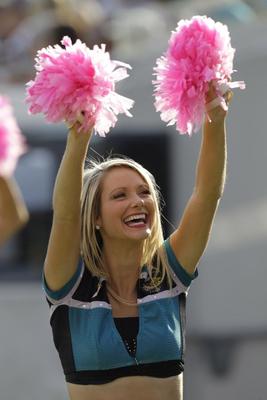 This girl was definitely a good luck charm for the Jags on Sunday.
Jags Cont.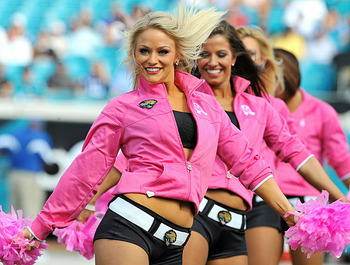 I have a new strategy for the Jaguars:
Keep the girl in front visible to the other team for the entire game.
Their minds will be on everything...except football.
3. San Diego Chargers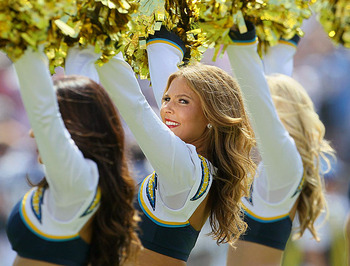 Is it just me, or does this girl look like a hotter version of Audrina Patridge?
San Diego Cont.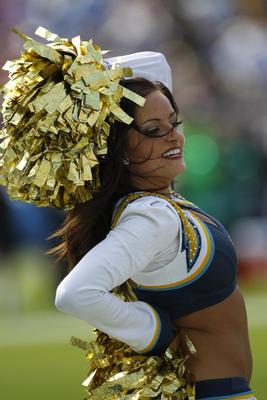 Thank god it's always warm in San Diego. The pink track jackets were cute, but who would want to cover this up?
San Diego Cont.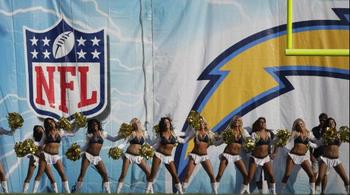 I know. It's hard to decide where to look first.
2. Philadelphia Eagles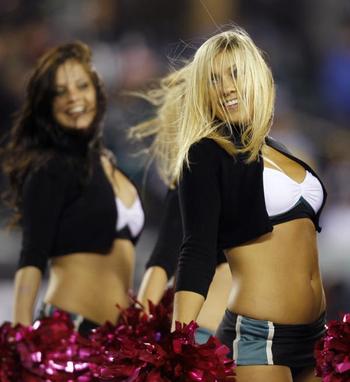 The short shorts on the Eagles cheerleaders are really working for this girl...
Along with the low-cut shirt.
Philadelphia Cont.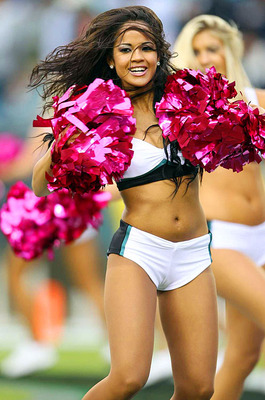 It had to have been pretty chilly in Philly, and we really appreciate the dedication from the Eagles cheerleaders.
Philadelphia Cont.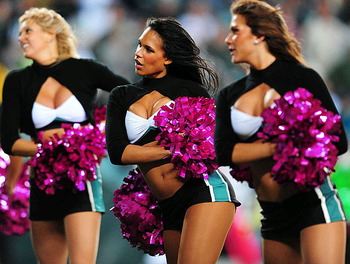 See...These girls know how to keep warm without covering up the parts we really want to see...
I'm talking about the uniforms, guys.
1. Tennessee Titans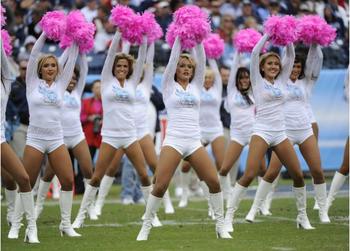 The Titans cheerleaders make the top of our list because every single girl on this squad is absolutely gorgeous.
Tennesee Cont.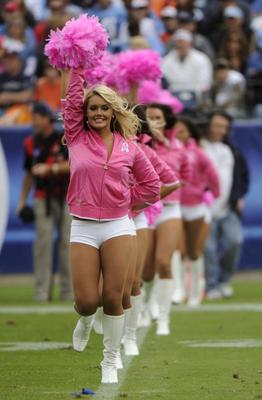 Like I said.
Absolutely gorgeous.
What? You're still not convinced?
Tennessee Cont.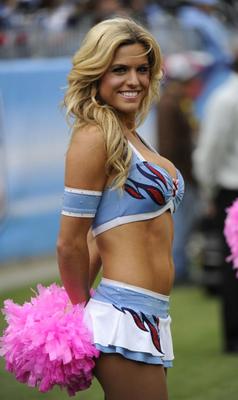 How about now?
I think I speak for everyone when I say "Wow!"
Keep Reading