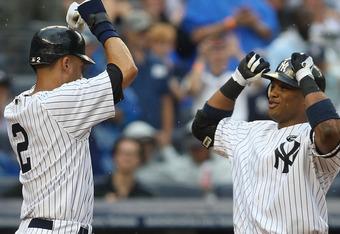 Andrew Burton/Getty Images
It's absolutely no secret that the Yankees have just dominated the Twins in recent years. Same can be said for both the regular and postseason. Whether it was a come from behind win, like the Yankees did in all 3 of the playoff games last year against the Twins, a game the Yankees dominated from the first pitch to the last or even a close game that the Yankees took control of from the early stages, the Yankees some how always seemed to come out on top. There was unsuspected hero's like Alex Rodriguez last year as well as the guys that you know would come to play like Andy Pettitte did last year in the clinching game 3. No matter the score, the amount of drama in the game or you came up when it mattered most the results have been very similar in recent years with the Yankees coming out on top. So now as the Yankees and Twins prepare to meet in the 2010 ALDS many people like to point out those facts and the plain point that the Yankees have nothing short of just beat the Twins like a drum recently.
Come Wednesday when the two teams take the field what does that all mean though? Will the Yankees start up one game in the series because of it? No. Will the Yankees start each game already up a run because of it? No. The past is the past and it means absolutely nothing now. There is no changing the past and what has already happened. If anything it just gives the Bombers a little more self confidence, while at the same time it adds more fuel to the fire of the Twins who want nothing more then to knock the defending World Series champs out of the first round.
We all know what the Yankees are going to bring to the table offensively. Their biggest if any concern would have to be Derek Jeter who had maybe the worst season of his career. Jeter although hit safely in 19 of his last 20 games with a batting average around .350, this after Kevin Long worked with him on his swing. At the same time can you really worry about Jeter in October? You know what Teixeira can do, we learned this year what Cano can do as well as Swisher and Gardner even proved to be a better hitter this year but the question is can those guys who struggled this time last season perform this time around. Posada is also a guy who always comes to play at this time of year. And of course who can forget all of what A-Rod surprised us with last year. That leaves Thames and Berkman who will switch out depending on who is pitching. Thames has shown some pop and seems to have fallen in love with the left field wall at Yankee Stadium and Berkman who has lost some power still, especially of late has proven to be a guy who can hit around .300. On paper it doesn't appear as though the Twins have enough bats outside of Mauer, Thome and Cudeyer to put up the runs they may need to hang with the Yankees offense.
When it comes to the pitching the Yankees seem to have a great edge, especially if Andy is healthy. They very young Francisco will asked to go up against CC Sabathia, never an easy task while Carl Porvano will go head to head with the greatest playoff pitcher off all time, Andy Pettitte. Huges will get the call in game 3 for the Yankees after a solid season that was even better until he was skipped over and the club started messing with his innings and his pitch count in order to get him ready for an October push. One concern a Yankee fan might have is of the bullpen. Mo is never a question in the 9th, even with a few blown saves late in the year. The question is can the relievers get the ball to Marioano? Kerry Wood has been nothing short of amazing since joining the Yankees, outside of that though there really isn't a shut down guy for the Yankees to call upon. With Joba, Mitre and Boone Logan who was electric after the all-star break but up and down prior to that, there is no guy who you can really count on to get a big out if needed. The Yankees will of course have Burnett out of the pen as well, and Yankee fans of course already know all to well how his season was.
It should be an exciting and interesting series. There really dosent appear to be one clear cut favorite although looking at the rosters the Yankees look to have a slight edge. It's the postseason though. You never know who is going to hit well and who isn't. Game 1 will be the 163rd game for each team. It's a long season. Playing that many games you will win games you maybe should have lost, lose games you should have won, beat teams that may be a little stronger then you are and lose to teams that you are stronger then. You just can't predict baseball.
This article is
What is the duplicate article?
Why is this article offensive?
Where is this article plagiarized from?
Why is this article poorly edited?

New York Yankees: Like this team?