The Top 10 Orlando Magic Players of All Time, Ranked By a Miami Heat Fan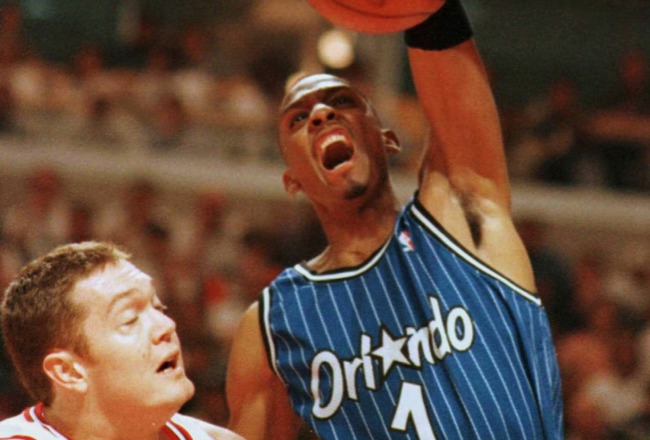 Jonathan Daniel/Getty Images
Since founded as a franchise is 1989, the Orlando Magic have experienced many ups and downs. With an 870-820 all-time record, it is evident that the Magic have had their fair share of talented basketball players.
As a Heat fan, I have always had an awkward relationship with the Magic. There has never been a true rivalry until recently. Even as Southeastern Divisional counterparts, there has not been much animosity between the teams or their fans until this summer.
In any case, the Orlando Magic have seen two Eastern Conference Championships and five divisional titles (three of them Southeast Division titles) in their 21 years of existence.
Through the ups and the downs, here are the top 10 all-time Orlando Magic players:
10. Steve Francis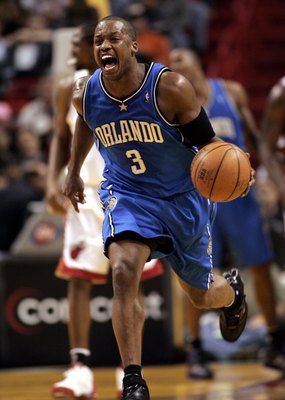 Eliot J. Schechter/Getty Images
Steve Francis played for the Magic for only a year and a half from 2004-2006, but he is still unquestionably one of the greatest Orlando players to put on the pinstripe blues.
Francis's 2004-2005 season remains one of the more statistically significant seasons in Magic history. The "Franchise" averaged over 21 points, seven assists, and six rebounds per game while also adding a steal and a half per game.
After being traded to the New York Knicks in 2006, Francis really devolved as a player. The Magic did not accomplish much with Steve Francis as a centerpiece, but his individual contributions during his two seasons in Orlando puts the "Franchise" at number 10 on this list.
9. Dennis Scott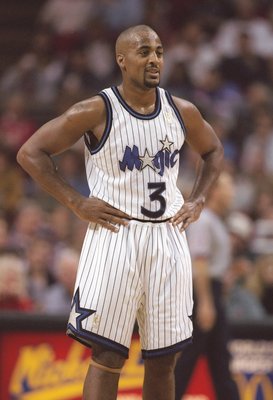 Andy Lyons/Getty Images
The Magic selected Dennis Scott with the fourth overall pick in their second draft ever in 1990. Scott continued to play for the Magic for seven seasons in what was the majority of his career.
Nicknamed "3-D" for his talents in shooting from downtown, Scott was a prolific scorer throughout his career in Orlando. In the 1995-1996 season, Scott set an NBA record (one that would be broken 10 years later by Ray Allen) for three-pointers in a season with 267 made and for three-pointers in a game with 11 (this was also later broken).
Scott may not have been a consistent starter throughout his seven years with the Magic, but he remains the best three point shooter to ever put on a Magic uniform.
8. Hedo Turkoglu
Elsa/Getty Images
In five seasons with the Magic, Turkoglu contributed as a scorer, distributor, and rebounder.
Turkoglu's best season came in 2007-2008 when he averaged over 19 points, five rebounds, and five assists per game. Other highlights for Turkoglu in this season included the NBA's Most Improved Player Award and helping lead Orlando into the NBA finals for the second time in Magic history.
Without Turkoglu's clutch scoring, Orlando's run in the 2008 playoffs would have been impossible.
7. Nick Anderson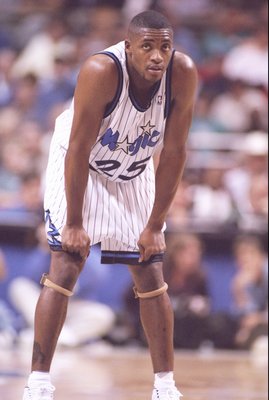 Getty Images/Getty Images
From Orlando's inaugural season in 1989 to 1999, Nick Anderson essentially became Mr. Orlando Magic. Anderson was the Magic's first ever draft pick with the 11th overall pick.
While Anderson will forever be remembered for his missed free throws in game one of the 1995 championship, he still remains the Orlando Magic franchise leader in several categories including games, minutes played, field goals, field goals attempted, steals, and points.
After 1995, Anderson lost his ability to shoot free throws consistently; however, he remained a productive player throughout his Orlando Magic career.
6. Scott Skiles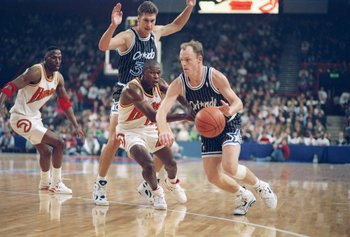 Michael Cooper/Getty Images
Skiles is second player on this list to win the Most Improved Player. Skiles was also part of the Magic's inaugural season when Orlando compiled an 18-64 record.
While the record was quite awful, Skiles managed to become one of the bright spots in a dismal season by recording an NBA record of 30 assists in a single game against the Denver Nuggets. Skiles remains the Orlando Magic franchise leader in assists with 2,776 dishes.
The Magic never quite succeeded with Skiles, missing the playoffs every single year while he was on the roster. Still, Skiles played an important role during the tough growing phase that every expansion franchise experiences.
5. Darrell Armstrong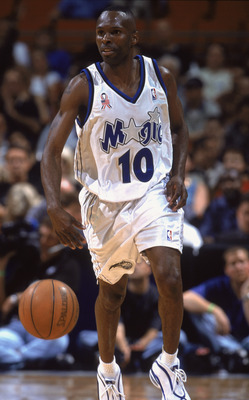 Andy Lyons/Getty Images
Armstrong isn't the fifth most talented Orlando Magic player of all time, but his contributions to the Orlando Magic go beyond simply statistics. Over nine years with the Magic, Armstrong was an emotional leader who contributed both on and off the court.
In 1999, Armstrong racked up the hardware. While it was not championships that Armstrong won, he became the first player to ever simultaneously win the Sixth Man of the Year Award as well as the NBA's Most Improved Player Award.
Armstrong was the embodiment of a hard-nosed player willing to play tough defense and sacrifice his body to take charges. He is a classic example of intensity and effort overcoming lack of size or overwhelming talent.
4. Tracy McGrady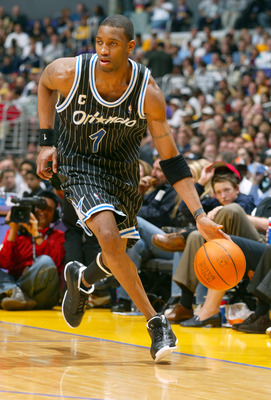 Lisa Blumenfeld/Getty Images
Tracy McGrady's decline from prolific scorer to riding the pine for the New York Knicks is one of the most unusual NBA stories in recent memory; however, the McGrady in Magic fans' minds is the player who was at one time considered a superstar and top-five player in the league.
As a member of the Orlando Magic, McGrady earned a Most Improved Player award in 2001. He also captured the scoring title in the 2002-2003 season, averaging a whopping 32.1 points per game.
Despite all of McGrady's success as a scorer, the Magic never made it past the second round of the playoffs with McGrady. It probably wasn't his fault though. McGrady averaged over 30 points per game in the playoffs in each of his three trips to the postseason with the Magic.
3. Anfernee Hardaway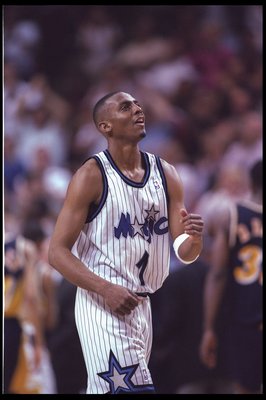 Getty Images/Getty Images
While Hardaway was not directly drafted by the Magic, he played his rookie season in Orlando after he was traded for Chris Webber during the 1993 draft. He would eventually be runner-up to the Rookie of the Year Webber, but was still selected to the NBA All-Rookie team.
In his second season, Penny helped lead Orlando to their first NBA finals where they were promptly swept by the Houston Rockets. After Shaquille O'Neal left Orlando for Los Angeles, Hardaway became the face of the franchise leading the Magic into the playoffs despite an underwhelming supporting cast.
After Hardaway left Orlando in a trade to the Phoenix Suns, the "magic" was gone. Hardaway managed a strong first season on Phoenix, but struggled with an injury-riddled career following his Magic years.
2. Shaquille O'Neal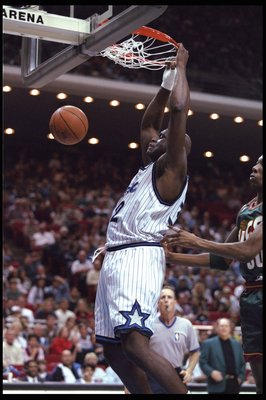 Getty Images/Getty Images
Over 18 NBA seasons, Shaq has amassed MVPs, scoring championships, a Rookie of the Year award, and more nicknames than any other player in NBA history. While Shaq only spent four seasons with the Magic, he was responsible for taking the Magic to their first finals appearance in 1995 beating Jordan's Bulls and Miller's Pacers.
Remembered for shattering backboards and destroying opposing centers, Shaq was unguardable in his four seasons in Orlando. Both offensively and defensively, Shaq lit up the stat sheet averaging over 23 points and 11 rebounds as well as two blocks in all four seasons he spent with the Magic.
O'Neal spent only four seasons with the Magic, but until the last player on this list emerged he was undoubtedly the best player to ever to suit up for Orlando.
1. Dwight Howard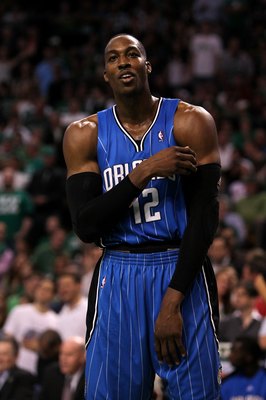 Jim Rogash/Getty Images
The reigning two-time Defensive Player of the Year Dwight Howard is unquestionably the most dominant center in the league today. In 2009, Howard brought the Magic back to the finals for the first time since 1995 where they lost to the Los Angeles Lakers.
Since the Magic first drafted Howard with the first overall pick in 2004, he has become the face of the franchise, both the present and the future. Howard's statistics back up this claim as he has averaged a double-double in points and rebounds all five of his years in the NBA.
The comparisons between Howard and Shaq are boundless. Both players were dominant centers immediately after entering the league. Howard gets the nod as the greatest Orlando Magic player of all time because he has already spent one more season in a Magic uniform and will be donning the blue and black for years to come.
Justin Eisenband is a student at Georgetown University and an intern for Bleacher Report. To read more of his articles, become a fan at Justin Eisenband's B/R Profile.
Keep Reading

Orlando Magic: Like this team?