Michael Vick, Karen Owen Duke, and the Top Sports Tweets of the Day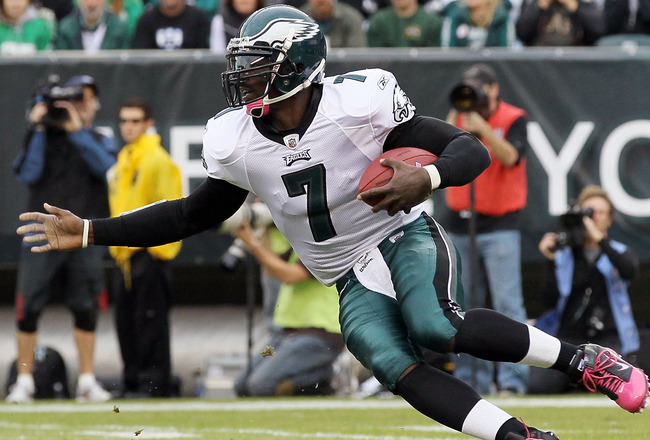 Jim McIsaac/Getty Images
Michael Vick will miss next week's game against the San Francisco 49ers, and Karen Owen of Duke "F*** List" fame is still making headlines.
And it is my job to keep you from a sports news overload.
Don't go sifting through hundreds of tweets and sports blogs.
Just come to Bleacher Report, and I'll guide you through the top stories of the day.
Now let's get to the good stuff...
@OGOchoCinco: #OCNN Music: Check out @JustinBieber's song entitled "U SMILE" here: http://rock.gs/jb3 , its jammin
I know it sounds like I pick on Chad Ochocinco quite a bit, but sometimes he makes it too easy.
I'm sure that Justin Bieber is a nice kid, but I really don't understand how everyone is so obsessed with this guy. He's a little boy with a mom haircut.
Fist Mark Sanchez and now Chad Ochocinco?
Bieber Fever is taking over the NFL in a big way!
As long as Tom Brady doesn't start copying Justin Bieber's hairstyle, I'll be okay with it.
I guess.
@AddictedToQuack: ATQ Blogpoll: Oregon jumps BSU, but not without controversy http://sbn.to/ddSD90
The Oregon Ducks have dominated their schedule so far, and they have now taken the No. 3 spot in college football rankings from the Boise State Broncos.
The Broncos are, without a doubt, one of the best teams in college football, but their schedule lacks the competition found in super conferences like the Pac 10, the Big Ten, and the SEC.
Boise State will now have to stay undefeated, beat all of their opponents soundly, and then hope that a few of the other powerhouse teams (like Oklahoma, Oregon, Ohio State, or Alabama) slip up for a loss. Even if Alabama suffers one loss, the Broncos could still find themselves behind in BCS rankings.
@Mundy_Steelers: Another good day at the office. Thankfully we are healthy at most spots and good to see #7 back doing his thing. Time for relaxation...
The Pittsburgh Steelers have a bye in Week 5, but Ben Roethliserberger's suspension is over.
And he'll be ready to go Week 6 against the Cleveland Browns.
Big Ben had to miss the first four games of the season due to personal conduct violations concerning sexual assault allegations from the offseason.
The Steelers are 3-1 without Roethlisberger, so I am very excited to see what Pittsburgh can do with their star quarterback back in action.
Even after a tough loss to the Baltimore Ravens, the Steelers still look like one of the best teams in the NFL.
@WithLeather: Poll: Women Should Stay Out Of Locker Rooms: Seton Hall University polled a whole bunch of women on that Inez Sai... http://bit.ly/98aq54
According to With Leather, Seton Hall conducted a survey asking people how they felt about women being allowed to interview male athletes in locker rooms.
59 percent of women and 42 percent of men surveyed felt that women should not be able to enter male locker rooms.
The director of this poll thinks these findings are unusual, but as a woman, I am not surprised at all.
I think that it's awkward to interview an athlete while surrounded by a bunch of naked dudes. I'm all for women's rights, but a room full of sweaty men without clothes on doesn't exactly scream "dream job" for me.
Even though Karen Owen has attempted to delete all of her social network profiles, erasing yourself from the Internet is easier said than done.
Owen's attempt to reclaim her privacy has proved futile, and Deadspin has now posted a picture of the woman responsible for Duke's "F*** List."
Owen documented her sexual encounters with 13 different athletes at Duke University, and she then e-mailed a 40+ slide PowerPoint to some friends.
And the rest is history.
The athletes mentioned in the presentation have contacted Deadspin in order to remove their names from the website. Deadspin obliged, but I can tell you that all it only takes about 30 seconds of digging to find these guys on another site.
Read a great article discussing the Karen Owen scandal by Kashmir Hill.
According to CBSSports, Michael Vick will miss Week 5's game against the San Francisco 49ers due to a rib cartilage injury.
Vick found himself caught between two Washington Redskins defenders during Sunday's game, and Kevin Kolb had to take over at quarterback for the rest of the game.
Vick has said that he will only miss this week, but we shouldn't be too quick to assume he'll start in Week 6 against the Atlanta Falcons.
Remember what happens when a quarterback gets injured in Philly? His backup steals his job.
It will be interesting to see if Kevin Kolb can step it up enough this week to fight for his starting position.