How to Hunt Grouse--Without a Dog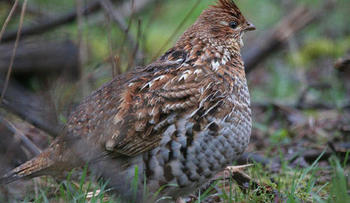 I won't kid you. Hunting grouse without dogs is tough. You need to be 100% on your A game. You need to bring all of your skills to the table. But it is definitely possible, and your chances of success can be very high if you learn the secrets.
I don't pretend to be an expert. But I can help you how to pick your gun, practice with it, scout for good terrain, and flush them up. The shootin's up to you.
Pick Your Weapon and Ammo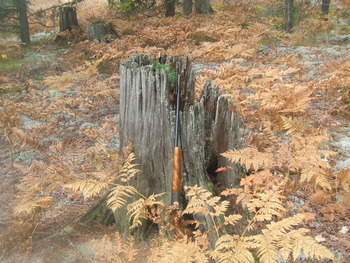 Ye Olde 20 Guage
Obviously, many factors will affect your choice of gun and ammo. Your size, your strength, your ability to handle recoil, the shootability of the shotgun, all of these are factors. Maybe it's just easier to tell you what you DON'T want:
1. A shotgun that is too long. Grouse fly pretty fast. You need to be able to put the shotgun in their flight path with the quickness. You goose gun probably won't do the trick here.
2. A shotgun that is too powerful. There is no need for 3" mags here. That is overkill. Grouse are delicious. The last thing you want to do is ruin the meat or bite down on a pellet and crack your tooth. I think high brass 20 gauge shells and down (i.e. 28 gauge, .410) are perfect.
3. Shot size: Obviously you don't want buckshot, and you don't want skeet. I would advise restricting yourself to 7 1/2, or better yet, 6 shot. Most grouse lay in heavy cover; it has been my personal experience that 7 1/2 are not sufficient, but "six do the trick."
4. Something too heavy. You're gonna be the hunter AND the dog my friend. You'll want something light. A big pump action 12 gauge may not be the best ticket here.
What do I use? Believe it or not, I stick to the same ol' single shot JC Higgins 20 Gauge my old man gave me when I was 12. On paper, there seems to be so many obvious disadvantages. But if you look at it in context with what you DON'T want, it makes perfect sense. That, and I don't seem to miss too much with it. I think a autoloader 20 gauge or an over-under would also be excellent choices, provided they are light and have relatively short barrels.
Practice Makes Perfect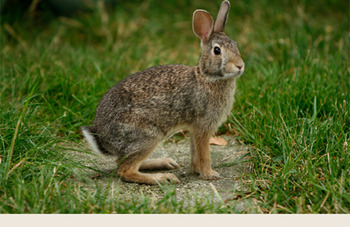 You need to get to the point where shooting your shotgun is second nature. You need to be in that place where you react and shoot. You don't compute, aim, or anything else. Of course you must be in the presence of mind to understand that your shot it safe. But the actual shot? It is muscle memory and instinct. If your shooting skills are not at this level, you will fail to shoot a bird out of the air in a consistent manner.
The best training is hunting for other animals. Over time, one develops almost a sixth sense about animals. You will feel comfortable in the deep woods, where the grouse are. You will not fear the recoil or the report.
Another great way is an atypical skeet shoot session. IF YOU CAN DO THIS SAFELY, hold your weapon as if you are hunting--in a neutral position, barrel down range--and with your eyes closed. Have your partner "pull" on his own volition, with a minimum of 10 seconds and a maximum of 2 minutes in between pulls. It will then be your task to wait for the sound of the thrower, quickly acquire the target out of the sky, and blast it in an instant. Grouse hunting can be far more difficult than this, but this is a great way to practice.
Scout Your Area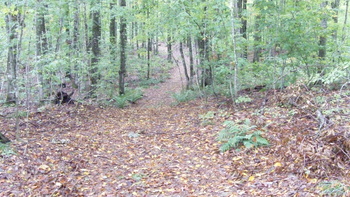 If you are reading this, chances are you live in the Midwest. I'm right in the Heart of the Great Lakes, and I am convinced that Michigan has the best grouse hunting anywhere in the world. And the further north you get, the better the grouse hunting gets. The Upper Peninsula is famous for its grouse hunting.
Clear cuts and forest fire recovery areas have always been traditional favorites; however, such land is best hunted with dogs. There is less cover in this environment, and the grouse are very wary and hold fast. This is great for dog hunters. This sucks for walkers. Grouse will hide until the dog is right on it. We want the grouse to flush when we are in proximity.
Get a good Gazetteer or other highly detailed atlas. Find yourself an isolated two-track, or an abandoned railroad grade. Locate birch stands and aspen. My absolute favorite setting is a two track with mature hardwoods, and about 50 feet behind the two track, a lining of dense pines or aspen. This gives you an area of forage-retreat. The birds are temporarily exposed, and their instinct tells them to fly for that thick cover instead of hiding. You don't need to be right up on them. And that's when you have them.
Stalking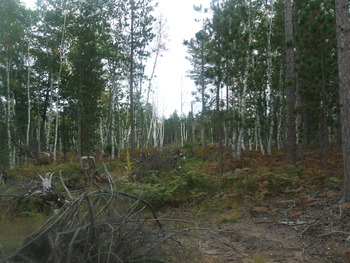 It's actually very simple in theory. Walk softly through the woods. Wait for a grouse to flush, or catch it off guard, and shoot it. Eat it. Yum.
But there are some details that you should know:
1. Grouse have excellent camouflage and will use it. They prefer dense undergrowth and shade. They will sit still in it, and you simply can't see them. Sometimes you will see them roosting in trees just above your line of sight. Walk slowly, and scan carefully in all directions. Be silent, and try to become an animal yourself.
2. Grouse don't tend to fly straight up--they fly sideways. If you are in very thick cover, you're not helping yourself.
3. Grouse pair up. You might flush one and miss, but keep your eyes bright: there may be one right behind it.
4. Grouse often come back. If you flush a grouse and miss your opportunity, come back in a little while. You may have success.
5. Grouse love to run. Sometimes what you think may be a squirrel burying nuts for the winter might actually be a grouse running from you.
6. The flush is the key. The grouse's wings make a very distinct sound when flushing (flying away alarmed), and this is sometimes accompanied by a weird "toodle-oodle" sound. Pick up on those sounds; acquire the target; do not analyze, it will be gone; pull the trigger on instinct.
7. If you get a good shot on a grouse and you don't find it, you may not have missed it: keep looking. I recommend doing a process-oriented search of the immediate area, grid style. I once searched for a grouse for a half hour, came back, searched some more, and found it. Again, they have superb camouflage!
Preparation For Dinner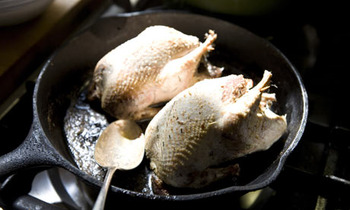 I have no idea where I learned this, but it is absolutely effective for preparing grouse:
1. Cut off the birds head and tail.
2. Stand with one foot on each wing.
3. Grab the bird's feet and pull
4. You will have an almost perfectly cleaned, gutted, and de-feathered breast!
There are many excellent recipes for grouse out there. They are pretty tasty birds because they mainly feed on berries. Soaking them in brine for about 24 hours will eliminate a "gamey" taste, though I find them to be quite tasty freshly killed. Worst case scenario: cook them in a skillet with butter! They really are the Perch of the Northwoods, it's hard to mess it up (unless you blast it all to hell of course).
Conclusion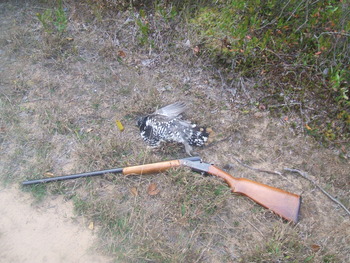 Hunting birds without dogs is very challenging, but it is a great way to mix activity with hunting. During my travels for the bird I have found ghost towns, abandoned log cabins, old railroad trestles, had close calls with bears, and I have seen some of the best beauty that this world has to offer.
I encourage every hunter to give it a try. I know from the day I shot my first bird out of the air with an ancient .410, I was hooked. I was just a boy, but I really understood "it." Grouse hunting is unique and special. And if you get far enough away from civilization, you will find pressure to be quite low and success to be high.

Good luck!
Keep Reading