World Football: 10 Greatest Matches Of AC Milan In The Last Decade (2000-2010)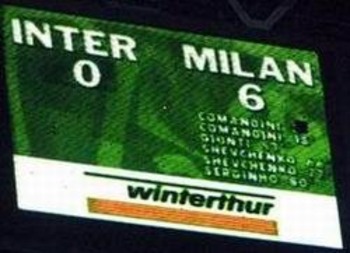 In the last decade (2000-2010) we can easily say that AC Milan was one of the most successful clubs from that era.
AC Milan had everything in that decade: a lot of trophies, great and successful manager, a lot of amazing footballers who were ready to win trophies.
Also, Milan had a lot of great matches in the last decade and you are about to see top 10 matches.
I hope you will enjoy in this great video slideshow.
Here are some links for all AC Milan fans:
Top 15 AC Milan Players of The Last Decade
10. Milan Vs Juventus 0-0
Competition: UEFA Champions League final
Date: 28 May, 2003
The match made history as the first time two clubs from Italy had faced each other in the final.
This match wasn't something special but this it is considered one of the greatest because this victory brought sixth Champions League trophy for Milan.
Also, every Milan fan will remember great celebration after Schevchenko scored the last penalty.
9. Milan Vs Sevilla 3-1
Competition: UEFA SuperCup
Date: 31August, 2007
The death of Sevilla midfielder Antonio Puerta raised a possibility that the match would be cancelled, but the game was still played, and all players wore the name "PUERTA" on their shirt, below their number.
Milan showed great football in this match and thanks to Jankulovski,Inzaghi and Kaka's goal they managed to beat very good Sevilla 3-1.
8. Milan Vs Liverpool 2-1
Competetion: UEFA Champions League Final
Date: 25 May, 2007
Milan's revenge came pretty soon. After big debacle in 2005, in Istanbul, this time AC Milan played in Athens against Liverpool.
Pipo Inzaghi had a great night as he scored two great goals.
AC Milan won their 7th Champions League trophy.
7. Juventus Vs Milan 0-3
Competition: Serie A
Date: 10 January, 2010
Ronaldinho show on Stadio Olimpico. He scored 2 great goals.
Milan completely destroyed their big rivals.
6. Milan Vs Ajax 3-2
Competition: UEFA Champions League Quarter Finals
Date: 23 April, 2003
High scoring and really amazing performance by both teams.
Inzaghi's goal in last minute brought semi finals to Milan.
5. Milan Vs Boca Juniors 4-2
Competition: FIFA Club World Cup
Date: 16 December, 2007
FIFA Club World Cup, former Intercontinental Cup.
Milan beat great Boca Juniors 4-2. Kaka and Inzaghi were fantastic.
4. Milan Vs Liverpool 3-3
Competition: UEFA Champions League Final
Date: 25 May, 2005
Maybe this should not be on this list. I wanted to point this match as a great one because of amazing first 45 min from Milan. They showed fantastic football and probably the best performance in Champions League final.
After that amazing first halftime, Liverpool came back from death and won the Champions League on penalties. This was a sad day for all Rossoneri fans.
3. Milan Vs Manchester United 3-0
Competition: UEFA Champions League Semifinals
Date: 2 May, 2007
First leg was played on Old Trafford where Manchester United manage to beat Milan 3-2 despite great show from Kaka, who scored two great goals.
In second leg, AC Milan did a great lesson to Manchester United by destroying them 3-0. This was a pure football and great teamwork in action.
2. Milan Vs Inter 3-2
Competition: Serie A
Date: 21 February, 2004
Inter had 2-0 and they failed to take even one point from this match and all thanks to great long distance goal that was scored by Clarence Seedorf in 85min.
It is really awesome when you beat your biggest rival in the last minute.
1. Inter Vs Milan 0-6
Competition: Serie A
Date: 11 May, 2001
Complete destruction of the biggest rivals. This was a big nighmare for all Inter fans.
AC Milan completely destroyed terrible Inter.
6-0 Enough said!
Keep Reading

AC Milan: Like this team?