Boston's Fourth Best Team Ain't Bad: How the Bruins Are Surging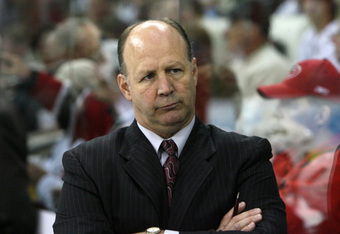 With the beloved Red Sox notching their second World Series title in four years, the Patriots steamrolling the NFL and striving for a perfect season, and the Celtics new Big Three propelling a once-futile franchise to a scorching 18-2 start, how are the Bruins making headlines?
A new and improved defensive system and a team full of hungry, selfless contributors...
That's how.
No one — I mean absolutely no one — projected the Bruins to be one of the best teams in the East, let alone the entire NHL, after 30 games.
And yet here they stand at 17-10-3, with their 37 points, the 3rd most in the NHL (behind only Detroit and Ottawa).
What's more, it's a team whose confidence and faith in the system is growing with each victory.
You can call the Bruins scrappy, and maybe even a fluke. But you can't call this team soft, and that is something that hasn't been true on Causway Street since the days of Neely and Bourque.
Some examples of this resiliency: they have succeeded thus far without their brightest budding star and offensive talent in Patrice Bergeron, who is out for the season after suffering a vicious concussion and broken nose following a dirty hit October 27th vs. Philadelphia.
Also, free agent goalie Manny Fernandez, a player many hoped would add an element of consistency between the pipes for the B's, has been shelved for the year with a knee injury.
Two expected stars gone for the duration, and yet these Bruins haven't missed a beat.
And for anyone who has consistently watched this team over the years, the hunger and scrappiness on this squad has been shocking. Specifically, a few things stand out about this 2007-8 group.
First, they have a defensive system in place that is seemingly maximizing the marginal talents of the Bruins defensemen. This fuels the goalie play, which has been superb from the likes of Tim Thomas and Alex Auld, especially the former.
Second, there isn't a significant drop off between the first and fourth lines. Long gone are the years when the B's would depend on two players from the top line to boost them nightly with big plays.
This Bruins expect a new guy from a new line to emerge each night.
Finally, the Bruins have a coach in Claude Julien who has concisely and realistically assigned specific roles to players, something that has clearly boosted the individual achievements of second-tier players.
Julien expects each player to play within the game plan, something that has brought out the most in what can generously be called average talent.
Statistics often times illuminate some of the hidden strengths and weaknesses behind team records, yet this Bruins team defies that logic.
They rank 12th in the NHL in the power play (19.4%), and last in the penalty kill (75.6%). In terms of team scoring, the Bruins lie right in the middle of the pack with a pedestrian goals per game average of 2.70.
Ok, those are team stats. What about the individuals behind this overachieving squad?
Marc Savard is really the only player on the B's who is having an All-Star type season, leading the NHL with 29 assists. Beyond that, you have to really dig deep to find any one individual who has keyed the Bruins success.
And that is just the way Julien wants it. Boston has received selfless contributions from the likes of Chuck Kobasew, Glen Metropolit, Dennis Wideman, and Andrew Ference, contributions that have far exceeded pre-season expectations.
Throw in a better year from Zdeno Chara, solid offense from veteran Glen Murray and sniper Marco Sturm, and an impressive string of minor leaguers who have responded to mid-season call-ups and you start to realize why this workman-like unit has flown under the radar.
The Bruins host the Devils tonight at home, which is just the second home game for Boston since November 23rd. So a lot of this grinding has taken place on the road, an old nemesis of past Bruins squads.
Whether the Bruins have the talent and organizational depth to sustain this success for 82 games and beyond will be an interesting winter development in Beantown.
But at this juncture, Bruins fans can't ask for much more. No one thought the achievements of the Black and Gold would matter relative to the success following Boston's other three major sports teams.
And to be honest, no one really cared.
And that is OK with this Bruins team, one that is bringing some of the pride back to a starved Original Six franchise.
This article is
What is the duplicate article?
Why is this article offensive?
Where is this article plagiarized from?
Why is this article poorly edited?

Boston Bruins: Like this team?