Oakland Raiders That Handled Their Business in Tough Loss to Houston Texans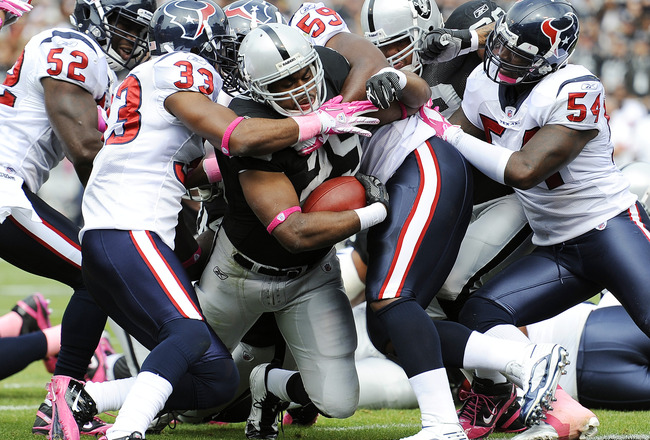 Thearon W, Henderson/Getty Images
The Oakland Raiders have now lost two heartbreakers in a row. They have dropped to 1-3 but there is still hope for this young team.
There were players in the game that shined bright despite the loss. If the rest of the team played like these guys did, the Raiders would have easily won the game.
Turn the page to see who these guys are.
Nnamdi Asomugha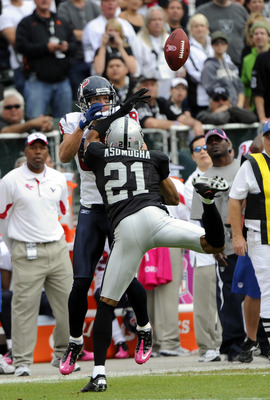 Thearon W, Henderson/Getty Images
He gave up only one catch and had a pass defensed. What else is new? This is what Asomugha does.
Other than that, there wasn't much going on wherever Asomugha lined up.
That's the usual for him.
Richard Seymour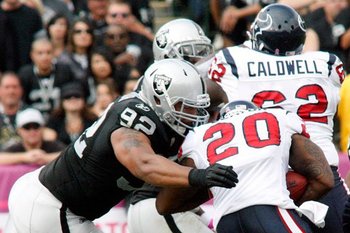 Richard Seymour is just like Asomugha except that he plays on the line. The only running play that worked on his side was all the way outside.
They just can't run the ball right at Seymour.
That's what led to the Texans constantly gashing the Raiders' right side of the line. Seymour ended up with six tackles for the game while he and rookie middle linebacker Rolando McClain were the only Raiders with a tackle for a loss.
That's what Seymour does.
Stanford Routt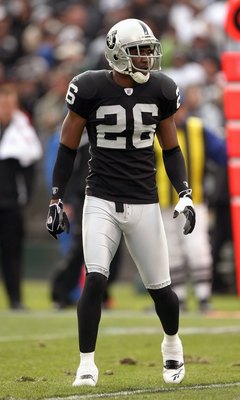 Jed Jacobsohn/Getty Images
Stanford Routt did a very good job in coverage on Sunday.
He was half the reason why Texans receivers had only five catches for 47 yards. The Raiders' loss this Sunday surely wasn't because of the secondary in pass coverage.
The front seven showing up can help the Raiders go on a long winning streak.
The offense would get away with its inconsistency.
Tyvon Branch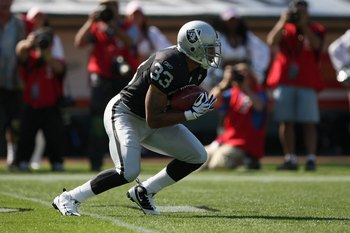 Jed Jacobsohn/Getty Images
Tyvon Branch only had five tackles and no passes defensed on Sunday. But the heat seeking missle did get it done on Sunday as his Jack Tatum-like hit woke the crowd and the Raiders up.
The Raiders need more wow plays like that to get the crowd going and to get them to show up. Hits like that sell tickets just as much as any deep ball for a touchdown would.
It darn near got the Raiders going enough to get a comeback win.
Jacoby Ford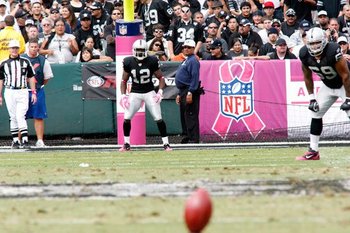 Jacoby Ford has given the Raiders good field position since replacing Yamon Figures at kick returner. He gave Raider Nation another big return with a 64-yarder.
Ford on the day had three returns for 85 yards and a 28.3 average.
That's handling your business.
Raider Nation can't wait to see him bust one all the way.
The Team
I know they didn't get the win but the Raiders made progress with their penalties. They had only two for 23 yards. I had to give them kudos for that!
Hue Jackson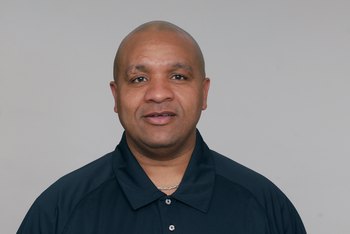 NFL Photos/Getty Images
Hue Jackson was dialed in on Sunday.
The game he called included a beautiful mixture of plays and an unexpected pass to Marcel Reese in the red zone. He also relentlessly took advantage of a mismatch with tight end Zach Miller.
That mismatch led to 11 catches for 122 yards and a touchdown in the red zone.
The Raiders were 3-for-3 in the red zone.
Jackson handled his business.
Marcel Reese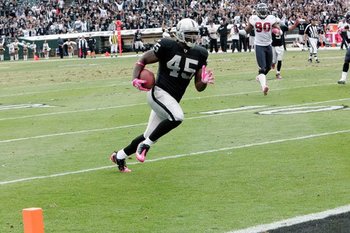 Marcel Reese did a good job blocking for Darren McFadden and Michael Bush. Sunday he took a play off from blocking and slipped out into the flats and caught a pass.
The result was a 13-yard touchdown.
Reece is quite a weapon as a fullback out of the backfield. I hope they use him more going forward.
I have to give every man credit that scored in the red zone.
Michael Bush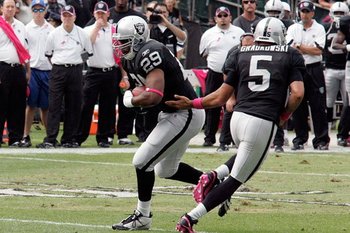 Boy does Raiders Nation welcome Bush back!
He went a long way in solving the Raiders' red zone issues on Sunday. He punched one in near the goal line and then later set up his teammates in the red zone with the play fakes.
Not only are the Raiders going to need Bush in the red zone going forward, but he may need to carry the load for a while, because Darren McFadden pulled his hamstring on Sunday.
Darren McFadden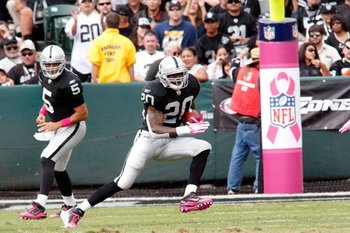 McFadden had 12 carries for 47 yards Sunday, but his day was cut short.
So was the big run that he was in the middle of. On a 23-yard run, McFadden appeared to be headed houseward until he suddenly slowed down and went out of bounds. He might have even had 100 receiving yards, as he had six catches for 83 yards on Sunday.
But there goes the hammy!
Tom Cable needs to sit him down this week to let him heal.
He can't risk McFadden missing even more time from his breakout season.
Zach Miller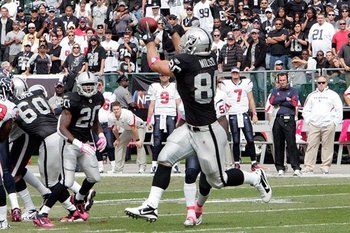 Zach Miller was abusing whoever covered him on Sunday.
The Raiders finally got the ball to that man!
Miller was by far the player of the game on Sunday.
His aforementioned 11 catches for 122 yards bumped him up to third among tight ends in the NFL. With all the deep threats in Raider Nation, Miller will continue to be open underneath.
The chains will move if the Raiders continue to throw his way.
I hope you enjoyed the slideshow.
Keep Reading

Oakland Raiders: Like this team?