Cardinals at Chargers: Can Cards Upset the Bolts?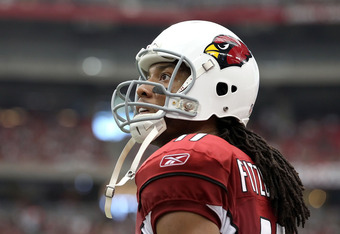 Christian Petersen/Getty Images
The Arizona Cardinals, though injury depleted, come in very happy to be 2-1. They would like to make it 3-1.
That's much easier said than done, however.
This afternoon they face the league's top offense in Phillip Rivers and Co. And to make matters worse, their second receiver, Steve Breaston, is out due to injury, leaving the Cardinals with Larry Fitzgerald...and a bunch of rookies.
Can the Cardinals pull the huge upset in Cali?
Stay tuned!
7:09 PM ET: Well, an expected loss for Arizona and win for San Diego. In my mind, in that game, San Diego certainly made a case to reclaim the lead in the AFC West. They'll have to catch the Chiefs, but it can be done.
For the Cards, they have to disappointed with the lack of effort. The division is still up for grabs, as both the Seahawks and Rams are beatable, but if they play like this, the 49ers will overtake them soon enough. Let's hope the coaching staff gets them in gear this week.
7:03 PM ET: Well the Cardinals called time out. I'm sure they hope to make one more drive count. I'm still debating on who to start next week against New Orleans. Hall hasn't looked great, although he's been under constant pressure. Still, I'd go with him.
7:00 PM ET: Heck of a game for Shaun Phillips. If he continues to play like this, and Shaun Merriman gets back healthy soon, the Chargers D will be feared. All of the sudden the AFC West, with the Chiefs, Chargers, and even Broncos, doesn't look as weak as everyone once thought.
6:55 PM ET: Man. Jim Dray making a nice play there. I was interested to see what this kid could do if inserted into the lineup. This is garbage time sure, but still, that was the best offensive play of the day for the Cards.
6:52 PM ET: It will be interesting to see how Hall does this next drive. He's looked much shakier this second half. Not that that is any worse than Anderson mind you. The question everyone wants answered now is whether Hall will start next week.
6:50 PM ET: Great game for Rivers, who is pulled after the game is well out of reach. Can you imagine if Rivers had the caliber of receivers that Peyton Manning or Tom Brady has? Interesting thought no?
6:46 PM ET: Welcome to the NFL Max Hall. Shaun Phillips again isn't blocked. I have to say this is a laughable effort on offense for the Cardinals.
6:40 PM ET: Good hold again by the Cardinals. Granted, the defense hasn't played well, but some of that has to be on the offense. The offense has yet to get 100 yards, so it's tough as a defense to come out and try to stop an offense like the Chargers when you're getting beat badly.
6:37 PM ET: Many NFL teams struggle with cutback runs like this, but the Cardinals don't have the speed to keep up on defense. This is where they miss Karlos Dansby and Gerald Hayes.
6:36 PM ET: Gates has been wide open all day. It's rediculous. Not to take anything away from him, but that's terrible coverage again by Arizona.
6:35 PM ET: Interesting that the Chargers are playing Matthews here rather than resting him. Nice tackle again by Toler.
6:30 PM ET: The defensive ends for the Chargers are straight beating the tackles for the Cardinals. Brandon Keith is getting owned to say the least.
6:25 PM ET: Not a good day for Adrian Wilson. Ryan Matthews, though, will have a good long career in this league. Impressive run from the slightly injured rook.
6:23 PM ET: Got to be impressed with the pass rush of the Chargers today. The O-Line needs some help for Arizona. But when Hall gets time he does well. On the fumble, he did not obviously.
6:21 PM ET: At this point, you hate to throw the towel in at all, but get yourselves ready for New Orleans next week if you're Arizona. They looked beatable today against Carolina.
6:17 PM ET: It's interesting. When the Cardinals are able to get some coverage, good things happen for the defense. Nice sack by Toler though. Gotta love Kaeding though, even though I'm a Cardinals FC. He's about as consistent as it comes.
6:16 PM ET: Well at least somebody came to play defense. Thank you Paris Lenon.
6:15 PM ET: Boy, the coaching staff has to be upset with all the penalties in this game.
6:09 PM ET: Not a terrible throw there by Hall. At least he didn't miss Fitz wide open down the seam, like others have...
6:08 PM ET: I'd like to see the Cardinals be more balanced on this drive. I think they abandoned the run too soon in the first half.
6:05 PM ET: The Cardinals have done well with their back against the wall this season so far. The defense give the Cards an outside shot still in this game.
6:03 PM ET: Interesting note: Dan Williams is inactive today, and Alan Branch was active. If Branch can provide a spark though, all the better. Still, discouraging note considering that Williams is a first rounder.
6:00 PM ET: It's really hard to play defense when Rivers is throwing this well. Solid coverage and there was finally some pressure on Rivers, but it's still not enough.
5:58 PM ET: As I've mentioned, this is the perfect half for the Cardinals to work out some kinks on offense and defense.
5:55 PM ET: The Chargers offense has sure been impressive today. You can't take that away from them. You wouldn't think it, but Rivers makes all of his surrounding players weapons.
This article is
What is the duplicate article?
Why is this article offensive?
Where is this article plagiarized from?
Why is this article poorly edited?

Arizona Cardinals: Like this team?