Gopher Goalie Preview: Kangas, Patterson, Kremer Lead Experienced Gopher Squad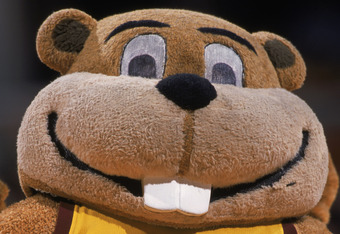 Jonathan Daniel/Getty Images
The Gophers return three goaltenders in 2010-2011: senior Alex Kangas and juniors Kent Patterson and Jake Kremer. Let's take a look at each as an individual before commenting on the goalies as a unit.

Alex Kangas

Kangas has been the primary starting goaltender for the Golden Gophers ever since the second half of the 2007-2008 season when Kangas took over the starting job from Jeff Frazee. He posted the best goals against average of 1.98 and a saves percentage of .930, both Gopher single season records.
In his sophomore and junior seasons, Kangas shouldered a bulk of the goaltending load, starting more than 82 percent of all games over the course two seasons.

Kangas' statistics have not yet lived up to his remarkable freshman season, though. In 2008-09, Kangas posted a disappointing 2.79 GAA and .901 saves percentage. In 2009-10 those numbers improved slightly to a 2.61 GAA and .911 saves percentage.
Kangas probably would have benefited from more of a goalie rotation his sophomore and junior seasons with Kent Patterson (see below), but it appeared that coach Don Lucia was seduced by Kangas' brilliant freshman streak. When Kangas played poorly, it seemed like Lucia wanted to give him another start to try and "recapture the magic," while when he played great Lucia wanted to "ride the hot hand."

Kangas returns to the team as one of this year's alternate captains, which indicates what type of person he is in the locker room. If Kangas can radiate a stern resolve to the rest of the team, he can truly put the Gophers on his back and lead them back into the win column.

Kent Patterson

Patterson, a product of the Blake School, is no slouch. Ranked as one of the top 20 prospects in the Colorado Avalanche's system, Patterson has the pedigree and the skill to be a No. 1 goalie. At Minnesota, he simply has not been given the chance yet.

Patterson has only played in 15 games in his collegiate career, posting solid, if unspectacular, GAA and saves percentage numbers in what mainly amounted to clean-up work.
While a strong backup goalie is an important thing to have on any hockey team, I wonder if he was given a little more playing time, the Gophers could have a 1A and 1B situation with Kangas and Patterson, instead of the very clear 1/2 delineation between Kangas and Patterson.

At Gopher Hockey media day today, head coach Don Lucia stated that he would rotate the goalies more and get Patterson more game experience this year. However, Lucia said that before the season last year, and he fell once again into the trap of riding Kangas until he found the magic again. I suspect that if we see more of Patterson this year, both he and Kangas will be sharper and both will contribute significantly to the team.

Jake Kremer

Kremer is one of the unsung heroes of this Gopher squad. As the third string goalie, Kremer has never played in an official game. His job on the roster is mainly to play in goal during practice, often times taking extra shots for players who want to work on a skill. He is also on the team in case of injury to one or both of the first two goalies.

Kremer is likely to play for a period in the Sunday exhibition game between the Gophers and the University of British Columbia. After that, though, he'll likely be back in his usual role, manning the nets in practice and standing in if and when injury should strike.

Outlook

Goaltending is the strength of this year's Gopher team. The Gophers return three upperclassmen between the pipes, and both Alex Kangas and Kent Patterson have had success at the collegiate level.
I predict that this is the year Kent Patterson gets his fair share in the net, and I think that he and Kangas will make a formidable tandem for the Maroon and Gold this winter. I predict that Gopher goaltending will be at or near the top of the WCHA at the end of the season.

Of course, in order for the Gopher goalies to be at their best, the Gopher defense will have to step up and force opponent's shots to the outside, instead of the many grade "A" scoring chances they gave up last year.

Will the defense have enough to keep opposing teams off of the scoresheet? I'll look at the D-corps next time.
This article is
What is the duplicate article?
Why is this article offensive?
Where is this article plagiarized from?
Why is this article poorly edited?