Florida Gators vs. Alabama Crimson Tide: Live Blog, Statistics, and Analysis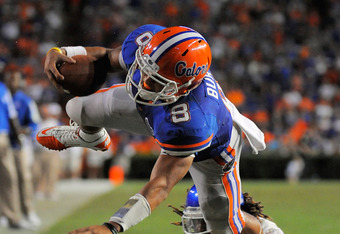 Will Trey Burton make a difference tonight?
Doug Benc/Getty Images
Good evening, Florida Gators and Alabama Crimson Tide fans! My name is James Walker, and welcome to tonight's Live Blog. Feel free to leave comments or viewpoints during the game as we watch what is arguably the best game in the SEC this season.
Will Trey Burton have another excellent performance tonight? Or will Alabama's offense run the ball down Florida's throat just like they did in last year's SEC Championship game?
Sit back and enjoy!
Alabama 31 Florida 6 - FINAL. Roll Tide!
Florida will learn and grow because of this game. Gator Fan, don't be too upset that Alabama schooled your team tonight.
Tricky Dicky just got a bit antsy. Watch the ball, Nixon.
Give Brantley props for being tough and getting back in there!
Alabama 31 Florida 6. Brantley just got annihilated. Quarterback sandwich served up in Tuscaloosa tonight.
Brantley has had at least three passes deflected tonight. How tall is he, 5 feet nothing?
Deonte Thompson dropped another pass. I'm shocked. Not.
Good defensive stand, Florida. Now let's see what the Gator's offense can do with it—if they don't give it right back to Alabama.
Start of the fourth quarter: Alabama 31 Florida 6. I challenge everyone following this blog to use one word to describe Florida's performance tonight. Come on—I dare you.
Unbelievable. Simply unbelievable. The Gators have hurt themselves more than Alabama beating them this quarter.
Coach Meyer and Coach Addazio—please, for the love of God, do NOT run the dive play!
Alabama 31 Florida 6. The Crimson Tide is doing their best to keep the Gators in the game.
Wow, Florida ran another dive play on third down. The old man in the nose bleed section saw that one coming.
Florida thanks you for the 15 yard gift. Florida needs all they can get.
Alabama 31 Florida 6. John Brantley is quickly becoming a problem for Florida. That was one of the dumbest passes I've ever seen.
Alabama 24 Florida 6. When you get a punt with a bounce like that you know things are going well for you. Gators have the ball on their own one yard line. Good luck, Gators.
OK, Florida—do you have what it takes to stop Alabama on this third down?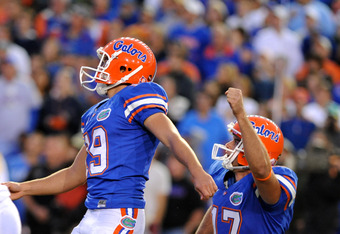 Alabama 24 Florida 6. I wonder if John Brantley realizes that Deonte Thompson never catches the ball in his end zone. And now Urban is going for a field goal. He should have done that on the first drive.
Florida really needs to stop running the dive play. It hasn't worked for years now it seems. I wonder if Addazio has any imagination whatsoever.
The Florida Gators are showing some life here in the third quarter. Andre Debose looks pretty good.
Start of the second half: Alabama 24 Florida 3. Can Florida mount a comeback?
It's almost time for the second half. Do you think Florida can stage a comeback or is this already over?
Coach Urban Meyer owns the bonehead call on the first drive. That is why I love Urban. He OWNS it.
Halftime: Alabama 24 Florida 3. Florida gets the ball to start the second half. If they have any hope whatsoever, they better score on that drive.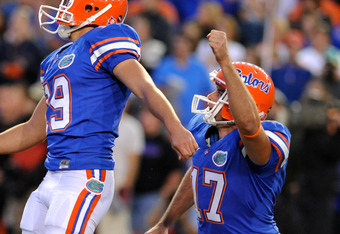 Alabama 24 Florida 3. Moody's dropped pass was indicative of tonight's performance. And Chas Henry just booted that field goal like he's done it for years. A little too late—he should have been put in there on the first drive. I truly believe that flub deflated the Gators.
This article is
What is the duplicate article?
Why is this article offensive?
Where is this article plagiarized from?
Why is this article poorly edited?

Florida Gators Football: Like this team?