Carmelo Anthony: 10 Reasons Why the New Jersey Nets Should Trade for Him ASAP
Christian Petersen/Getty Images
More News, Notes, and Commentary at Rip City Report
The New Jersey Nets have been involved in many of the trade discussions revolving around almost every available big name player in the NBA.
But most recently, the New Jersey Nets have been playing phone tag with the Denver Nuggets in regard to Carmelo Anthony.
The New Jersey Nets want Carmelo.
But are the Nuggets willing to part ways? The Nets have put together a few enticing packages for the Nuggets to mull over, but none have apparently forced Denver to pull the trigger.
And that is where the Nets come in.
But in case they didn't know, here are 10 reasons the New Jersey Nets should trade for Carmelo Anthony ASAP.
And I really mean as soon as possible.
Thanks for Reading.
More News, Notes, and Commentary at Rip City Report
Star Power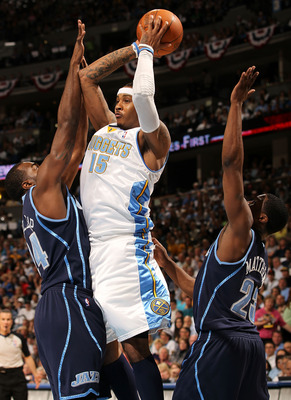 Doug Pensinger/Getty Images
Increased Revenue and Airtime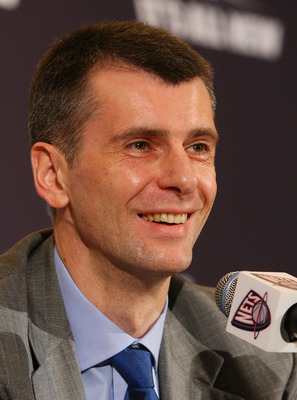 Mike Stobe/Getty Images
The better your team is and the easier you make it for the average sports fan to recognize names on your roster, the more money you will bring in.
Name recognition is key to building a successful team in terms of money. Not to mention that the league especially likes to sell better teams with more recognizable names to the fans.
Not only will Carmelo Anthony bring the New Jersey Nets more attention from the media and more airtime on national TV, he would also bring in quite a large number of jersey sales.
More News, Notes, and Commentary at Rip City Report
Depth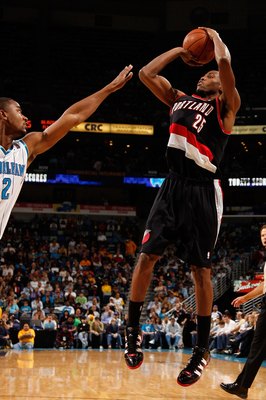 Chris Graythen/Getty Images
The New Jersey Nets have collected quite the array of small forwards, power forwards, and shooting guards, all positions that Carmelo Anthony has played before.
Right now it looks like Travis Outlaw would be the starter, but I'm sure he would step aside if 'Melo came knocking.
Of course adding depth would almost certainly mean that the Nets would have to give up very little in exchange for Carmelo's services. (linked for humor—Carmelo's services...)
Draft picks, Derrick Favors or Troy Murphy, Devin Harris, and a token shooter (the Nets have a lot of those).
In that case, New Jersey would still preserve its depth.
Sure, they would need to find a point guard (or just use Jordan Farmar) to replace Harris, but I'm sure that would be possible if they were to bring in a third team to complete the deal.
But still, adding Carmelo would all but plug up the small forward position, forcing those players that were in that position to cushion the other positions, adding depth everywhere and not just behind Carmelo.
So again, this would assume that the New Jersey Nets won't throw everything and the kitchen sink at the Nuggets in exchange for Carmelo, but that they would be able to preserve most of their depth that they have accumulated.
More News, Notes, and Commentary at Rip City Report
A Third Wheel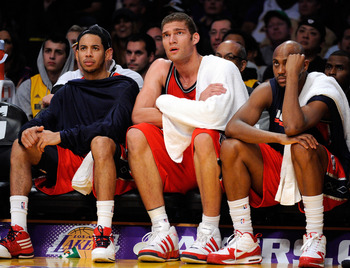 Kevork Djansezian/Getty Images
Forgetting The 2009-2010 NBA Season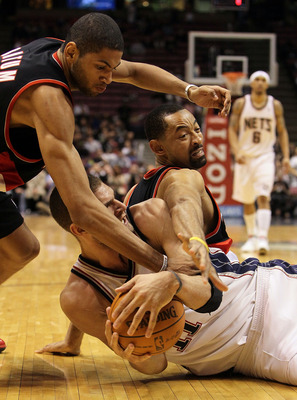 Jim McIsaac/Getty Images
For New Jersey faithful, that must have been entirely embarrassing, completely disappointing, and anything but satisfying.
But like a dose of Nyquil for the flu, would Carmelo Anthony help you move past that 12-win season?
I'm sure he would help you move on win-wise, but pride-wise, would he help you recover? I'm sure almost all New Jersey Nets fans want to see Carmelo Anthony make the switch.
And there would be no better way to move past the 2009-2010 season than a dose of Carmelo Anthony. (Link: the Most Unbreakable records of all-time New Jersey Nets were almost included)
Or is it already "12-wins, what? I don't know what you're talking about."
More News, Notes, and Commentary at Rip City Report
A Better Product on the Court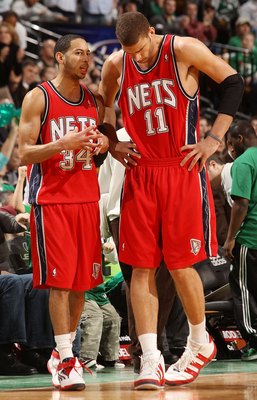 Elsa/Getty Images
Is there anyone out there who thinks that Carmelo Anthony wouldn't make the New Jersey Nets a better team?
Sure, the Nets are going to have to give up a lot, including Derrick Favors, Devin Harris, Quinton Ross, and draft picks, so it's not like the Nets won't be shorthanded during camp.
But when you add someone of that quality to the roster, there is only one way to go.
The projected starting lineup for the New Jersey Nets if this trade is completed would be:
PG DJ Augustine
SG Terrence Williams/Anthony Morrow
SF Carmelo Anthony
PF Troy Murphy
C Brook Lopez
Again, the Nets would need to add more talent, preferably in the form of Chris Paul, if they would like to compete immediately.
The New Jersey Nets are moving to Brooklyn in the next few seasons, and what a better way to break in the stadium than with Carmelo Anthony in your starting lineup (unless Michael Jordan is available). I see this trade happening because the Nuggets get what they want from Carmelo Anthony in return.
Young talent and draft picks.
It really is a win-win scenario.
If the New Jersey Nets want to be relevant next season, this is the way to do it.
There is no better way to put your team on the map than winning games, and that is exactly what the Nets would do with Carmelo Anthony on the roster.
More News, Notes, and Commentary at Rip City Report
Playoff Experience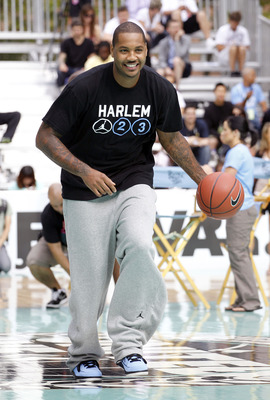 Chris Trotman/Getty Images
If the Nets are really going to be perennial championship contenders like the new owner says, then they should probably want a guy who has been in the playoffs and knows how to compete at that level.
This is not saying that the Nets will instantly win the East and dethrone the Lakers as champions, but in all reality, this would be the first step they should take.
Whether that is a plausible storyline or not is beyond me, we will have to wait and see if this deal gets completed or not.
Teams just don't win in the playoffs without a big-name player, and it always helps if that big-name player has been in the playoffs before.
Going in cold turkey never helped anyone.
More News, Notes, and Commentary at Rip City Report
Future Free Agents Will Be More Willing To Sign on the Dotted Line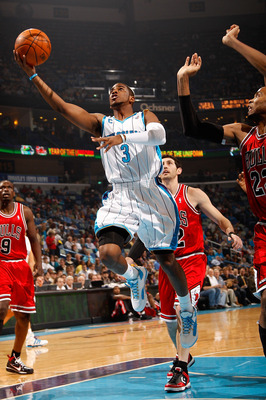 Chris Graythen/Getty Images
Fulfilling The Owners Promise
Mike Stobe/Getty Images
This summer, the New Jersey Nets owner Mikhail Prokhorov promised the New Jersey Nets fan base a championship within the next five years.
...five years.
Going from an eighth seed in your conference to a title contender is difficult enough, but when you only win 12 games in the previous season, it goes from difficult to nearly impossible.
The Nets have already improved their roster, adding Travis Outlaw, Anthony Morrow, Troy Murphy, and Derrick Favors. Giving them depth at every position and youthful scorers.
But I'm still not seeing a team that could win a championship within the next half decade.
It just wouldn't be possible with that roster.
Add Carmelo Anthony to that and we'll talk, but still, that team with Carmelo would need to add one more BIG piece to compete against the Heat, Magic, and Celtics.
But Carmelo Anthony would be a good start to winning a championship within the next five years.
More News, Notes, and Commentary at Rip City Report
It's Carmelo Freaking Anthony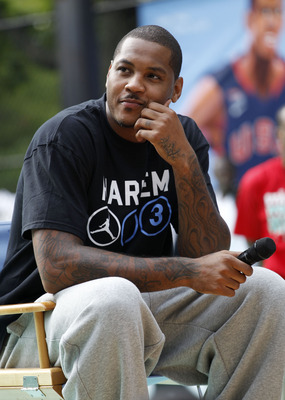 Chris Trotman/Getty Images
Whenever you add a player of Carmelo Anthony's stature to any team, said team is going to be better.
You don't add 25 plus points to an offense and stay the same.
So in other words, the New Jersey Nets wouldn't win 12 games with Carmelo Anthony on the Roster next season. That, I feel, is just physically impossible.
The New Jersey Nets have a roster full of role players with one or two emerging stars.
Take the Denver Nuggets Roster (minus Carmelo) and New Jersey Nets (without Carmelo) and you have essentially the same roster.
Chauncey Billups is probably the only exception because no one is ready to defend that Devin Harris is akin to Chauncey Billups.
So could we expect the Carmelo-ful New Jersey Nets to win around 40-45 games? Yes, I think that would be very fair. Not only would Carmelo add that definite number one scorer that the New Jersey Nets currently are without, but he would out people in the seats and likely catapult the Nets into the playoffs after winning just 12 games a year before.
Can you think of a reason the Nets shouldn't sign Carmelo?
I Can't.
Thanks For Reading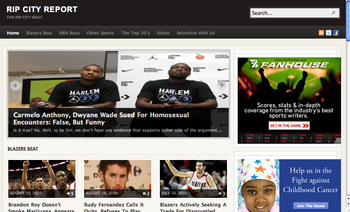 If YOU liked what you read, please feel free to check out one of our other titles.
- The Funniest/ Best Celebrations of All Time
-The Jordan Effect: Seven Teams That May Never Win A Championship In The Miami Era
- Carmelo and Dwyane Wade Sued For Homo-Sexual Encounters
- The Oklahoma City Thunder Are The Most Overrated Team In The NBA
-Brandon Roy Doesn't Smoke Marijuana
-Sweet Kicks: Ranking The NBA Stars On Their Signature Shoes
- Worst injuries of All Time (With Video)
-Funniest Sports Fights (With Video)
- Who has the Best Home Court Advantage in the NBA?
(follow me) On Twitter
More News, Notes, and Commentary at Rip City Report
Keep Reading

Denver Nuggets: Like this team?