Ohio State QB Terrelle Pryor: Where Does He Rank Amongst Jim Tressel Era QBs?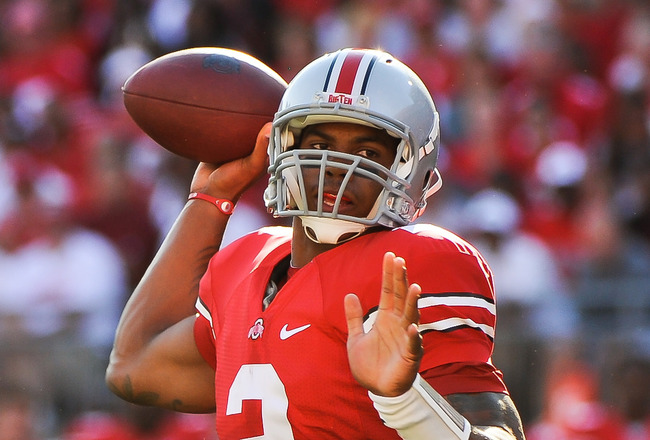 Jamie Sabau/Getty Images
It is often said that behind every good man there is a great woman.
How much more can be said about a good team's quarterback?
When Jim Tressel took the head coaching job at Ohio State, Buckeyes fans were still reeling at previous coach John Cooper's two win—ten loss record against bitter rival Michigan.
For Buckeye fans, this kind of record was absolutely unacceptable. Every Buckeye fan knows, a season is only successful if it includes a victory over the Wolverines.
As a rookie coach, Tressel needed to put a team together capable of accomplishing this goal. He needed to develop the guys Cooper left behind while enhancing his roster with fresh talent.
Unfortunately, Tressel found himself in a tough spot when it came to the quarterback position. It is common for a coach to be heavily scrutinized by his selection of quarterbacks. This scrutiny, however, was doubled in Tressel's case because of fans' undying affection for former quarterback Joe Germaine. Tressel needed someone capable of filling Germaine's shoes.
He did that and more.
In his customary successful manner, Tressel provided Ohio State fans with an array of talented quarterbacks who have led the Buckeyes to multiple national title games and Big Ten Championships.
The following is a list of these great QBs that puts Heisman hopeful Terrelle Pryor's impressive numbers in perspective.
According to this list, a Pryor-kind of performance at QB is much more the norm rather than the exception to the rule.
#5: Steve Bellisari (2000-2001)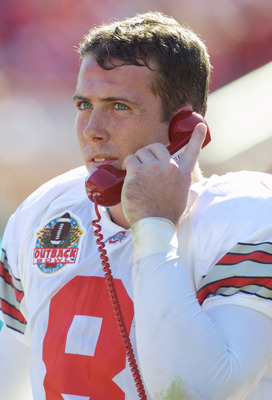 Scott Halleran/Getty Images
A spillover from the Cooper Era, Bellisari never lived up to his athletic potential. His two-year career as a starter was riddled with problems both on and off the field.
Bellisari was a great athlete but was placed in a tough position as a very inaccurate passer stepping into replacing the ultra-accurate Joe Germaine.
Although he threw for 1600 yards in 2001, he threw 6 interceptions and only 8 touchdowns.
Off the field, Bellisari was suspended for drunk driving in 2001, which enabled backup Craig Krenzel to step-in to a starting role versus Michigan (read more about that game later on).
Post-collegiate Career
Bellisari was drafted by the Rams in the sixth round of the NFL Draft. He was asked to play safety.
Bellisari finished his playing career in the Arena Football League.
#4: Todd Boeckman (2007-2008)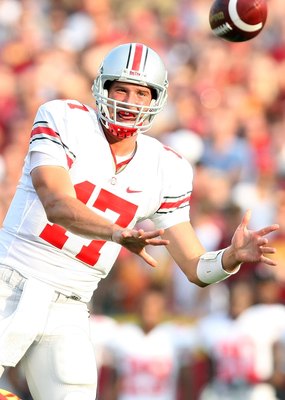 Harry How/Getty Images
After the departure of Troy Smith in 2006, Todd Boeckman won the Buckeyes starting spot at quarterback.
In his first year as a full-time starter, Boeckman had one of the best seasons of any quarterback of the Tressel Era. He passed for 2,375 yards, 25 touchdowns, and received All-Big Ten First Team Honors. He led the 2007 Buckeyes to the BCS National Championship game where they lost to LSU 38-24.
Boeckman lost his starting job in 2008 to freshman sensation Terrelle Pryor.
Record as a starter: 13-3
Record vs. Michigan: 1-0
Big Game Performance: Played terribly against LSU in the National Championship game, throwing for just 208 yards and two interceptions.
X-Factor: Never played well in big games. He pretty much lost the title game for OSU in 2007 and played horribly against USC in 2008.
Conclusion: 2007 Boeckman was absolutely fantastic. Although he ranks as second-to-last on this list, his impressive statistics should function as an indication of how good Tressel's quarterbacks have been these last ten years.
Post-collegiate Career: Even as a backup, Boeckman was still highly regarded in many scout circles. He ended up getting drafted as a free-agent but never landed a spot on an NFL team.
#3: Terrelle Pryor (2008-Present)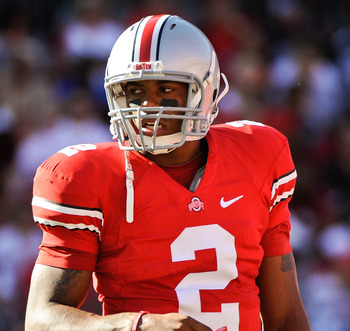 Jamie Sabau/Getty Images
Terrelle Pryor is possibly the most talented quarterback on this list.
He was considered the nation's top recruit coming out of high school. He has incredible speed, a strong arm, and a football IQ that grows by the day.
As a true freshman in 2008, Pryor took over for Todd Boeckman after the Buckeyes' blowout loss to USC. This move by Tressel, while controversial, satisfied many fans begging for Pryor's talents to be unleashed.
While he faced some rookie struggles in 2008, Pryor managed to break all kinds of Ohio State rookie records. He finished the year with 1,300 yards passing and 631 yards rushing, while leading the Buckeyes to a BCS bowl game against Texas.
After his freshman season, Pryor has settled in as a bona fide star for the Buckeyes.
In 2009, Pryor had over 2,000 yards passing with 800 yards rushing. His performance against Oregon in the Rose Bowl catapulted Pryor to serious Heisman speculation for his junior season in 2010.
Record as a starter: 23-4
Record vs. Michigan: 2-0
Big Game Performance: MVP of the 2010 Rose Bowl; future big games TBD.
X-Factor: Pryor has the potential to be ranked #1 on this list. He is midway through the Buckeyes most recent journey to the National Championship.
His big fumble against Penn State, however, has kept him from climbing the ranks as of right now.
#2: Craig Krenzel (2001-2003)

Krenzel to Jenkins to Save the Season

Craig Krenzel is beloved by Ohio State fans for two huge reasons:
#1—his season-saving TD pass to Michael Jenkins in the final minutes of the Ohio State—Purdue game in 2002.
#2—His performance against Miami to win the 2002 National Championship
Krenzel did everything an Ohio State Buckeyes fan could ask him to do.
He beat Michigan twice, once as a backup.
He virtually willed the Buckeyes to victory in the BCS Championship game by changing up his game and running on one of the best Miami defenses ever.
He played Tressel ball perfectly. He played conservatively and with a calm demeanor. He played his best when the score was close and the clock was running out. He was a Buckeye.
Record as a Starter: 24-3
Record against Michigan: 2-1
Big Game Performance: 2-Time Fiesta Bowl MVP. OHIO STATE 31-MIAMI 24.
X-Factor: His one loss against Michigan—that was back when Michigan was actually good. Otherwise, "Holy Buckeye."
Post-collegiate Career: Krenzel was drafted by the Bears and went 3-2 as a starter.
#1: Troy Smith (2004-2006)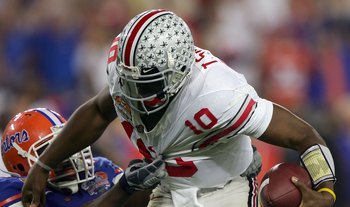 Jed Jacobsohn/Getty Images
Troy Smith had a long road to success at Ohio State. First, he struggled to find a spot on the team. Then, he lost the starting role to Justin Zwick at the beginning of the 2004 season. Finally, he was suspended for violating team policies. His path to starting quarterback at Ohio State was complete with many ups and downs.
But once he got up. He got way up.
ESPN named Troy Smith the "Big Ten Player of the Decade", and he definitely deserves the title. In 2006, he threw for over 2,000 yards, had 30 touchdowns, and had a quarterback rating of 167.87. With this level of dominance, Smith received the Heisman trophy and led the Buckeyes to their 3rd National Championship game.
This kind of season alone would have been enough to place Smith amongst the Buckeyes' best. But, in numbers that are even more important to OSU fans, Smith was one of the few quarterbacks to beat Michigan in three consecutive seasons. In these three games, he had over 1,000 yards of total offense, 7 passing touchdowns, and 3 rushing touchdowns.
If it wasn't for his poor performance against Florida in 2006, Smith would easily be considered the greatest Buckeye ever.
Record as a starter: 26-4
Record vs. Michigan: 3-0
Big Game Performance: Played well in some very big games. He, unfortunately, couldn't do much against Florida's defense in the Buckeyes' most recent BCS Championship loss.
X-Factor: Is considered by many to be one of the best leaders to ever put on a Buckeye uniform. This is significant because of his tough struggle to get to the top. He is a huge success story.
Post-collegiate Career: Was drafted by the Ravens and started a couple games. He is currently a backup quarterback for the San Fransisco 49ers.
Keep Reading

Ohio State Football: Like this team?