Hockey East Begins Season With Exhibition Games Against Canadian Schools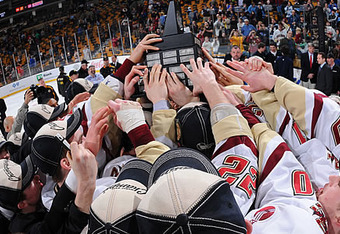 Boston college Celebrating - taken from hockeyeastonline.com

Well, it is officially October, College Football and the NFL have already begun, the MLB and MLS are getting ready to end their regular season and begin the post season and hockey, both the NHL and College games, are beginning. With the start of the college hockey season comes exhibition games between the Division I schools and their Canadian counterparts. These games are essentially meaningless to the teams respective conferences and the overall standing, but they give the schools a chance to showcase new players to their students, and provide an actual test for the coaches to do some last minute evaluations and roster tweaking. Eight of the ten Hockey East Association schools will be playing games this weekend with the Merrimack College Warriors and the Providence College Friars not included in the exhibition schedule. From Canada comes four clubs, The University of New Brunswick, Acadia University, the University of Toronto and St Francis Xavier University. The schedule starts today, Saturday, October 2nd at 3:00 PM EST when the University of Massachusetts at Amherst plays host to New Brunswick. Amherst will need a good result to build on for this season if they want to prove their doubters wrong. In both the Hockey East coaches poll and my season preview, the Minutemen were picked to finish ninth in Hockey East and miss the playoffs. Today's other three games, all starting at 7:00 PM EST, feature Northeastern University hosting Acadia University, the University of New Hampshire facing St Francis Xavier and Boston University playing Toronto. All games are at the Hockey East school's home rink. Northeastern will be looking to avoid injuries tonight as well as getting a good showing from the new comers. Last year the Huskies were plagued all season by injuries and it started with their exhibition game against St. Thomas University. Northeastern were picked to finish fifth by the HEA coaches. UNH will be looking to put down part of the foundation on which they hope to build what will finally be a trophy winning year. Despite finishing at or near the top of Hockey East seemingly every year, they have won just two Hockey East Titles and no National Championships earning themselves the nickname, University of No Hardware. The Wildcats were picked to finish third this season. BU is coming off a disappointing season in which many thought they would be able to repeat their feats, winning the Beanpot, Hockey East Regular Season Title, Hockey East Tournament Title, and National Title, but they were unable to do any of that. They will look to right the ship and get back on the track to success this season. The Terriers were picked to finish fourth in Hockey East. The remaining exhibition games will take place on Sunday, October 3rd. At 3:00 PM EST St. Francis will head to the University of Massachusetts at Lowell. The expectations in Lowell are much lower this year than last season. The Riverhawks were unable to repeat their HEA final run last season and no one is really expecting much out of them this year. Lowell were picked to finish eighth in the conference. At 4:00 PM, the University of Maine Black Bears will play host to Acadia University. After a thrilling 7-6 OT loss last season against Boston College in the Hockey East Championship, Maine is returning pretty much every important piece of its team. And after a successful campaign, expectations are high in Orono Maine were picked to finish second in Hockey East. Shortly after, at 4:05 PM, New Brunswick will step out onto the ice sheet at the University of Vermont. UVM and Merrimack were picked to finish sixth and seventh respectively by the Hockey East coaches, in my preseason ranking I had them switched. Vermont has been a pretty solid team since joining Hockey East, but I think they will be pretty quiet this year. Lastly, at 7:00 PM, the current Beanpot, Hockey East and National Champions, Boston College will face-off against Toronto. Repeating isn't that far fetched of an idea, BC returns most of their core and is the preseason Hockey East favorite and National #1. The only thing they really need is to make sure they don't get a champions hang over.
This article is
What is the duplicate article?
Why is this article offensive?
Where is this article plagiarized from?
Why is this article poorly edited?