Ryder Cup: Meet Sexy Opening Ceremonies Singer Katherine Jenkins
The Ryder Cup got started off in a big way when the beautiful Katherine Jenkins came out to sing in the opening ceremonies.
She's only one of Britain's most successful singers and celebrities.
Want to learn more about her? Well they say pictures are worth a thousand words and this slideshow is full of them.
Get ready to meet Katherine. Here we go.
Begin Slideshow

»
Up close and personal, that's the best way to get to know someone.
They say you can find out a lot about a person by looking into their eyes.
Kat, can you please show us your eyes?
She's got a beautiful pair of bluish-grey eyes.
In fact, this silver shiny dress definitely bring out the color in them.
Katherine was born in Neath, Wales and grew up attending school in the area.
She developed a love for being on stage by participating in school productions as a youngster.
Is that latex?
Well, Kat, I must say it fits you like a glove.
Wow.
Jenkins was a member of the Royal School of Church Music Cathedral Singers as a youngster.
There she was able to hone her singing talent and win multiple awards.
She's not all about glamor and wearing dresses.
Sometimes she can also let loose and relax.
This woman can also look hot wearing plaid and a set of roller skates.
Although, she definitely looks good dressed up.
Especially in this stunning, backless evening gown.
What can you say? She's got range as a singer.
And she's got range as a dresser.
By the time she was 17, Katherine received a scholarship to attend the Royal Academy of Music.
There she graduated with honor's and earned a music teacher's diploma.
With such a promising career in music, it was actually surprising to find out that Katherine got her biggest break elsewhere.
On the runway.
She entered a model competition and became the Face of Wales 2000.
It was her success as a model that allowed her to transition into her true passion: music.
Her determination to succeed in the industry led the creation of a demo tape.
After hearing her demo, Universal Classics and Jazz called her in for an interview.
She went on to impress and was promptly signed to a six-album deal.
The deal was believed to have been worth a record £1 million.
Her work and talent didn't go unnoticed.
The success of Premiere, her first album, allowed her to become fastest-selling mezzo-soprano in history.
Six of her seven albums have reached number one in the classical music charts.
While two of her albums have gone on to win Album of The Year BRIT awards.
If you're curious of whether not she's single, well she's in a relationship.
It's been rumored to have bought a home with fellow Welsh celebrity Gethin Jones.
How big is she in the UK?
She's gone on to outsell British pop stars Spice Girls and Celine Dion.
There's no question that she's most comfortable on stage, entertaining an audience.
But in the middle of a live performance, something embarrassing happened.
While being lifted in the air, the singer stretched back and...
Voila!
A wardrobe malfunction.
A nip slip occurred and gave the audience a surprise.
But Katherine is a true professional.
She won't let a little nipple exposure hold her back.
They say she's getting ready to share her music and make it in America.
From modeling to singing, she's come a long way to become a big success.
This 30-year-old's albums have gone on to sell over 4 million copies.
She's gone on to sell-out concerts, make television appearances and has become a British singing sensation.
Jenkins can now be seen as a judge on the British television reality show Popstar to Operastar.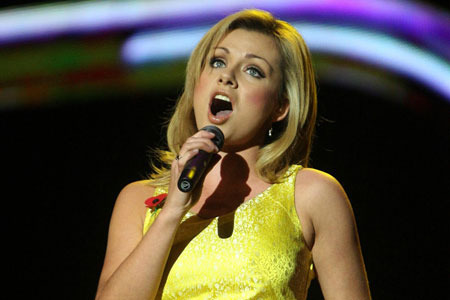 Despite all the fame, the word on Katherine is that she remains a very modest girl.
In case you were wondering about more risque outfits, well that's just not her thing.
She has apparently turned down multiple offers to appear on Playboy.
If you really want to know more about her.
Check out her autobiography "Time to Say Hello", released in 2008.
I know of at least one man that showed a tad bit of interest during the Opening Ceremonies...
Tiger Woods snuck a quick peek at this beautiful opera singer.
She fits his type: sexy, blonde and European.
Kinda like the former Mrs. Woods.
Well, come to think of it when you consider his broad range of mistresses, Tiger likes all sorts of women.
Here's Tiger probably hoping for an encore.
Katherine can sing after all.
I'm sure he just loves her voice.
Alright, in case you missed out her on television, it's time to catch you up.
Here's video of Ms. Jenkins.
What a great voice. Are you a fan?