Follow Me Guys: Top 5 Leaders in American Sports Today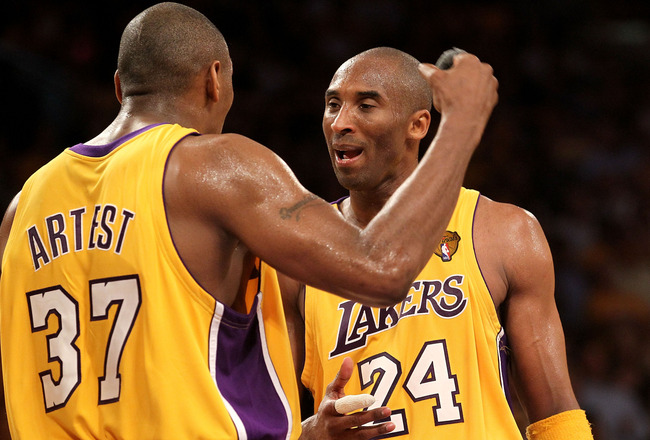 Kobe Doin' Work
Ronald Martinez/Getty Images
There are many was to define a leader, one who is calm under pressure, one with great work ethic, a person with fierce determination, and the most important a person that is a winner.
This is a list of the top leaders in any sport, not just one particular sport . This person will be considered the best leader in sports today.
So who will be the one to lead the leaders? What person's face should be in the dictionary next to the word leader? Lets find out...
Tom Terrific!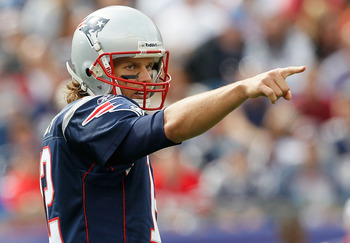 Jim Rogash/Getty Images
Through the last decade you would be splitting hairs on debating who is better, Tom Brady or Peyton Manning.
While they are #1 and #2 in the record books for most touchdowns in a season (Brady #1, 50 and Manning #2, 49) the fact is their level of play has been pretty much even.
The one area that Brady has Manning beat is in leadership. Now I'm not saying Peyton is not a great leader, but Brady is in another class than Manning.
There have been four quarterbacks with three or more Super Bowl wins, but Tom Brady is the only one to have lead his team on go ahead drives in the fourth quarter in all of his wins.
So this means that when it matters most, when the other ten players are tired and see they are down in the fourth quarter and they step in to that huddle and look into Tom's eyes they know at that moment they can win and that is the sign of a true leader.
Which is why Tom Brady makes it at No. 5.
Coach K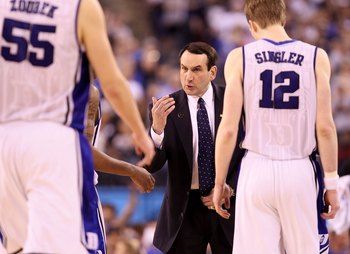 Coaching em up
Andy Lyons/Getty Images
I could just bombard you with stat after stat like Mike Krzyzewski has won four national championships, been to the final four eleven times (T-2nd most all time), became the sixth coach in NCAAB history to get 800 wins oh and lead the men's Olympic basketball team to a gold medal.
I could say all of that or I could just let the stats speak for themselves.
Bottom line, Coach K is not just a great college coach, but has had success with NBA superstars in the Olympics and coached many of future superstars on his great Duke teams.
The things that make Mike such a great leader is his care for the students.
Among having one of the greatest win totals in NCAAB history, coach K has graduated 90 percent of his scholarship players which is among the highest in D-1 basketball.
What makes coach K No. 4 on the list is that he is not just a leader of men on the court, but off the court as well, which means a lot more to me.
The Black Mamba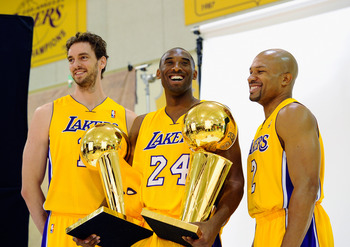 Back to back
Kevork Djansezian/Getty Images
Kobe, Kobe, Kobe, what can I say? I know most of you reading this will think I am a Kobe lover for putting him above coach K.
It's the opposite, I am what you could call a "Kobe Hater", but that will not blind my eyes from the truth.
Kobe is one of the best leaders we have ever seen in basketball, sounds crazy I know. To think if I were to have said six years ago that Kobe Bryant was a great leader I would be laughed out of the building.
Six years ago Kobe Bryant was maybe the furthest thing from a leader as you can get, but that was a different Kobe.
After going through serious rape allegations and a huge hit to his reputation after his verbal war with Shaq and his trade demand, Kobe slowly built his image back up, and to my surprise his ordeals made him a better player, a better winner, a better person.
Kobe took this and ran with it, remolding himself into a true leader. He began talking to players more and encouraging his teammates as well, not just trying to do it all, but being more hands on in teaching other players.
This new Kobe was well received by his teammates, which lead to his first championship as the leader of his team. Now coming off back to back championships, Kobe Bryant is considered one of the most vocal and best leaders in basketball.
But what makes him No. 3? It's the climb from selfish, moody, and arrogant to determined, passionate, and encouraging that makes Kobe such a great leader.
From being one of the most hated people amongst players and fans to being the games best leader is remarkable.
Kobe my not be a better pure leader than coach K, but to swallow one's pride and completely change the way you conduct yourself on and off the court for the better of others is what makes Kobe my No. 3 among leaders today.
The Captain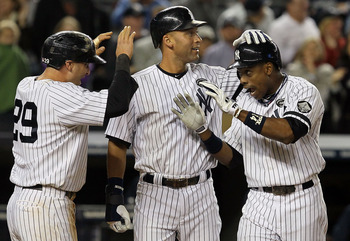 Touch em all
Jim McIsaac/Getty Images
Did you know if you google the word leader that it lists Derek Jeter as one of its synonyms?
That's not true, but it might as well be, because Jeter is one of the best leaders I have ever laid my eyes on.
Derek Jeter does not have gaudy career numbers, hitting .314, fewer than 3,000 hits and fewer than 300 home runs, but he is a flat out leader.
His five World Series rings help back up my claim, with Jeter being the anchor of all five. His play is not measured by stats, but by hustle, intelligence, and tenacity leading by example.
Who could forget the famous "flip play" that put Jeter on a whole other level and his dive into the stands.
That is what makes Jeter such a great leader, though it doesn't hurt to be a great player as well.
Derek Jeter does not jump off the page and make you say "what a great player",but watching him all you can say is "wow".
Seeing Jeter do what he does meaning how hard he works and how he sacrifices his body for the sake of his team, that makes you want to run through a brick wall for a guy no wonder his nickname is "The Capitan." Derek Jeter is the No. 2 best leader today.
Honorable Mentions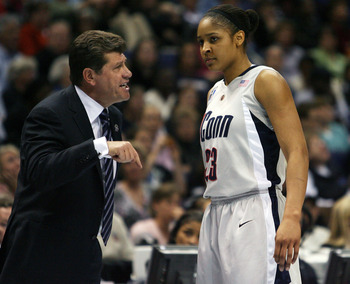 Elsa/Getty Images
Before I get to the No. 1 leader in sports today,these are a few of the people who didn't quite have the umph to make it into the top 5.
Geno Auriemma's 735 wins and seven national championships is an amazing stat line, but, and I hate to sound sexist here, but he coaches women's college basketball.
Which is still a sport and he is damn good at it, but every person in my top five has done it on a bigger stage and lead under more pressure. Geno is a phenomenal leader of women, but can't make the top 5.
Another person who I was tempted to put in the top 5 because of personal ties was Drew Brees. Brees was such a huge difference in rebuilding a city not just a team.
Drew was the leader of the Saints and also New Orleans. But Drew just won his first Super Bowl and I could not in good conscience put Brees ahead of the other people in my top 5 who have multiple championships.
The Zen Master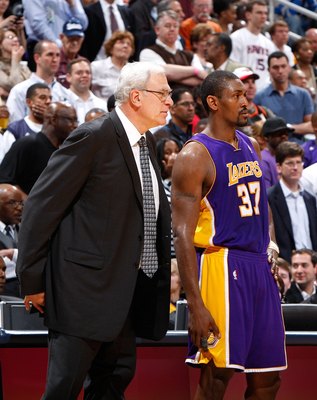 Kevin C. Cox/Getty Images
Say what you want about Phil Jackson, but he is without question the best leader in sports today.
Everywhere Jackson has gone, he has led that team to a championship, which is what leaders are supposed to do.
Phil Jackson won a championship in every place he coached, dating back to his days in the CBA where Jackson lead Albany Patroons to a title in 1984.
Jackson later took the Chicago Bulls to six championships, then headed to LA where he won five more. So to say he is a winner is an understatement, he is a true leader of men.
Some of you may point to the fact that Jackson had the best player in basketball history in Michael Jordan and later one of the games most dominant ever in Shaquille O'Neal.
True Jackson had great players like every coach to win anything, but lets not forget that Michael Jordan was in the league five years before Phil and won zero championships without Jackson.
Shaq and Kobe's fingers were both bare until Jackson came to town. Phil Jackson also implemented one of the most famous strategies in sports with the "Triangle Offense", which was the blueprint to all of his championships.
I don't know how you top a man that has the most championships in his sport and a man who has not had a losing season ever. There is no better a leader than Phil Jackson, making him No. 1 in my top five leaders in sports today. Thanks for reading.
Keep Reading

Los Angeles Lakers: Like this team?