Toronto Maple Leafs-Detroit Red Wings Live Blog: Post-Game Results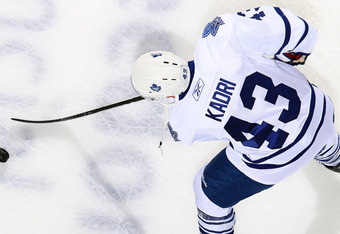 Last Chance for Kadri and others to make lasting impressions.
Claus Andersen/Getty Images
Preview
The Toronto Maple Leafs are playing their second-to-last game of the preseason against the Detroit Red Wings at 7 p.m. tonight (live blog starts at quarter to game time).
For many players, tonight is the last chance they get to prove they belong with the big club. Christian Hanson, John Mitchell, Luca Caputi, and Nazem Kadri will all be playing for only one or two available positions. With four players vying for jobs, tonight should be an entertaining affair.
Coming off two goals and one assist on Wednesday night, Kadri hopes to stick with the big club but is prepared for anything.
"Yeah, for sure, I'm ready for anything...and wherever I play, it's their (management) decision," Kadri told Mark Zwolinski of The Toronto Star. "I hope I can start here (NHL), but my goal is to be here."
Another spectacular performance is the only way he makes it past tonight, something Kadri knows as well.
For Hanson, Mitchell and Caputi, tonight's game will decide who gets to start this season on the ice or in the press box. Look for the line of Hanson, Caputi and Mike Brown to surprise a few people.
Tonight's Toronto Maple Leafs Roster
Forwards
Kris Versteeg—Tyler Bozak—Phil Kessel
Nazem Kadri—Mikhail Grabovski—Nikolai Kulemin
Fredrik Sjostrom—John Mitchell—Colby Armstrong
Luca Caputi—Christian Hanson—Mike Brown

Defence
Francois Beauchemin—Dion Phaneuf
Tomas Kaberle—Mike Komisarek
Carl Gunnarsson—Jeff Finger

Goalies
Jussi Rynnas (Starter)
J.S. Giguere
(Courtesy of Ken Beckett, Hockeybuzz)
Post-Game
The Leafs lose 7 -3 in a lack-lustre fashion.
After a great game on Wednesday, Nazem Kadri signed his own ticket to the Toronto Marlies last night. Kadri certainly played better than many Leafs players, however after going pointless against Detroit, Kadri is certainly destined for the Marlies.
Penalties cost the Leafs with the Red Wings scoring four goals on the man advantage. Shaky play from rookie netminder Jussi Rynnas didn't help things either as the Leafs went down early.
So far this preseason the Leafs have proven one thing: Just when you think the Leafs have fixed something, it breaks.
The Leafs continue to have the same problem they have had for almost a decade, keeping the puck out of their net. After losing 7 - 3 Detroit it is clear, the Leafs need Giguere to return to form for them to have any success this season.
Follow Cale Loney on Twitter @Loney_NHL
Last second pressure from the wings, last Leafs rush amounts to nothing. Leafs lose 7-3.
Detroit almost scores. Stick breaks instead.
Leafs finally ice the puck.
Modano taking a place on the blue line.
Detroit getting some good chances.
Komisarek takes another penalty.
Still 7-3 Detroit, Hudler looking for the hat trick.
Detroit ices the puck, five and a bit left in the period.
GM Brian Burke must be wondering why they didn't play James Reimer as originally planned.
Leafs almost receive a penalty for too many men.
Red Wings out shooting the Leafs 30-21.
Correction, Zetterberg scored.
Under 10 minutes left in the third.
One-timers trickles through Rynnas' five-hole.
Hanson ices the puck after sustained pressure from he Wings.
Kessel breaks down the ice, Leafs penalty. Kaberle gets the penalty after a bad pass from Kessel.
Horrible turnover by Armstrong almost leads to Wings goal. Luckily Hudler fans on the shot.
Komisarek gets away with one. Zetterberg steals a goal from Kessel.
Versteeg and Kessel share a laugh on ice waiting for the faceoff.
Leafs falling into old habits, look like last year's team.
Grabovski from Kulemin and Komisarek. Wings still lead 6-3.
Mikhail Grabovski scores!
This article is
What is the duplicate article?
Why is this article offensive?
Where is this article plagiarized from?
Why is this article poorly edited?

Toronto Maple Leafs: Like this team?