Top 5 Current Philadelphia Eagles Players, Veterans and Rookies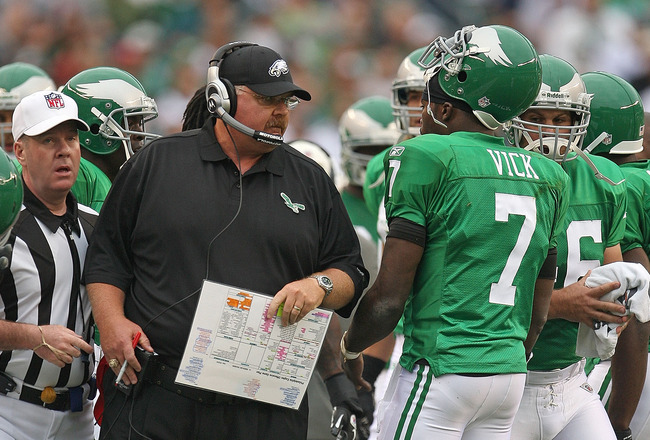 Mike Ehrmann/Getty Images
The Eagles have a lot of young, new talent this season. There are many new faces to cipher through and some of you may not know. This slideshow will rank the top five players presently on the Eagles' squad. The Birds had an excellent draft this past April and added a lot of fresh playmakers to use this season.
Please note: this list will include rookies and veterans.
If you have any questions or comments, feel free to leave them below.
Also, if you use Twitter, make sure you follow me: Dominic_Perilli
5. Nate Allen: Safety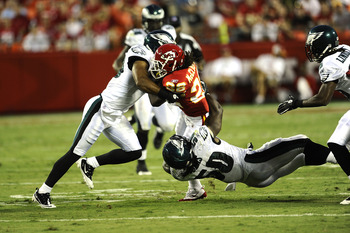 Nate Allen makes a tackle against the KC Chiefs
G. Newman Lowrance/Getty Images
The improvement in our secondary is very, very noticeable with the addition of Nate Allen. This kid is a playmaker and the truth. With two interceptions in his first three games, Allen has proven that he is learning quickly. Allen can do it all. He can get over top of a receiver as well as hustle into the box to cover the tight end. Mark my words people, Nate Allen will be an all-star.
4. Brent Celek: Tight End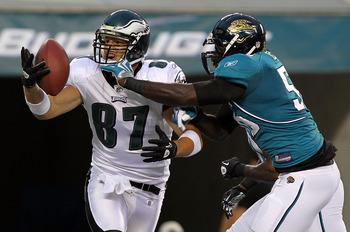 Nick Laham/Getty Images
Celek is one of the more underrated tight ends in the NFL. His value has dropped with the McNabb trade but it seems as though Michael Vick is able to call his number in tough situations. Brent is primarily a receiving tight end who has the sickest hurdle in the NFL.
3. Stewart Bradley: Linebacker
Al Bello/Getty Images
Even for the most amateur football fans, it is easy to tell how different the Eagles defense (especially against the run) looks when Bradley is playing in the middle. Check out this stat line:
Week 1 vs. GB - Defense held the Pack to 299 total yards (Bradley in the lineup)
Week 2. vs DET - Defense gave up 444 total yards to the Lions (Bradley out with concussion)
Week 3 vs. JAX - Defense only gave up 184 total yards (Bradley in the lineup)
2. Michael Vick: Quarterback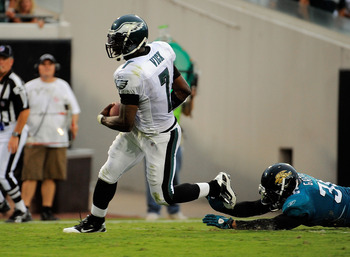 Doug Benc/Getty Images
1. DeSean Jackson: Wide Receiver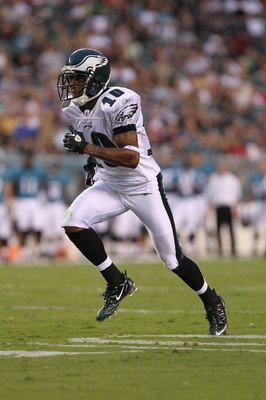 Nick Laham/Getty Images
Keep Reading

Philadelphia Eagles: Like this team?