Karen Owen Duke: Student Writes 'Thesis' on Sex Romps With School Athletes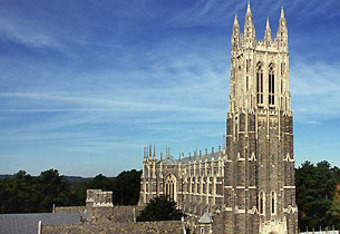 Karen Owen of Duke University has decided to go out with a bang (pun definitely intended) by writing a very interesting senior "thesis."
Owen went a little Tucker Max and documented her "sexcapades" with 13 different Duke athletes in a Power Point which she called the "F*** List" and e-mailed to a few close friends.
While college is the time in many students' lives where they can embrace a new-found freedom and experiment academically, socially, and of course sexually, Owen's "An Education Beyond the Classroom: Excelling in the Realm of Horizontal Academics" took things a little too far.

Must Read: Karen Owen and the Top Sports Sex Scandal Whistleblowers of All Time
Another sex scandal is the last thing Duke University needs after a fairly recent incident involving the Duke lacrosse team. The team members involved where acquitted of all charges, but the stigma has still been hard to shake.
And Owen's slutty attempt at humor is not helping matters.
Read on to learn more about Owen's "F*** List."
Karen Owen realized that she couldn't have completed this project on her own, and she even included an "Acknowledgments" section in her PowerPoint thanking everyone involved.
"I would like to thank all my subjects, without whose willing participation, cooperation, and specimens I would not have been able to complete this project."
She goes on to thank local bars and alcohol in general for making this all possible.
Notice that she didn't thank her parents.
I bet they are so proud.
Owen goes on to describe her drunken encounters with these athletes saying that she hooked up with "subject 10" in the same bed in which she had hooked up with "subject 8."
The girl had to sneak past an earlier partner's bedroom in order to sleep with his roommate.
Owen details a specific encounter where she and an athlete had to get a bit creative considering his roommates had visiting family members staying at his house. Not one to let a tiny roadblock get in the way of research, Owen and said athlete decided to hook up in his car. She said it reminded her of high school.
Considering that it will be near impossible for Karen Owen to get a real job after all of this, I smell a book/movie deal.
The sad part of this whole thing is that Karen Owen is obviously a pretty bright girl. Her ability to create this "tongue-in-cheek" memoir shows that she could be more than just a drunk slut, but it is very unfortunate that she had to stoop to this level for attention.
So what exactly did she say?
Each "subject" of her "research" has his own section in the slideshow with sub-categories detailing how she met the guy, memorable moments, pros, and cons.
When describing one of the athletes, Owen describes one memorable moment as follows:
"I could not walk the next day. Could. Not. Walk. In all the best ways of course."
While she may have enjoyed this particular encounter, others were apparently not as satisfying:
"He really is not very big, and unfortunately is not a grower. Also he had severe difficulties keeping it up..."
She also discusses hooking up with one "subject" on the stairs of a packed library and high-fiving him while performing oral sex.
Since Owen's "thesis" has become public, she has obviously had to do some damage control. Yesterday, she submitted an apology to Jezebel saying,
"The people that are named in it are the kinds of people that everyone wants to be or be with. I regret it with all my heart. I would never intentionally hurt the people that are mentioned on that."
If you didn't want to hurt anybody, you shouldn't have created a 42-slide PowerPoint about it.
Owen defends her actions by saying that fraternities make lists like this all the time, and some are trying to paint the girl as a sort of feminist. Some feel that men are usually the ones who are able to explore their sexuality more freely, and that Karen Owen was simply trying to reclaim this freedom as a woman.
I think they're giving this girl too much credit. If she was truly trying to make this kind of statement, she wouldn't have deleted all of her social networking profiles.
Good move, Karen.
Good luck getting a job now.
Don't worry, folks. This girl was smart enough to e-mail her "F*** List" to a few close friends...
Who were also smart enough to share it with the world.
I have to believe that this is exactly what Owen wanted. Otherwise, she wouldn't have made the list to begin with.
Included in her PowerPoint are the names of every athlete that she slept with, a description of the encounter in question, and a ranking based on several criteria including physical attractiveness, talent, and of course equipment size...And no. I'm not talking about helmets or cleats.
As a side note: Didn't this girl go to Duke? Isn't Duke supposed to be a good school? Who taught her how to make a PowerPoint?
Read the whole thing at Deadspin.