Ryder Cup 2010 Live Blog: Updated Scores, Analysis, and Weather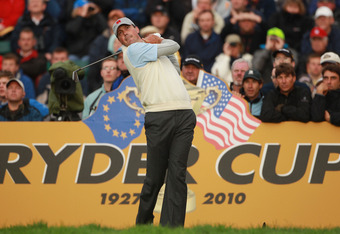 Andrew Redington/Getty Images
Bleacher Report writer Andy Gray here, live blogging today's matches from Jersey, U.K., as we get to see who takes the early advantage in the 2010 Ryder Cup at Celtic Manor, Wales.
Join me over the course of the afternoon as we follow the action as it happens.
The action has been delayed this morning due to a waterlogged golf course and we currently await a decision on when play will be resumed.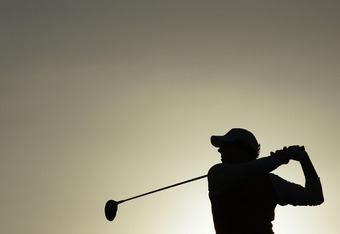 Well that's the end of my input for the day! I'll be back early doors to cover the conclusion of the fourballs at 7am (GMT).
Hope you've enjoyed my coverage. Now that the day's play is over, it will be interesting to see some comments on what you guys think.
See you tomorrow!
Luke Donald opts against taking on a sneaky five footer for the half due to darkness after Jeff Overton had put his approach within gimme range. The score remains 1up to the Americans as they shake hands to end the days play and Donald's first act tomorrow morning will be a five foot putt.
Finally match three calls time on proceedings as Twitter King Poulter makes a great birdie 2 to level the match with Woods and Stricker, after both were unable to match him.
So as Day 1 comes to a close, all four match ups are into the back nine, an eventuality that seemed unlikely earlier today, with the scores as follows:
Westwood/Kaymer 1up v Mickelson/D.Johnson (thru 12)
McIlroy/McDowell v Cink/Kuchar 2up (thru 11)
Poulter/Fisher AS v Stricker/Woods AS (thru 10)
Donald/Harrington v Watson/Overton 1up (thru 9)
Rory/G-Mac and Cink/Kuchar are the first match-up to call it a day while Kaymer narrowly misses a chance to go back to 2up in match one before they call it a day.
The other two matches are still out on the course but it seems like this will be the final hole in both match ups. No surprise Woods/Stricker wanted to carry on considering their momentum.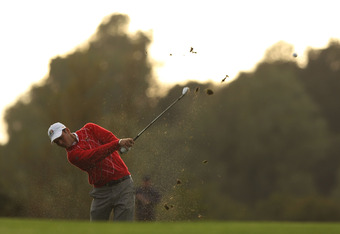 'Martin's on it, the big German's on it mate'
An exact quote from my viewing partner this evening. And he's not wrong, Kaymer is starting to make his mark on match one, hitting it close on 12
Lukey Donald holes an important putt on the 8th to cut the deficit in half in match four. That's the first hole they've won today, on what could be the last hole they play.
Rory Mcilroy, who has been a bit quiet today, pulls out a miraculous flop shot from amongst the crowd to about four feet. Welcome to the contest Rory.
Cink then follows McIlroy, almost holing his pitch
Officials have just confirmed a change in the format for the weekend in an attempt to get the matches finished on time.
Now - try and keep up - following the completion of the fourballs, there will be SIX foursomes matches. After that there will be FOUR fourballs and TWO foursomes all played at the same time, before concluding with the standard TWELVE singles.
This means that there will still be a total of 8 fourballs, 8 foursomes and 12 singles, just a bit more jumbled, just with less room for manouevre in terms of pairings. Everyone will have to play at least twice before the Singles.
Sorry if I lost you! I think I lost myself somewhere around 'completion of the fourballs'
Those long putts by Stricker and Cink has swung the tie in America's favour as they lead 2, Europe lead 1 and the other is level
Steve Stricker shuts me up by draining one from downtown to put pressure on Poulter and Fisher. Fisher comes nowhere near as he races his putt for the half a long way past. Poulter's attempt is a bit more impressive but it slides by and its All Sqaure in match three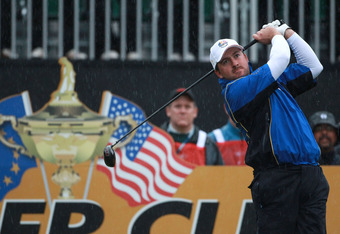 World number two Phil Mickelson has been quiet today but he's popped up with birdie on 10 to pull one back in the opening rubber. In the meantime in match 3, Fisher can't follow Woods' fine approach shot, Poulter finds the middle of the green and Stricker does the same.
McDowell has binned a 15 footer to pull him and Rory back to All Sqaure with Kuchar and Cink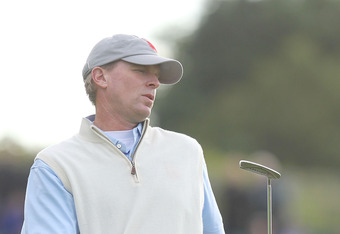 Steve Stricker struggling with the flat stick this evening! Quite surprising considering he is considered one of the hottest putters on the planet. And I mean that in the sense that he's good - I don't find him sexually attractive...maybe if he changed his hair.
Meanwhile, how has Donald's putt on 6 stayed out? Dead weight - hung on the edge. Europe stay 2down
Martin Kaymer makes his first real contribution by holing a 10 footer to put pressure on the American pairing. Johnson and Mickelson now both faced with must hole putts!
Johnson misses. Mickelson holes. Europe 2up at the turn in the opener
Poulter, Fisher and Stricker all failing to convert for Birdie means the score stays at just 1up Europe in match three. It doesn't look like there are going to be any blow outs this evening, meaning its going to be an early start tomorrow!
Dustin Johnson has hit an absolute monster at 580 yard 9th hole! Everyone is laying up but it looks like old Dusty will be taking this on in two.
AND....smashes it onto the fringe - advantage yanks!
Apparently we're going to be getting golf until 6.50pm (GMT) this evening! That gives us another hour and ten minutes.
The weather is absolutely glorious now by the way, hopefully it carries on over the weekend!
Bubba just missed a tiddler to win the hole. I can't quite work out how he's done it to be honest, but he's let Donald and Harrington off the hook.
We're starting to see a mix of the sublime to the ridiculous it seems.
Poults is fired up today - follows Tiger into the hole to keep the Europeans ahead in match 4. Mcilroy and McDowell looking a bit wobbly having been 2 up early doors.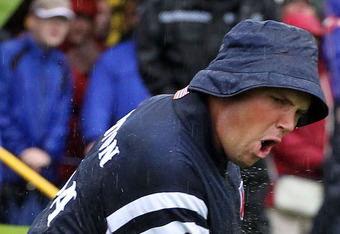 Cink drops a bomb on 5th for birdie. Holed it from off the green. It seems like none of these players know how to be affected by a long break in play.
Jeff Overton is also on the fashion offenders list courtesy of a ridiculous hat. I think he's taken the lamp shade out of his hotel room.
Mr Westwood shows no signs of a six hour wait by thumping his approach at the 6th to around 8 feet while Mickelson finds the water. Europe in control of match 1.
Can someone also hunt down the person who made the USA team kit? The waterproofs make them look like they're warming up for a game of basketball and now Mickelson has revealed a jumper of epic FAIL proportions
Have just seen a man in the crowd with a massive cardboard cut-out of Monty!
Sorry for the delay in posts, my Grandad decided to chew my ear off for half an hour! Bless him!
Anyway, the players are getting warm and have begun to make their way back out onto the course, play resumes in 20 MINUTES!
Hallelujah!
GOOD NEWS!! Finally the brolleys are down, the sun is trying to poke through, looks like the golf could be back up and running in the next half hour or so.
Score Reminder:
Westwood/Kaymer 2up v Mickelson/D.Johnson (thru 5)
McIlroy/McDowell 1up v Cink/Kuchar (thru 4)
Poulter/Fisher 1up v Stricker/Woods (thru 3)
Donald/Harrington v Watson/Overton 2up (thru 2)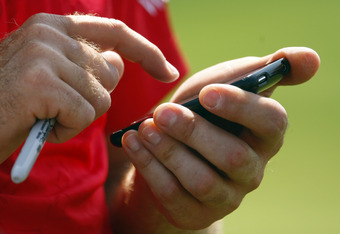 Right, in an attempt to fill the boredom of waiting for the golf to come back I've been on Twitter to see what the players are up to...
@IanJamesPoulter: We are playing some golf but it's not on the course. It's EASports TW 2011 practice is practice. http://twitpic.com/2tmnnc
@Graeme_McDowell: Harrington relaxing in the changing room. pure class #TwitPict http://twitpic.com/2tl9q8 "I was doing same to be fair!"
@McIlroyRory: next announcement at 16.00, doesn't look like much more golf today! At least I'll see the ulster game!
At least their having a laugh! None of the American tweeters have been at it for the time being...
Positive news from Celtic Manor, we could see play in an hours time - no doubt it'll be a case of five more holes and then another rain storm.
It's Wales. It's October. Surely they could have foreseen this?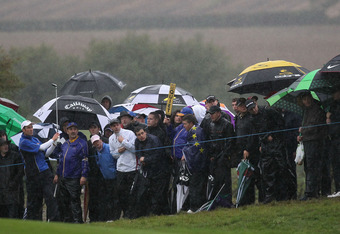 The restart of play has been pushed back even further with an announcement to be made at 4pm (GMT)
It's fine though, we get to re-watch all the Ryder Cup build up shows that we've already seen twice this week.
There's also only so many times I can watch highlights of the first 5 holes...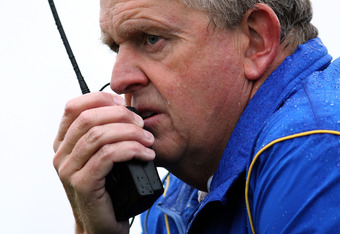 Colin Montgomerie has pretty much confirmed that this year's Ryder Cup will have to finish on Monday due to weather delays.
Hopefully that won't be the case as I have to go back to work on Monday!
This article is
What is the duplicate article?
Why is this article offensive?
Where is this article plagiarized from?
Why is this article poorly edited?