Broncos at Titans: Will a Healthier O Line Make Run Game Less Offensive?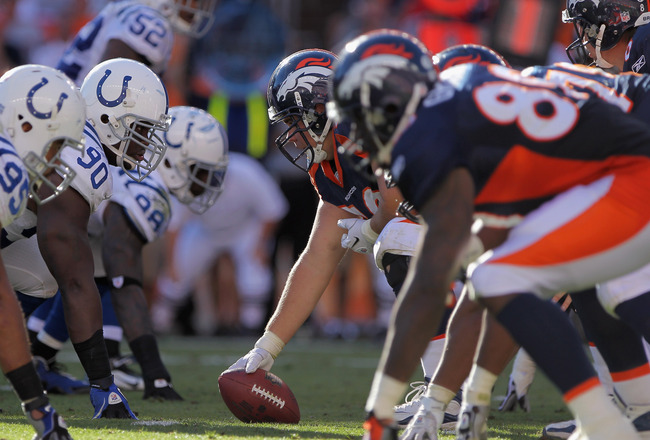 Doug Pensinger/Getty Images
The Denver Broncos running game so far this season has been abysmal. They currently rank 30th out of 32 teams and that, folks, IS rank.
It impacts just about every portion of the game for the Broncos and has contributed greatly to the 2 losses so far this season.
The big question that almost everyone has is: Will it ever get better?
Let's take a look.
Offensive Line Injuries: RG Chris Kuper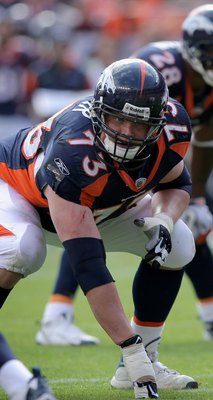 Doug Pensinger/Getty Images
RG Chris Kuper, all 6-4,302 pounds of rock solid capabilities, was signed to a new six year contract which included a $13 million guarantee. He was projected to be one of the inside anchors on a line that was transitioning from a zone to a power blocking scheme.
Kuper had his leg rolled up and caused a knee injury in the first game at Jacksonville. He has not played in the last two games and it has hurt the run game but also the overall stability of the offense as he was one of the senior leaders on this very young line.
He is reported to be practicing and should be ready to play in this week's Titans game.
Offensive Line Injuries: Ryan Clady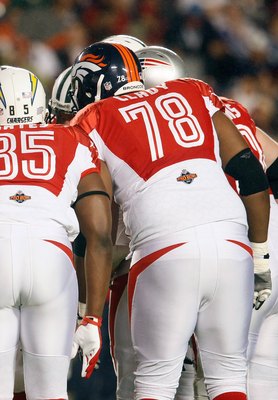 Scott Halleran/Getty Images
Yes, THAT Ryan Clady, Pro Bowl player, big, quick, smart and one of the best young LTs in the NFL.
Unfortunately, he also thought he was the second coming of the Round Mound of Rebound, Sir Charles Barkley. In an off-season cross training basketball game, Clady tore his patella tendon that required surgery.
He did come back earlier than expected and has been working back to a 100 percent.
If he is even at 90 percent this week, it will take pressure off the TEs and allow him to play his man one on one.
Offensive Line Injuries: RT Ryan Harris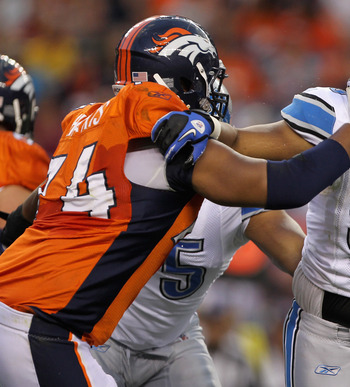 Doug Pensinger/Getty Images
"The other Ryan" on the Broncos line, and the bookend RT to Clady's LT. These two have been considered the top young Tackle tandems in the NFL.
Harris hurt his ankle in the last preseason game and has not played since. This has caused Zane Beadles, a rookie and playing out of position to fill in. Beadles hasn't played terribly but he doesn't have the experience and chemistry to be a "plug and play" in this line.
There is a better than 50-50 chance Harris will be activated and be playing this week.
Rookies Are Stepping Up: But They Are Still Rookies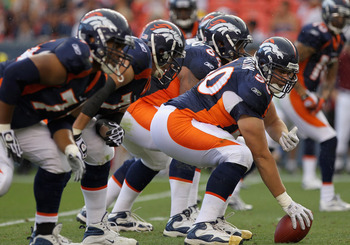 Doug Pensinger/Getty Images
C JD Walton, a third round selection in this year's draft has played extremely well so far. But he is a rookie playing arguably the second toughest position (next to LT) on the O-line.
He has shown toughness, intelligence and a nasty streak that was much-needed on this team.
Unfortunately he had two costly holding penalties last week that may have cost a touchdown.
With Kuper back next to him, I see his play only getting better.
And the previously mentioned Beadles, a natural G, can now focus more on that position and help relieve Stanley Daniels, another young player who is projected to start this week. Daniels' 320 pounds of beef can open some holes with Kuper back on the other side of Walton.
Running Back Injuries: More Than Our Fair Share To Bear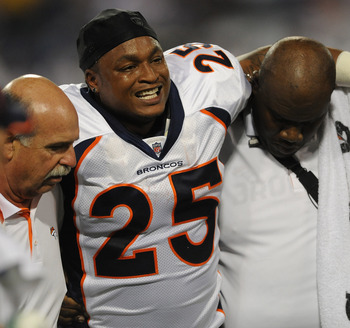 Tom Dahlin/Getty Images
Where do we start?
On the first day of training camp both Knowshon Moreno (hamstring) and Correll Buckhalter (Back) went down and missed most of the rest of the preseason.
The Broncos then signed LenDale White (Pictured) to be the bruising third down back and he goes out and tears his Achilles tendon in the last preseason game and is lost for the season.
In comes Laurence Maroney, an ex-Patriot and he shows up with a thigh injury that limited his practice time and finally played in last week's Colts game.
Then Moreno injures his other hamstring and is listed as Out for this week.
All of this means there is no consistency and no chemistry between the RBs and the O-line. The timing has not been there by the RBs and neither have the holes.
Impact Of a Running Game Missing In Action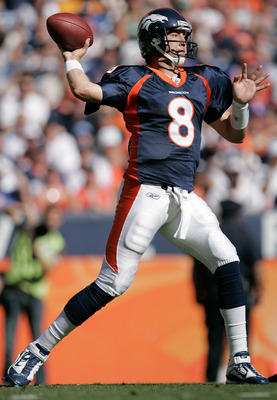 Justin Edmonds/Getty Images
Statistically, this has made the Broncos the leading passing team in the NFL. That is in yards per game (350). In rushing, would you believe 30th? Talk about an imbalance!
Kyle Orton and the WRs are tearing it up between the 20 yard lines but the RBs are almost a non-factor.
Maybe the Colts can get away with this type of offensive scheme but a team like the Broncos can't, if they want to compete for the AFC Worst title.
This puts a tremendous pressure on Orton and the O-line to protect him. With the number of passing attempts, the chance of an injury to the starting QB becomes greater. And at this time, there is no one to step in that knows this offense as well or that is as plugged into Josh's brain.
And the more attempts, the greater potential for INTs, which can be back-breakers. It also creates a Time of Possession mismatch that can lead to disastrous results when trying to control the clock.
What does this mean? Denver has to find some semblance of a running game to have any chance at a decent season.
And So ..........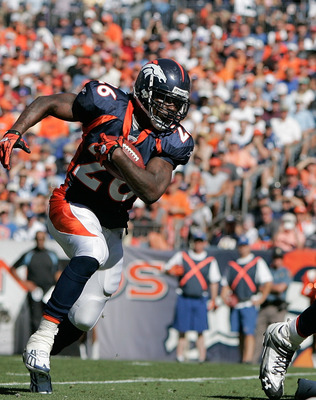 Justin Edmonds/Getty Images
With a healthier and more stable line in front of them, there is a better chance for the RBs to find some daylight and maybe have a running game actually exist on this team.
With Buckhalter starting and Maroney having a complete game under him, I see a more productive ground game.
Will it be hugely improved? No, but any uptick has to be good, right?
I see over 100 yards rushing and one TD on the ground against Tennessee.
Call me optimistic or call me a fool.
Keep Reading

Denver Broncos: Like this team?