Top Ten College Football Nicknames, Part 1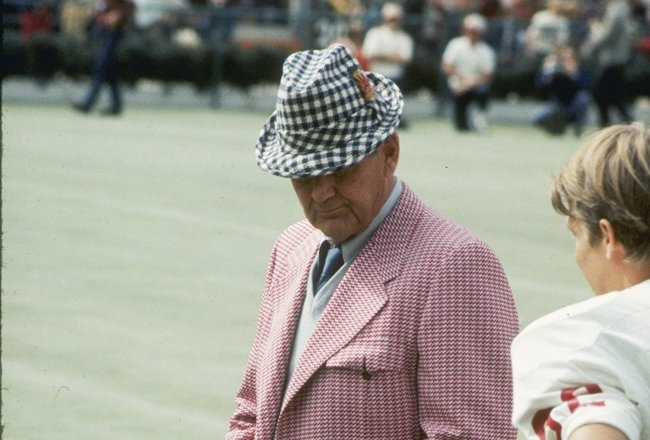 What if he'd've wrassled a pig?
Getty Images/Getty Images
The Gipper. Crazylegs. Slingin' Sammy.
One of the reasons college football looms large in the national consciousness is that fans have called their heroes by nicknames that create endearment, intimacy, and an emotional attachment to the programs and players in the game.
For example, most kids in Alabama can say, "Bear"-referring to legendary coach Paul Bryant-before they can say, "Mamma". But even their parents may not know that the coach they so lovingly invoke got his nickname from wrestling a bear from a traveling show as a boy in Fordyce, Arkansas.
And a legend was born.
Let's take a quick look at some of the best of college football nicknames in the period before 1980.
Seven Blocks Of Granite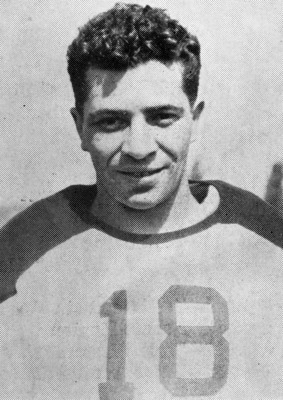 Can you name this famous NFL coach?
Fordham University/Getty Images
As difficult as it may be to believe today, in the 1930s, Fordham was a national college football powerhouse. For several years in the middle of that decade, the offensive line for the Rams was dubbed, "The Seven Blocks of Granite". It was made up a center, two guards, two tackles, and two ends.
One of the 'blocks', pictured here, became famous as the head coach of the Green Bay Packers. the Rotary Club's Lombardi Award is given yearly to the best college football lineman or linebacker. The major portion of this trophy is, of course, a block of granite.
Fordham's line was coached by future Notre Dame coaching legend Frank Leahy. It was his 1936 line that became the most famous of the several "Fordham Walls" as sportswriter Grantland Rice labeled them.
The Gipper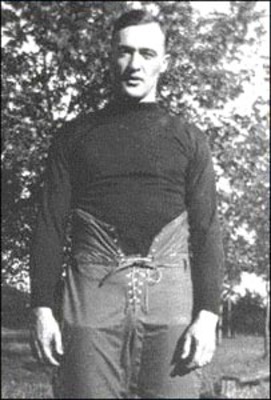 Ok, so he doesn't look that imposing.
The man in this photograph remains Notre Dame's all-time leader for a career in average yards per rush (8.1), average yards per play for total offense (9.37), and average yards per game for total offense (128.4).
Look at him; in this photo, he doesn't seem to inspire much fear, does he?
Yet, George Gipp was named one of ESPN's top 25 college football players of all time.
Yes, George Gipp stood the college football world on its ear in the late 1910s, leading head coach Knute Rockne's Fighting Irish to national prominence. A multi-talented athlete, Gipp first played baseball for the Irish before Rockne convinced him to try football.
Sadly, Gipp died of strep throat soon after his last college football game and only a couple of weeks after being named an All-American.
The legend of The Gipper was already rife at South Bend before coach Rockne used Gipp as a motivation for a team later in the decade of the 1920s. According to the legend, Rockne said that, on his deathbed, Gipp told him, "I've got to go, Rock. It's all right. I'm not afraid. Some time, Rock, when the team is up against it, when things are wrong and the breaks are beating the boys, ask them to go in there with all they've got and win just one for the Gipper. I don't know where I'll be then, Rock. But I'll know about it, and I'll be happy."
That speech, and perhaps Gipp's memory, led the Irish to a defeat of Army, and it has echoed down through Irish lore since then, most recently in the popular film, Rudy.
The Four Horsemen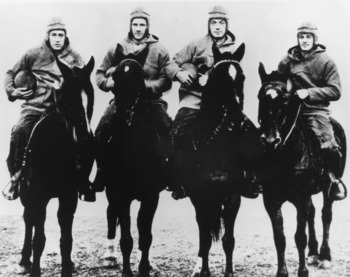 A backfield for the ages.
Notre Dame University/Getty Images
"Outlined against a blue-gray October sky, the Four Horsemen rode again. In dramatic lore their names are Death, Destruction, Pestilence, and Famine. But those are aliases. Their real names are: Stuhldreher, Crowley, Miller and Layden."
So wrote sports columnist Grantland Rice in 1924 after Notre Dame defeated a powerful Army team that year. That description, plus the hastily snapped publicity photo shown here, created a powerful image in the collective sports mind of the nation.
QB Harry Stuhldreher, HB Jim Crowley, HB Don Miller, and FB Elmer Layden had run rampant through Irish opponents' defenses since coach Knute Rockne devised the lineup in 1922 during their sophomore season. During the entire three-year tenure of the Four Horsemen, Notre Dame lost only two games, both to Nebraska.
Such became the quartet's fame that their linemen also garnered a moniker: The Seven Mules.
Crazylegs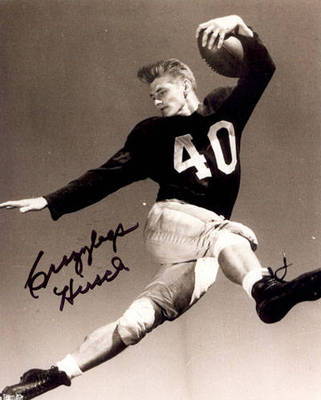 His nickname sounds like a nutty guy who sells chicken drumsticks on the corner.
Elroy 'Crazylegs' Hirsch played his first college season with Wisconsin in 1942. His nickname was permanently affixed to him by Chicago Daily News sportswriter Francis Powers who, upon witnessing him play for the Badgers against the Great Lakes Naval Station in 1942, wrote "His crazy legs were gyrating in six different directions, all at the same time; he looked like a demented duck."
His commitment to the military during World War II required him to transfer to Michigan (Michigan had a program of study that better fit his specialty in the military). There, he played two intercollegiate football seasons for the Maize and Gold.
In fact, during the 1943-44 year he earned the distinction of being the only athlete in Michigan sports history to letter in four sports (track, football, basketball, baseball) in the same year.
Hirsch went on to a successful career in the NFL with the Rams.
The Galloping Ghost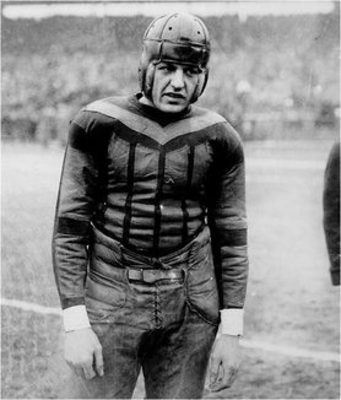 The greatest college football player ever? ESPN thinks so.
When you watch the NFL on weekends, do you realize that it was Red Grange that put that product on the map in the first place?
Harold Edward Grange starred for Illinois in the 1920s. The redhead earned All-America status for three straight years. Perhaps his most memorable game was against rival Michigan in 1924. Against the Wolverines, Grange galloped for five touchdowns and threw a sixth-and he didn't even enter the game in the second quarter!
After first Grantland Rice (again!) and later, Chicago sportswriter Warren Brown, referred to Grange as the Galloping Ghost (Rice called him "the Grey Ghost"), the legend was off and running. But the legend had the stuff to back it up.
Playing in only 20 college games, Grange rushed for 3,362 yards, he caught 14 passes for 253 yards and as a quarterback he completed 40-of-82 passes for 575 yards. 16 of his 31 career TDs were from at least 20 yards out.
After college, Grange signed a contract with George Halas' Chicago Bears for a barnstorming tour; "the 67-day, 19-game tour is largely credited with legitimizing pro football in the United States."
ESPN named the Galloping Ghost the greatest college football player...ever.
Mr. Inside, Mr. Outside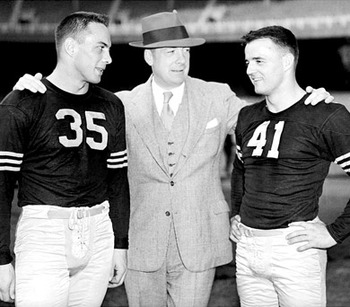 AP Photo
Blanchard and Davis. Separately, they might not create much of stir. Together, they were possibly the best backfield tandem in college football history.
In the history of the Heisman Trophy, no two players are as linked as 1945 winner Felix "Doc" Blanchard (Left, above) and '46 winner Glenn Davis. Together they led Army to a 27-0-1 record over the course of their three year careers.
Two of those years, Army was crowned national champions.
It was a New York Sun sportswriter who dubbed the "Mr. Inside" (Blanchard) and "Mr. Outside" (Davis). True, Blanchard was the powerful fullback who could bust up inside for a big gain and Davis the scampering halfback who could outrun you to the corner, but the truth was each man was adept at doing either.
Either way, together the tandem found the end zone 97 times in their illustrious careers.
In a period when the military was championed as being the heroes of World War II, the duo became national celebrities; they were featured on the cover of Time magazine and caused sportswriters nationwide to engage in hot debates over which of the two was the better.
Davis rushed for 2,957 yards and earned varsity letters in baseball, basketball and track. Blanchard, despite his 6', 210 pound frame could run 100 yards in 10 seconds could also punt, catch and block. He was a record holder in shot put as well.
Blanchard also excelled on the defensive side of the ball, and his prowess in 1945 made him the first junior to win the Heisman.
Hopalong Cassady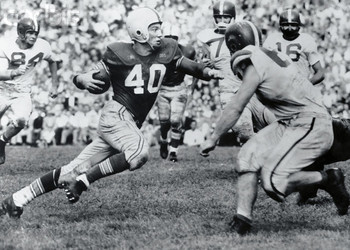 (c) Corbis Images
In the illustrious history of The Ohio State Buckeyes football program, one name stands out.
Howard Cassady.
For a moment, let's forget the 37 touchdowns in 36 career games. Let's ignore the Heisman Trophy he won in 1955. And let's throw out the two-time consensus All-American awards.
He also played defensive back. And never had a pass completed against him. Let's say that again. Never. Had. A. Pass. Completed. Against. Him.
And that's over 36 games.
1955 also saw Cassady be named the Maxwell Award winner and the AP Athlete of the Year. f
Cassady earned the nickname "Hopalong" during his first game as a freshman. A sportswriter from Columbus described him as he, "hopped all over the field like the performing cowboy,", which referenced the popular fictional cowboy, Hopalong Cassidy.
The records Cassady set at OSU stood for dozens of years. He left as the career leader in rushing yards (2,466 yards), all-purpose yards (4,403 yards), and points (222).
Cassady also played baseball for Ohio State, and he led the team in home runs AND stolen bases.
A 9 year pro football career followed.
Slingin' Sammy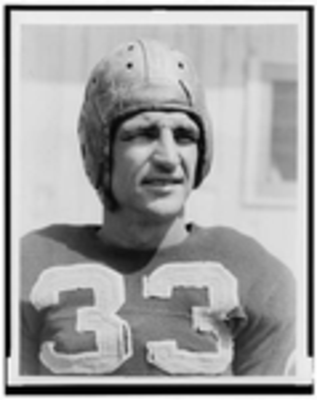 Texas Christian is not a johnny-come-lately to success in college football. Some of the greatest Horned Frog teams were in the 1930s, and the best of those were led by one Samuel Adrian Baugh.
Playing for TCU, Baugh attempted 587 passes and completed 39 of them for touchdowns. Baugh was named an All-American in 1935 and 1936.
He also led TCU to two bowl game wins, a 3–2 (not a typo) victory over LSU in the 1936 Sugar Bowl, and, a year later, beat Marquette in the first ever Cotton Bowl, 16-6. He garnered MVP of the game for that performance.
Interestingly, Baugh won his nickname while playing baseball for the Horned Frogs. Many sports historians consider him to be one of the best players never to have won the Heisman; he finished fourth in the 1936 balloting.
ESPN voted Baugh the fifth greatest college player ever.
Tank Younger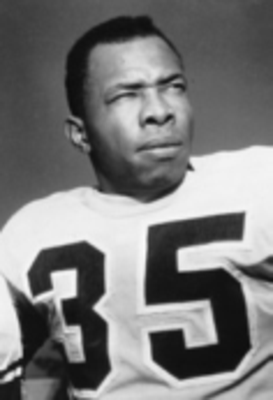 Paul Younger was born in Grambling, Louisiana, so it was no surprise that he would end up playing for Eddie Robinson at the 'Notre Dame' of HBCUs.
At Grambling, Younger started his career as a lineman. But coach Robinson saw the rare combination of size, speed, and power as the state-of-the-art running back and linebacker.
Younger earned his nickname quickly, running over tacklers and ball carriers both. His freshman year in 1945 saw him lead the nation in scoring as he tallied 25 touchdowns, many of them on punt returns and end arounds.
Two years later, he rushed for over 1200 yards and had almost 20 scores. He passed for 11 tds as well that year.
All told, Tank Younger was responsible for 60 touchdowns as a collegian, setting an all-time record. His efforts saw him win the HBCU's player of the year as well as inclusion on several All-America squads.
A solid pro career soon followed, and Younger ended his football affiliation as becoming the first black man to hold a front office position with a pro football team.
Bull Cyclone Sullivan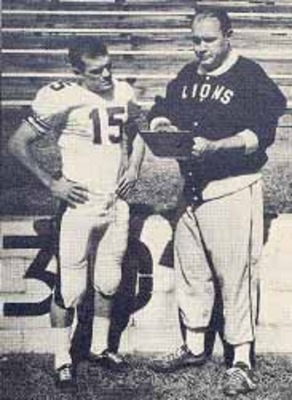 This guy was so tough he ended up with two deserved nicknames.
Robert Victor Sullivan was a coach on the junior college level, at a place in lower east Mississippi called Scooba. The town is not much to look at now--mostly abandoned storefronts and tall pine trees--and wasn't much better back then in the 1950s and 1960s.
But Scooba had East Mississippi Junior College (now East Mississippi Community College) and had a head football coach named Bull Cyclone Sullivan.
Frank Deford wrote a famous SI article about this legendary coach several years ago, but it's hard to distinguish myth from reality.
A World War II marine veteran, Sullivan coached his boys in a passing attack that many have said was years ahead of its time. He also coached his boys to membership on dozens of All-American squads and countless big name college rosters.
While his game plan was advanced for its day, Sullivan's discipline was definitely a throwback. "There are two reasons people play football," Bull Cyclone was heard to declare. "One is love of the game. The other is out of fear. I like the second reason a helluva lot better."
The imposing, 6' 5", 280+ pound coach drove off the weaker boys and made football a test of true manhood for those who survived his strenuous physical regimen. As Deford reported, "You didn't get cut, you got run off the team. Or perhaps, more often, you chase to run yourself off. 'Bull ran off more All-Americans than he kept,' says Dan Edwards, who played quarterback at Scooba in the late '50s."
Keep Reading