Wisconsin Badgers Begin Big Ten Conference Play: Predicting Their Big Ten Season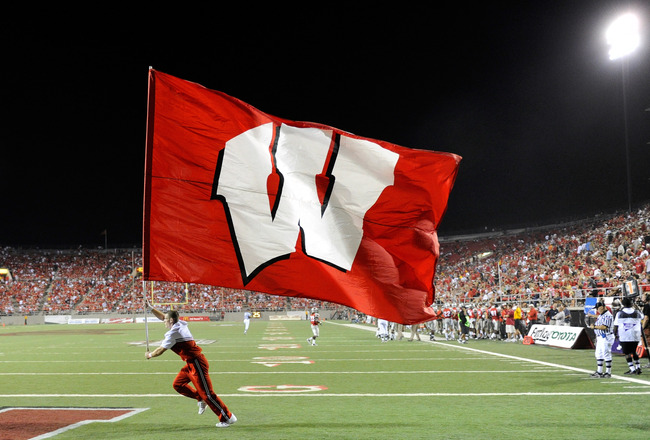 Ethan Miller/Getty Images
The non-conference schedule is over and now teams across the country -- but more importantly fans -- can get ready for competitive conference play.
The No. 11 Wisconsin Badgers (4-0) head into Big Ten Conference play undefeated, bringing with them Rose Bowl aspirations. The rode is always a long and tough one in the Big Ten, and 2010 should prove just as unpredictable.
For now, let's see if we can make it a predictable one.
Notable games include: @ Michigan State, vs. Ohio State, @ Iowa, and @ Michigan.
Here's a complete game-by-game breakdown of Wisconsin's 2010 Big Ten Conference schedule.
Sat, Oct. 2nd: @ Michigan State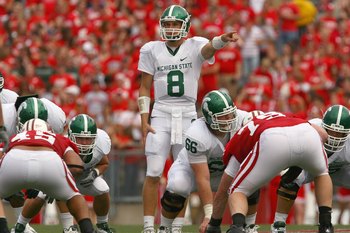 Jonathan Daniel/Getty Images
The Badgers will invade an always hostile Spartan Stadium and square off with Michigan State in their first Big Ten Conference game of 2010.
Kirk Cousins and the Michigan State offense are off and running, averaging 36.75 points through their first four games. Quarterback Kirk Cousins has established himself over the years as a reliable quarterback in the Big Ten. Factor in running backs Edwin Baker and Le'Veon Bell and you've got one potent offensive attack from the Spartans.
Michigan State head coach Mark Dantonio had a recent scare suffering a heart-attack and being hospitalized. Defensive coordinator Don Treadwell stepped in to take over as interim head coach for the team as Dantonio recovered.
News came that Dantonio would return to oversee and coach from the coaches box, providing an emotional boost for the Spartans.
Wisconsin will grind it out on the ground against Michigan State in their first real test of the season, and hang on to a slim lead in the fourth quarter.
Final Score: Wisconsin 24 - Michigan State 20
Sat, Oct. 9th: Vs. Minnesota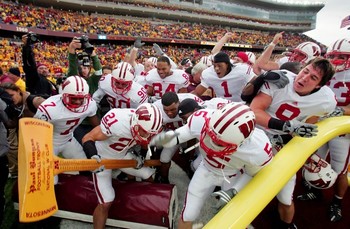 Wisconsin and Minnesota will write another chapter in "The Battle for Paul Bunyan's Axe" rivalry game. One of the oldest rivalry games in NCAA history, the "Border Battle" between the two states always provides its own level emotion.
The Badgers got the better of the rivalry last season, spoiling a game for the Gophers in which the team was not only opening Big Ten play but also revealing their brand new stadium.
Minnesota will be outmatched in their game with Wisconsin. Worse for the Gophers, the game will be in Madison, WI, and rowdy Camp Randall Stadium.
Wisconsin handles their business, etching in another rivalry win and retaining Paul Bunyan's Axe.
Final Score: Wisconsin 31 - Minnesota 10
Sat, Oct 16th: Vs. Ohio State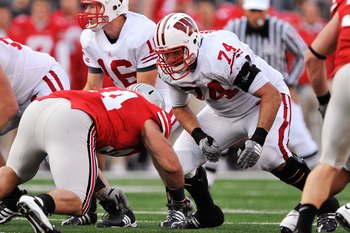 Jamie Sabau/Getty Images
Camp Randall Stadium will be rocking when Ohio State comes in to Madison, WI, in a match-up with huge BCS implications. Both the Badgers and Buckeyes could be coming in to this game undefeated, and would both be looking for a key win in their BCS resume.
Wisconsin will do it's best to match the talent level of an Ohio State team that is quite simply loaded with it.
But, Wisconsin will have the "12th man advantage"; something that could make all the difference in this primetime matchup.
Look for a lot of emotion and intensity in this one.
The key to a victory in this one could lie in shutting down the other team's Heisman hopeful.
Wisconsin will be doing its best to shut down Ohio State quarterback Terrelle Pryor. Pryor wasn't a huge facor in the Wisconsin and Ohio State matchup last season, but has vastly improved his skills since.
Ohio State will likely be looking to load the box against Wisconsin, attempting to shut down Badgers running back John Clay. It's very tough to beat Wisconsin when Clay rushes for over 100-yards in a game, but much more manageable when he doesn't.
Last season, the game came down to a last-minute, game winning drive by the Buckeyes, allowing them to grab the late lead and win the game. This one will be no different, coming down to the wire and becoming another instant-classic.
Final Score: Wisconsin 23 - Ohio State 20
Sat, Oct 23rd: @ Iowa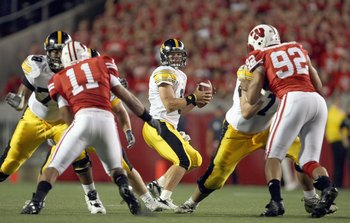 Jonathan Daniel/Getty Images
Ricky Stanzi and the Iowa Hawkeyes struggled earlier in the 2010 season, losing on the road to a tough Arizona team. Come this point in the Big Ten season, the Hawkeyes should be hitting their stride and back to winning ways.
Coming off an emotional and tough matchup at home against Ohio State, Wisconsin will not be ready for another one against a good Iowa team on the road.
Expect this to be one of the toughest challenges for Wisconsin on the season -- coming off a game against Ohio State and facing another team loaded with BCS caliber talent in Iowa.
Final Score: Iowa 24 - Wisconsin 13
Sat, Nov 6th: @ Purdue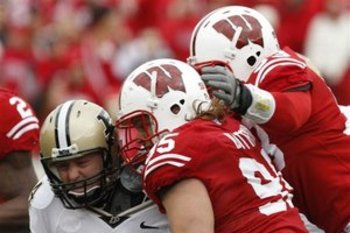 Wisconsin will come out strong in this matchup, looking to take out their previous loss on a weak Purdue team.
New quarterback Robert Marve and Purdue do not seem to have the right chemistry in place to provide the kind of passing attack that causes Wisconsin to lose sleep over.
Wisconsin runs the ball down the throats of a soft Purdue defensive ground unit on their way to a big win.
Final Score: Wisconsin 35 - Purdue 14
Sat, Nov 13th: Vs Indiana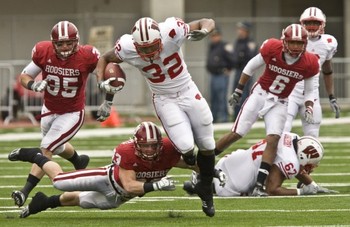 This will be another game in which Wisconsin will let John Clay loose and continue to pad his potential Heisman numbers as the season begins winding down.
Indiana is on the right track to rebuilding their program and putting out a squad that can compete with some of the powerhouses of the Big Ten, but they're not there yet.
Look for Wisconsin to roll again in this matchup at home.
Final Score: Wisconsin 31 - Indiana 10
Sat, Nov 20th: @ Michigan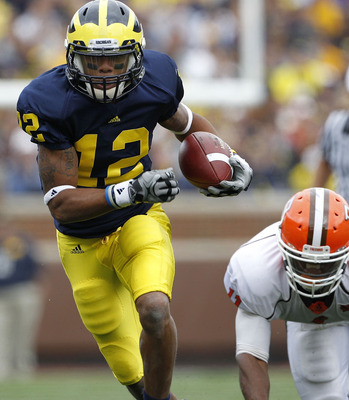 Leon Halip/Getty Images
Denard Robinson and the Michigan Wolverines will give Wisconsin plenty of grief in this matchup. Michigan could be eyeing a big-time bowl game -- possibly even a Rose Bowl game of their own.
Wisconsin has had their issues playing in "The Big House", and this is the kind of game that will keep Wisconsin sports fans and the coaching staff up late, providing plenty of worry.
Wisconsin has issues with Denard Robinson and the speed of the Michigan offense, but should be able to settle in and put up enough points themselves to hang on in a close one and keep any BCS or Rose Bowl hopes alive.
Final Score: Wisconsin 28 - Michigan 24
Sat, Nov 27th: Vs. Northwestern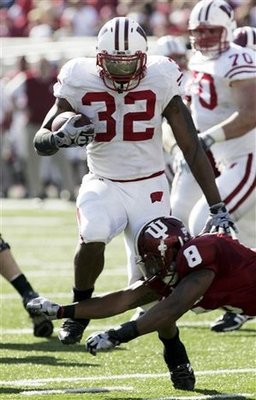 The Northwestern Wildcats always provide a pesky opponent in the Big Ten, and are not a team you enjoy seeing on the end of your schedule. Wisconsin has had many bumps in the road against Northwestern, spoiling many of their bowl season hopes. Last season, Wisconsin lost a close one in Northwestern and dropped back in their bowl placement.
Wisconsin fortunately is back home again for their matchup with the Wildcats and should be able to avoid any sort of late season upset.
John Clay will cap off another impressive season in 2010, rushing for at least 150 yards while still in mid-season form.
The Northwestern offense and quarterback Dan Persa will make it a barn-burner however, and the final score in this one will be high.
Final Score: Wisconsin 35 - Northwestern 28
Smelling Roses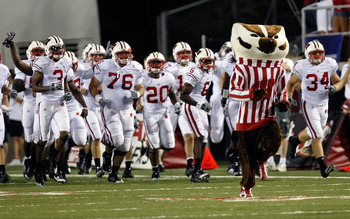 Ethan Miller/Getty Images
Wisconsin will break the 4-year trend set by Ohio State as the Big Ten Conference champions, as the Badgers will be smelling roses at 2010's season end.
Ohio State will finish with a close second, possibly even tying the Badgers but losing the title due to their loss to Wisconsin.
Optimistic, yes. But the 2010 Wisconsin Badgers have the experience, talent, and pieces to live up to this prediction. It's just a matter of putting it all together.
Keep Reading

Wisconsin Badgers Football: Like this team?