WWE: Five Ways to Revive It Part Two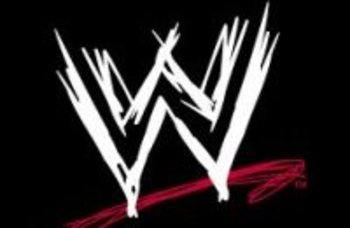 I believe that, in order to make a product truly successful, one need only make full use of the tools he has at his disposition.
In the previous article "WWE: Five Ways to Revive It Part one" I had addressed 5 topics that seem to pop up constantly within the WWE Universe.
Given the feedback received afterwards, I was more than convinced many of you out there share or at least discuss my opinions on the WWE product whether it was championships, rosters or Pay Per Views.
Therefore, true to my promise, here are 5 other ways to perhaps improve the WWE from what it is today. I believe it is starting already after what I saw on last week' Smackdown. I am going to go more local this time, focusing on championships/divisions and give you some video footage as well.
I hope you enjoy so here goes...
The INTERCONTINENTAL CHAMPIONSHIP: Some of the Greatest Matches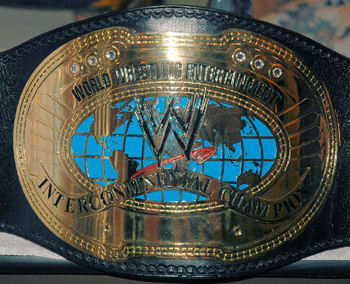 It is without a shadow of a doubt one of the most prestigious titles in pro wrestling history.
Many a superstar used this title to pave their way to the top. Names like Bret "Hitman" Hart, "Stone Cold" Steve Austin, The Rock and Triple H to name a few are now great legends of the sport, having been to the very top of the mountain in their own personal way and style. However most of them have one thing in common, they were all great Intercontinental Champions.
This championship has, in the last years, been devalued and taken for granted yet it is still the recognised "second tier" title in WWE. While some regard certain superstars to be ready for the main event picture, what does that really mean nowadays? You can't all fit at the top and I feel it is important to make every match on a par per view count.
In the link below I have chosen a match that explains further my point.
http://www.youtube.com/watch?v=mUV2Fa8HzGY
Champion "Ravishing" Rick Rude Vs Ultimate Warrior... rematch from Wrestlemania 5
Watch the development of this storyline, how long it took to climax and how great a reaction the fans delivered when Howard Finkel announced it was next. I quote Jesse "The Body" Ventura on this.
"I can't even talk over the screaming of this crowd." at 8:30
I had been watching this live via closed-circuit at the time and wanted the match to happen so bad.
When was the last time we were this excited about any match lately? It was for the Intercontinental championship. It was between two great names in pro wrestling history, one who passed away (God bless his soul) and the other seems to be headed into the WWE Hall of Fame despite a long history of conflicts.
There is frequent talk about eliminating the separate roster and unifying some championships well here is a prime example why this title means victory. If the champion can battle anyone anywhere, it gives him credibility, gives the title prestige because you never know who can challenge. It also makes it coveted and desired like in times past. May I say that THE greatest match ever was an I-C title match?..."Macho Man" Randy Savage Vs Ricky "The Dragon" Steamboat at Wrestlemania 3...ring a bell?
I believe this is a way for superstars to shine and for top stars to be out of the main event picture. I explain. You can't always have fatal 4-ways or 6-pack challenges for the WWE championship just to fit in everyone because they are so called "main-eventers." It gets boring and devalues the title and as far as I know, people like John Cena and The Undertaker have never held the I-C title. Alors voilà! Something for them to do. Oh! and make it count guys, you are supposed to be the best.
Let's see if Cena can top the Michaels/Ramon ladder match of Wrestlemania 10...
The DIVAS and THEIR CHAMPIONSHIP: A Long Line of Beauty and Greatness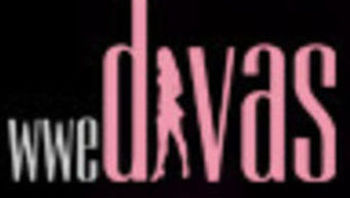 Speaking of superstars, we cannot ignore the "plus" side of World Wrestling ENTERTAINMENT a.k.a THE DIVAS!
I don't know about you but WWE has some great talent there and it is beyond misused! What's the average match time nowadays? 4-5 minutes? They are also called "bathroom breaks" which that alone insults me intensely.
The following link leads you to Wrestlemania 22 and the grudge match between the legendary Trish Stratus and the fabulous Mickie James (whom I think was a mistake letting go) for the now-DEFUNCT!! WWE Women's championship.
http://www.youtube.com/watch?v=cbOLUI3-O-8
Notice the crowd reaction, the people were on their feet! Cheering Mrs. James the nuttjob! They delivered a phenomenal match. The divas have talent, skill and they are beautiful. Alright I admit they sign many models instead of actual athletes but with a supposed roster merge perhaps it is time to revise the formula and bring back the age of diva greatness. The days of the Chynas, the Trishes, Litas, Moolahs and many more. With the end of the separate rosters you could, for example, eliminate the unnecessary talent and make room for real divas.
Mind you I am still sour about the WWE's decision to retire the Women's championship but I can get used to that. What I cannot accept is the disrespect of the DIVAS. I have to say it was a real treat to watch the Attitude era's programming because of the women. Now things have changed to a more family-friendly product. Alright then, it's time to bring back some sense into this division.
What you might not want to use as competitors in the ring you could use as say, a valet/manager? They say behind every great man is an even greater woman. Ted Dibiase is trying it out with "la plus belle femme que j'ai vu de toute ma vie!" Maryse and even though they screwed that up, I am curious to find out who that note is for? Who is gonna steal Maryse from Ted?
Because we don't ever take the time to show them that we care, let's give a big round of applause to the female superstars and divas that work hard and brought us so many great matches then, now and always.
MANAGERS and VALETS: The Way to Turn Any Wrestler into a Superstar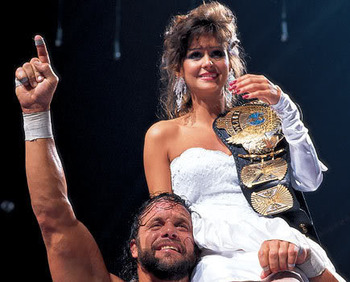 Didn't I say behind every great man is an even greater woman?
Ted DiBiase seems to think so and so did Randy Savage. Seriously, I hope WWE considers bring back this "Division" because it would answer alot of questions
1: What can we do to improve wrestlers with poor mic skills?
2: In the event of a roster shake up, what can we do with the "extras" that end up on the cut list?
You often hear how John Morrison has poor mic skills as a face or how Dolph Ziggler produces no heat without Vickie Guerrero well there's your answer. Let managers do the talking, let the divas turn our attention to the TV set.
Managers are trained for this sort of thing. Hollywood has figured this out why not the WWE? You had such great figures in the past like Bobby Heenan, Jimmy Hart and Paul Heyman to name a few. They really sold their product well and made stars out of their protegés. I always enjoy a great Bobby "The Brain" Heenan promo with Rick Rude in the 90s, he always let out some remark about either the announcer or the superstar his man was facing. Cracked me up every time.
Valets work kind of the same way except they add beauty to it so you eventually fall to their charm or truly hate them. The prime example is Vickie Guerrero nowadays. I think she is great and adds a little something to Dolph Ziggler that he didn't have last year. She is a "bitch", Sensational Sherri was a "bitch", "Bitches" work well in WWE, they draw out all the heat because let's face it, some superstars are great in the ring but the mic..................
If you don't have this division in WWE then why have the option to train in this field in wrestling school
It's a great way to promote your talent. Someone who is watching your back. Makes great storylines too. Managers and valets don't always have to be heels either. The first lady of the WWE was and always will be the lovely Miss Elizabeth. I always like to remember her as in the slide above, innocent and beautiful. It's a shame she is still not in the Hall of Fame.
WWE superstars have the talent and even with great mic skills, a manager/valet makes it that much better. Sometimes if there is talk of manager there can also be talk of stable, groups and factions.
Stables is where this leads to next
STABLES: To Promote Many Superstars All at Once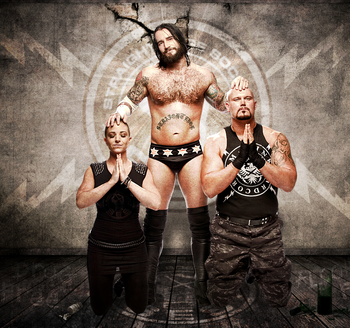 Many of us are sad and disappointed of the recent dissolve of the Straightedge Society. A great faction with so much potential ruined due to unexplained firings and injuries.
If it had been given the chance to go all the way I think CM Punk would be World Champion again and they might even have gotten some other member but that is now far from possible. It was abandoned. They dropped the ball on Joey Mercury's "masked" character, took too long to unfold and Serena got fired for what again? On top of that, all 3 of the members were "squashed" by the Big Show at Summerslam so that was a big joke.
Stables and factions should represent fear and power. Great figures banding together for total control and domination. Evolution, the Four Horsemen, the N.W.O...these were great and they brought out the best out of all their members. Superstars that have no direction or that have just begun their careers can truly stand out in this because they have the advantage of showing up on TV ALL TOGETHER. Even if they don't say a word, their actions speak loud enough sometimes, I know for a fact that Batista could kick my "butt" any day but back in his Evolution days, he didn't do most of the talking.
Nexus is there today. They can be great sometimes and though they don't all have the same skills they do come out together, look strong and prove their point when they destroy everything in sight. Sadly, one of their number is injured and he seemed like one of the few that was headed somewhere but he'll be back, his faction however might not be there after this Sunday's Hell in a Cell.
It's a great way to promote people all at once, make them develop their characters and make us hate/love them. Throw in a few divas in there and you've got yourselves a great show not to mention how good the merchandise could be. I find it amazing to follow a stable when it gathers to itself a bunch of championships to really make it a force to recon with. I really loved how the N.W.O had won 4 titles and bragged about taking over.
You have so many superstars out there. Everyone wins in this situation and when the magic dies then you just break it up. There's always going to be a few guys teaming together so make the most of it.
Speaking of teams..........
The TAG TEAM DIVISION: How We All Love a Great Tag Team Match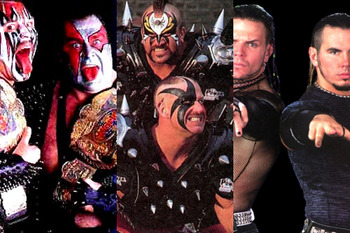 Just look at this picture, such great teams up there, so much history you cannot take for granted.
The following link takes you back to the glory days of tag team wrestling. The age of TLC, the age of great tag teams like Edge and Christian, The Dudleys, The Hardys, The New Age Outlaws etc...
http://www.youtube.com/watch?v=eXz8TOVOURQ&feature=related
Fans on their feet, screaming, cheering. OMG! moments and unbelievable stunts delivered by units that were in synch. We don't have this anymore.
Tag team wrestling is a vital part of WWE. It should be encouraged and promoted. You have great wrestlers that would most definitely deliver a great show if given the opportunity. I fear egos have gotten too big in some cases. I'm sure the WWE superstars are made to believe that there is no point to tag teaming other than the odd main event here and there. On top of that, the teams that do exist are treated like nobodys or not taken seriously.
Why do they split up tag teams so soon? What happened to them being seen as each other's counterpart? You don't always find a Shawn Michaels or a Bret Hart as part of the team so breaking up the Legacy for example didn't really accomplish much. Ok mind you, Cody Rhodes is the tag champion but he is paired with Drew McIntyre so when it comes down to it, they split him up from DiBiase just to shove him back in another team. It is nice to want to branch out on your own but if you decide to start out as a tag team and get success, why break up a good thing? If it ain't broke, don't fix it!
What happens after a while when there are too many singles wrestlers? They end up being paired off and winning the gold. Sometimes they throw in names like Jericho and Edge because there is no room for them in the main event but it ends up being great so why not keep it that way?
You may laugh at the Dudebusters or the Gate Crashers but why do so? They aren't given the time to really establish themselves. The gimmick never gets airtime to really stand out yet who knows, it could be great.
I love the tag team division, I love the tag team championship (Sad they retired the World Tag Team titles with all that lineage) and I love a great tag team match when it is planned properly. Synchronicity comes naturally sometimes. Two guys can deliver a great show just by thinking the same way. A great example is again Legacy, two guys that fit well together and John Morrison and The Miz who had incredible tag team chemistry. You can tell when you watch the match carefully.
It is a given some wrestlers are born to be superstars, case and point THE MIZ, but some people just work better as a team and with two people you can do twice the moves, the double-team, twice the cheating and the team finisher that, if done properly, can be spectacular,
So please WWE, don NOT drop a Demolition Decapitation on the tag team division. You have so much value and heritage there not to mention great talent.
To Conclude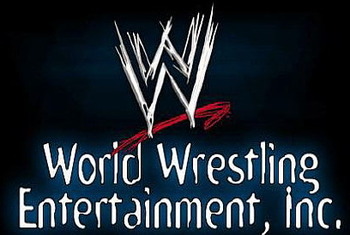 WWE is a great product, an amazing product.
It has been around for many decades and will go on for decades. WE the WWE Universe have been around since the beginning and we always went along with changes. I admit some were greater than others but they kept us watching. Now it seems like WWE has fallen or is falling from grace. Isn't it time to go back and study the formula that has gotten the company to greater heights?
All the points addressed in the 2 parts of this article are what made WWE the driving force in professional wrestling. It must not be forgotten for the sake of making an extra buck because if the product fails to deliver, the fanbase will not follow.
Humans are at base consumers. Whether we like it or not, if we get bored we always move on to better things.
WWE has the resources, endless resources. So make it work you guys. You owe us THAT much.
Keep Reading