Jose Aldo and the 10 Most Explosive Fighters in MMA Today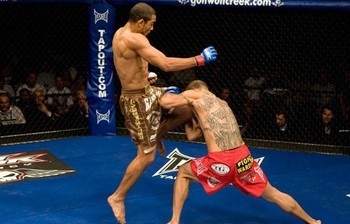 What you see in that picture is a 5' 7" ball of terror launching the first strike in what ultimately was a successful double flying knee knockout (with some punches for good measure). There aren't many competitors who would even try that particular move, let alone end a bout with it.
Yet that's precisely what Jose Aldo did against Cub Swanson.
The World Extreme Cagefighting Featherweight Champion has flown a little under the radar because the WEC hasn't been—historically speaking—a glamor organization. Of course, it's been under the Ultimate Fighting Championship spotlight for the last several years and Aldo is beginning to reap the benefit of the audience bump.
When "Junior" steps into the 1stBank Center outside of Denver to defend his title against a stout challenge from Manvel Gamburyan on Thursday night, the audience will be expecting fireworks for good reason—the champ can bring the TNT with the best of 'em.
But exactly where does Aldo rank in the pecking order of MMA's most explosive fighters?
Honorable Mention
Alas, there isn't room on the list for everyone. So the following demolition experts don't quite make the cut (in alphabetical order):
Shane Carwin—the big fella has power for days in his hands, but he lacks the overall explosiveness that the top 10 all seem to possess. Granted, don't try to sell that line to Gabriel Gonzaga or Frank Mir.
Melvin Guillard—"The Young Assassin" can be very much that, but he's been too inconsistent against stiffer competition. Still, when you knock someone out with a body blow, you must be recognized...even if it is Gabe Ruediger.
Quinton Jackson—the jury's still out on whether "Rampage" can rediscover the dynamite that served him so well in his earlier days. Even if he cannot, the infamous power bomb that devastated Ricardo Arona guarantees his presence on this list until he hangs up his gloves.
Anthony Johnson—it's easy to forget about "Rumble" because he hasn't scrapped in almost a year, but the dude was literally running through people until his dubious collision with Josh Koscheck. As for this tendency to erupt, just ask Tommy Speer. If you can find him.
B.J. Penn—it kills me to leave "The Prodigy" off this list. The beatings Penn put on Diego Sanchez, Kenny Florian, Sean Sherk, and Joe Stephenson are some of the most brutally brilliant displays of mixed martial arts you'll see. Unfortunately, Baby J barely seemed to have a pulse in his last two outings against the UFC lightweight king, Frankie Edgar.
Georges St-Pierre—GSP doesn't fit the traditional profile of volatility because he's not a notorious knockout artist. However, there are several different varieties of explosiveness and—since it's apparently impossible to stop a "Rush" takedown—I'd say he has at least one type in spades.
No. 10—Junior dos Santos
Yes, I've been accused of having a Seinfeldian crush on "Cigano" and, truth be told, it's not a charge I can soundly deny.
But what's not to love...or, rather, man-crush?
The 26-year-old Brazilian seems to be improving every time he steps in the Octagon and he's already authored some of the most thorough destructions in recent memory. JDS took home Knockout of the Night in his UFC debut against an opponent you might've heard a bit about, Fabricio Werdum. He then toppled Stefan Struve, clobbered Mirko Filipovic into submission, splattered Gilbert Yvel, and throttled Gabriel Gonzaga for another KO of the Night.
The bomber is waiting in the wings as the No. 1 contender at 265 pounds.
No. 9—Brock Lesnar
If you have thin skin, you mention Lesnar's name at your own risk because—no matter the context—his detractors will denounce you as the biggest moron on the face of this or any other planet.
And, really, it's not an absurd criticism when you consider the UFC Heavyweight Champion still only has six professional fights on his resume.
So be it.
The Minnesota Mountain is nothing else if not explosive. Like GSP, Brock's most infamous eruptions are of the takedown variety. They seem to be virtually indefensible by all accounts—from outside the eight sides, it looks very much like a rhinoceros running through a cooking fire and catching an unlucky camper under hoof.
Unlike St-Pierre, Lesnar is quickly developing a reputation for multifaceted nuclear capabilities.
For those who retch at the notion, I direct you to the swinging lunchboxes that momentarily disfigured Frank Mir as well as the punches that felled Randy Couture and knocked Heath Herring halfway across the Octagon.
No. 8—Vitor Belfort
As fun as it is to watch the biggest gladiators slug it out, the most explosive fighters tend to be the smaller guys because their slighter builds tend to make them more dynamic.
"The Phenom" is a wonderful example of this—he can come out of nowhere and shut the lights with hands, feet, knees, or elbows. He can put his victim on his back with relative ease and slap a submission on given the slightest of openings.
If Belfort didn't go a little AWOL there in 2004-05, he'd be higher on the list.
Even with the speed bump, his current three-fight knockout string over Terry Martin, Matt Lindland, and Rich Franklin hints that the once-meteoric version of Vitor Belfort is back.. That could be very bad news for the middleweight division and set up a cataclysmic date with a man we'll see a bit later.
No. 7—Alistair Overeem
"The Demolition Man" isn't the easiest competitor in the world to love—the Dutchman isn't quite warm and cuddly, and there's the whole issue of how he suddenly put on about 45 pounds of lean muscle.
But I digress.
Because the one-time middleweight has always, always been explosive inside a ring or cage. Although it's the newest carnage that's sparked renewed interest in Alistair—a man-handling of Brett Rogers and KO of Kazuyuki Fujita (no easy chore)—the guy's proven himself to be one of the most thunderous strikers in MMA ever since he first started throwing leather and bone.
And he doesn't appear to have lost any of his versatility despite the new-found bulk.
No. 6—Fedor Emelianenko
Yes, "The Last Emperor" no longer can claim to be technically unbeaten—Werdum's stunning first-round submission back in June saw to that.
One loss doesn't unravel the entire body of work.
And those poor souls who make up Fedor's resume show the scars of his array of incendiaries. Though not a pure striker like some of the others on the list, Emelianenko can bring the heat as he did against Brett Rodgers, Andrei Arlovski, Tim Sylvia, and even Werdrum—remember, Fabricio subbed the Russian off his back, a position in which he found himself not entirely by his own will.
But he also has an explosive ground game—using his speed, agility, and balance to cinch on terminal holds in the blink of an eye.
No. 5—Melvin Manhoef
"Marvelous" Melvin might be too explosive for his own good.
As we saw earlier this year against Robbie Lawler, the Netherlands product can fall prey to recklessness as he tries to add yet another stupefying trophy to his already considerable case. Combine that with a possibly suspect chin and you begin to get a picture of why his aggression far outpaces his accomplishments in the MMA arena.
Happily, this isn't about well-roundedness or being a legitimate contender or anything else—it's about capacity for sudden danger.
Few fighters can surpass Manhoef in that regard, as his vicious nighty-nights of Mark Hunt and Kazushi Sakuraba will attest.
No. 4—Jon Jones
With a little more seasoning and a few more bouts unfolding according to the same script, "Bones" Jones could be at the top of this list.
Vladimir Matyushenko is no can, but Jon made the old timer look unmistakeably like one as the younger entrant took his antagonist down with ease and wasted little time ending the matter from a mounted crucifix. Additionally, Brandon Vera's broken face will speak to the peril lurking in Jon's strikes.
There's also the controversial defeat handed to the 23-year-old by Matt Hamill in which Jones was utterly dominant, using a suffocating mixture of striking pressure and wrestling prowess.
Of course, what really seals the explosive deal is his embarrassment of Stephan Bonnar—the brightest rising star in the UFC chucked "The American Psycho" around the cage like Bonnar was a student receiving a lesson in unorthodox judo from a master craftsman.
Just imagine when this kid gets some real polish on his game.
No. 3—Mauricio Rua
The UFC Light Heavyweight Champion's gotten lost a bit in the shuffle thanks to all the turmoil that's beset the lightweight division, the constant diet of blockbuster clashes offered by the organization's heavyweight division, and the welterweight division taking center stage via this season of The Ultimate Fighter. At least from the fan standpoint.
I promise you no other 205-pounders have taken their eyes off "Shogun."
If they have, they're twice the fools—once for not giving a savage sniper his due respect and once for stepping in the Octagon in the first place.
Take a look at that highlight reel and you'll see some of Rua's opponents who wouldn't be walking away from the experience unless the human body could weather a substantial amount of abuse given the right conditioning.
What's more, you'll recognize most of the cannon fodder—sincere warriors like Lyoto Machida, Chuck Liddell, Mark Coleman, and Alistair Overeem.
No. 2—Anderson Silva
The only thing keeping "The Spider" out of the top space is his recent stretch of lackluster performances, allegedly given in protest as a result of substandard competition. One would think the best protest would be to send said competition out on a stretcher, but that's apparently not the way the Brazilian sees it.
Regardless, when properly motivated and healthy, Silva is still about as explosive as a mixed martial artists can be.
You're not fooling around when you floor a cement-skull like Chris Leben. Or when you slap the darkness on Forrest Griffin while retreating. Or when you drag Rich Franklin around the Octagon in a Muay Thai plum like he's your (much) younger brother. Or when you put down James Irvin and Nate Marquardt without breaking a sweat.
Of course, you are fooling around when you dance around mocking Demian Maia or refuse to engage "inferior" adversaries.
Which is why Anderson Silva is only No. 2.
No. 1—Jose Aldo
Yes, Jose Aldo is only 145 pounds.
Yes, Jose Aldo is the most explosive gladiator in mixed martial arts today.
While others on the list might possess more power, even on a pound-for-pound basis, nobody can match the Brazilian's dynamic array of barbarism. You can watch the sport a looooong time and never see leg kick of such ferocity as the ones Uriah Faber—a seriously tough hombre—endured courtesy of Aldo at WEC 48.
The double flying knee has already been mentioned.
So instead, check out some of the soccer kicks (illegal in the UFC, but always a nostalgic treat), elbows, and general mayhem inflicted by the featherweight division's bogeyman.
And then you'll understand why "Junior" is second to none.
**Click here to learn more about the Paralyzed Veterans of America**
Keep Reading