NFL Week 3: Alex Smith and Other Duds Who Could Lose Their Jobs Soon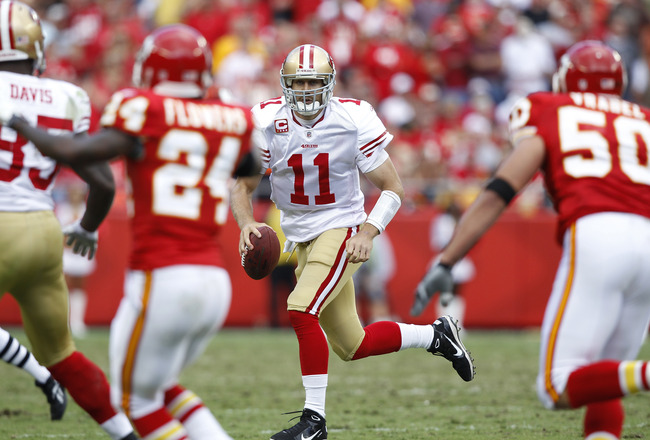 Joe Robbins/Getty Images
By Week 3 in the NFL season, the leaves on the trees start changing and so do some of the starters on the field.
I have said it before: the NFL is a brutal business. Just today, somebody lost their job because of a lack of performance.
The San Francisco 49ers are 0-3, so they have fired offensive coordinator Jimmy Raye.
Now that they have their eighth offensive coordinator in eight seasons, who gets the blame if they keep losing?
Here are some others who could be in danger of losing their jobs.
10. Trent Edwards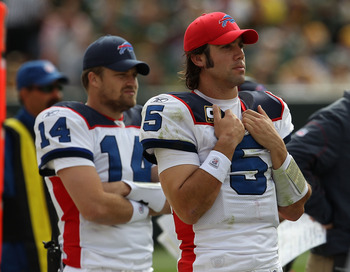 Jonathan Daniel/Getty Images
I know what you're thinking: this is old news, Edwards was benched after last week.
But I'm here to tell you that the benching wasn't enough, apparently.
Chan Gailey looked down his bench and realized he didn't even want to see Edwards face anymore.
The Bills not only demoted Edwards, they have now released him.
So now, Ryan Fitzpatrick has job security and Brian Brohm is just one snap away.
9. Jerome Harrison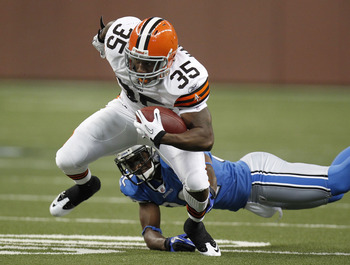 Gregory Shamus/Getty Images
This one isn't really fair because Harrison wasn't a dud, he was injured.
But, if you combine the production Peyton Hillis has had all year with what he did as the primary back with Harrison out with his injury, then there is a good chance that Hillis has snatched the starting spot for the time being.
180 total yards and a touchdown? Against the Ravens? How do you send that production back to the bench?
8. Takeo Spikes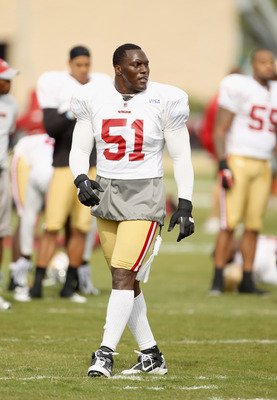 Ezra Shaw/Getty Images
You might think there is a theme to this article, but actually it is just how things are being reported.
Spikes, the two-time Pro Bowl linebacker with the cool name, is said to be losing his starting spot next to Patrick Willis to rookie NaVorro Bowman.
I don't blame Coach Singletary.
He's probably thinking, "Either these guys go or I do, and I like my job."
7. Garrett Hartley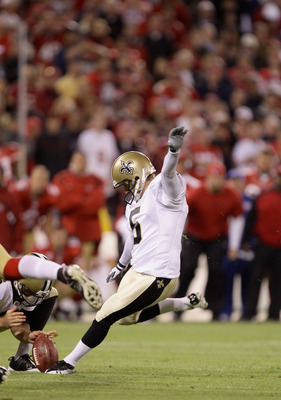 Ezra Shaw/Getty Images
One of my favorite Janet Jackson songs of all time is What Have You Done For Me Lately.
Not sure if New Orleans kicker Garret Hartley is a fan though.
After winning playoff games for them last year, the word is out that the Saints are thinking about trying out kickers.
Who knew they wouldn't be too fond of his three misses so far?
6. Michael Lewis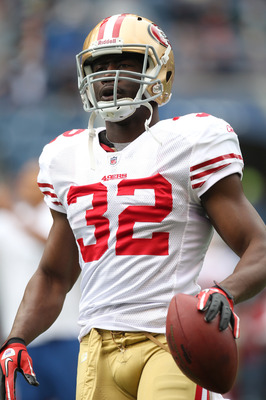 Otto Greule Jr/Getty Images
The 49ers shake up continues: This long time safety is said to also be going to the bench.
Highly touted former USC safety Taylor Mays is in the running to replace him in the San Francisco secondary.
Changes like this happen when you are 0-3 and still think you have a shot at winning the division.
5. David Garrard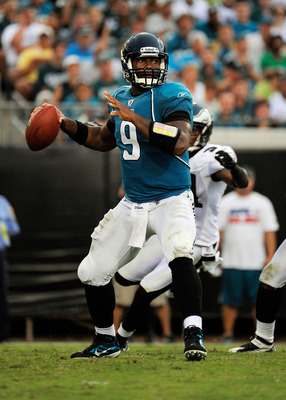 Doug Benc/Getty Images
Talk about a man that is lucking out. The word is that David Garrard, after another terrible outing, would be in jeopardy of losing his job... if they had anyone to replace him.
Right now, the options are Todd Boumann and possibly Keith Null, whom ESPN is reporting the Jags are trying to sign.
Both of those guys were working at the deli up the street last week.
Who's going to cut my Swiss now, damn it!?
By the way, Jags, I hear Trent Edwards might be free these days.
4. Cadillac Williams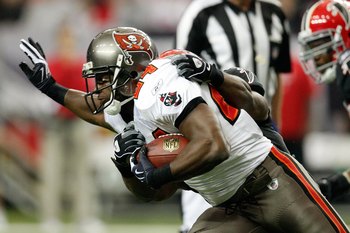 Kevin C. Cox/Getty Images
Normally, it's an injury that causes Cadillac Williams to lose his spot in the rotation.
But this year, it might be lack of production as well as injury.
He has a nagging hamstring injury. But what might nag him even more is that Kareem Huggins and now LeGarrette Blount are vying for his carries.
Stay tuned for this one, it might not end well for the 'Lac.
3. Fred Taylor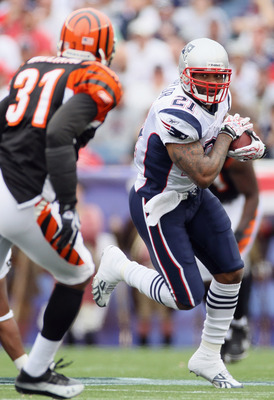 Elsa/Getty Images
With Kevin Faulk gone for the year because of injury and Laurence Maroney traded to the Denver Broncos, it seemed like the Belichick rushing committee would be lead by Fred Taylor and Sammy Morris.
But, lawyers were brought in to make sure everyone got a fair shot. Actually, a law firm, to be precise.
The law firm of BenJarvus Green-Ellis.
For those who don't know, Green-Ellis was nicknamed the law firm because his name was so long. And now he might be the leading carrier for the Patriots.
Fred Taylor is getting up there in years and now he has a toe injury.
And Green-Ellis is getting rave reviews from his offensive linemen as well as producing yards (16 carries for 98 yards against the Bills).
He might soon be the man for the Pats.
2. Alex Smith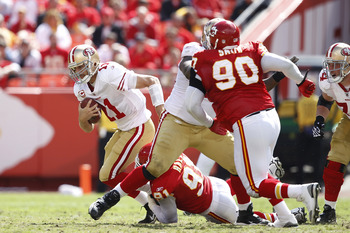 Joe Robbins/Getty Images
His 68.8 rating was nearly half of that of Matt Cassel's yesterday.
And yet he is like teflon.
Maybe Smith will make it the rest of the year if everything can be blamed on the offensive coordinator that they just fired.
But if the 49ers continue to struggle and miss the playoffs when a 7-9 team will most likely win their division, Smith, Singletary and a whole bunch more people will be asked to not come back.
1. Derek Anderson
Christian Petersen/Getty Images
The Cardinals quarterback threw for 122 yards and a 69.7 QB rating on 12 completions. Ken Whisenhunt said that replacing him with Max Hall never crossed his mind.
Really?
How quickly would Whisenhunt have benched Leinart with similar stats?
I am convinced that something off the field went on between those two, and one day, we'll find out the real reason the Cardinals gave their starting job to a guy who was run out of Cleveland for being awful.
Keep Reading