Champions League: Werder Bremen To Face Inter Milan Without Frings and Pizarro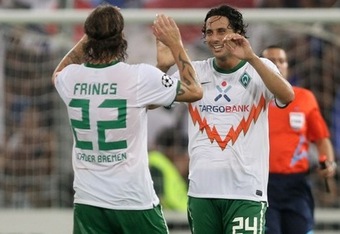 It won't be same without you!

This is the third time in Champions League Group Stages that Werder Bremen and Inter Milan are at loggerheads. There will be "no love lost" between the two teams as Werder travel to San Siro again, on the European night this week.
Their first meeting in Champions League Group Stages came in 2004-05 season when Inter Milan beat Werder at San Siro by a 2-0 score-line and drew the return-leg with 1-1 in Germany.
The second meeting came in 2008-09 season of Champions League and this time Werder played their cards brilliantly by playing a draw in Italy and winning their home leg by 2-1 at Weserstadion.
This brings us to stats that both teams have beaten each other ― one time each ― and were held drawn on two occasions. Both teams have won only at their own home stadium and none of the two has managed to win an away leg.
The last time Inter beat Werder was in 2004-05 when a certain Brazilian, Adriano, scored the two goals for the team, while on the other side; Werder won their match against Inter when the both teams met last time with Claudio Pizarro on song.
Let's break down the chances of Werder―plagued with injuries―coming out with something against Inter Milan.
Injuries to Important First-team Players...
Thomas Schaaf wasn't done nursing his headache on the absence of Naldo, Petri Pasanen, and Sebastian Boenisch that he almost suffered a heart attack on the news of Clemens Fritz, Claudio Pizarro, and the club captain Torsten Frings all missing the trip to Italy.
First choice centre-back Naldo was expected to return by now but he will be absent for another month due to the fact that he hasn't recovered well off his knee injury. Naldo has yet to make an appearance for Werder this season due to recurring knee problem.
Mertesacker was out for three weeks prior to making his return last Saturday against HSV in a Bundesliga match. He missed the first Champions League group match against Tottenham Hotspur due to facial injury he incurred in an International friendly for Germany.
Another important player who missed the tie against Tottenham Hotspur and made a return on pitch with Mertesacker against HSV was―Werder's attacking pedigree―Claudio Pizarro but he is out of Champions League match again for incurring an injury in Saturday's clash.
Club captain Torsten Frings and the first-choice full-back Clemens Fritz also joined the list of players along-with Pizarro who were injured during the Bundesliga match against HSV.
However, Werder won the match 3-2 with Marko Marin starting the score with a deflected goal and Hugo Almeida scoring two for the team.
From HSV, Ruud van Nistelrooy started the scoring with a cheeky back-flick which was deflected on its way and Pitroipa scoring with a thunderous shot. At one point, the score was level on 2-2.
With these injuries to the most important players of the team, one would think that there is "win" written all over for Inter Milan.
Werder: Nemesis to Serie A teams, nicknamed "Italian-Killers"
Amongst the German teams, it's Werder that boasts a pretty strong record against Italian teams.
Werder Bremen scraped through an incredible Champions League play-off against Sampdoria just a month ago which is still fresh in minds.
If we look back then in last edition of "UEFA Cup" played in 2008-09 ― now called Europa League from 2009-10 season ― Werder Bremen gave a thumping to two Italian teams on their way to the Final.
They won the first knock-out stage against AC Milan with 3-3 aggregate; 2-2 at San Siro in second leg which sent AC Milan out of the competition on away-goals.
In the quarter-finals of the very competition, Werder were up against another Italian side Udinese and this time again, Werder were no different and won the round on 6-4 aggregate.
Due to all this recent brutality against Italian sides; Werder are nicknamed "Italian-Killers" in European competitions.
Despite the injuries to first-team squad and due to all this strong record against Italian teams; Werder know who they are up against with this time and so they will put up a strong show nevertheless.
But there is a silver lining elsewhere...
Both teams have changed since their last meeting.
Inter Milan went on to win Champions League and boast one of the fiercest squad in Europe, but you need a great tactician to control the kind of squad Inter possess. No wonder, it was Mourinho who steered the big ship and hit the island of Champions League and conquered it.
Yet ― this term ― the crew is same but the manager has changed. Rafa Benitez is a good tactical manager as well but in no way any near to where Jose Mourinho stands.
Benitez didn't even bring in any commendable player but Castellazzi and Coutinho while three players Quaresma, Burdisso, and Balotelli were shown the exit doors.
And the cracks are already visible that Inter Milan have attained mixed results this term in Serie A so far and will face Werder after the defeat they faced against AS Roma in the last encounter.
On the other side, we have the most under-rated manager outside Bundesliga in Thomas Schaaf who commands respect from every player at his disposal and has an affiliation with the club that of legendary status which revolves around 38 years.
This is a know fact that he has never been betrayed by his eyes who seek for potential recruitments. Baumann, Frings, Fritz, Klose, Mertesacker and Diego are the prime examples and Ozil, Aaron Hunt, Marin, Arnautovic along-with Wesley join that exceptional list of the players.
Claudio Pizarro and Hugo Almeida have re-polished their abilities and re-ignited their football careers under the steady management of Schaaf.
It was his gritty management that despite being missing the key players and being down by two goals to nil against Tottenham Hotspur, the players rectified the mistakes turned the tide by ending the match in an incredible 2-2 draw.
Inter, you've been warned...
So just because the lion is injured, it doesn't mean in any way that he will lose the ferocity and won't roar!
Whenever the players of Werder have landed on the pitch, they have always fought for Schaaf.
Recently, in their last encounter against HSV when Fritz got injured during the first half, Schaaf deployed Wesley to the right-back position who primarily happens to be a midfielder.
Wesley played the rest of the match out of his position but produced the man of the match performance with staying back, tracking the opposition well, and then coming forward in the last moments of the match, providing an assist for the team that ended the match in 3-2 win for Werder.
You will find examples like this many a times where players have up-levelled their game when something goes wrong and this is an always dangerous thing to face.
It's a known fact that Werder has never been a "defending side". The squad boosts with attacking options that include Magnificent Marko Marin, Cautious Tim Borowski, Renegade Marko Arnautovic, Ever-Improving Wesley, Exceptional Aaron Hunt, and Veteran Hugo Almeida who all will provide something to think about for Inter Milan.
So it's not in "Defending", it's in "Attacking"...
In order to get something out of this match, Werder need to go with an "all-attack" approach. As pointed out in my previous point. Werder is not a defending side but it's an attacking side. Because of their strength in attack, they need to use this weapon if they are to get something out of this match.
Now, it's a fact that neither of the sides has won an away leg but there is always first time for few things. If they concede one goal, two goals, or more but always score one more than them. That's how Werder can expect to do well if they are to progress to next round of Champions League.
The players that I have mentioned are big-match players. This is one big-match as Champions League Group-Stage match against big teams always means one thing and one thing only i.e.: Get the three points!
There is a big chance of Werder succumbing to heavy defeat in the absence of Naldo, Frings, Fritz, and Pizarro. But if they happen to get the best out of Wesley, Hunt, Marin, Arnautovic, and Almeida then they can win this match if not at least draw the match.
This article was first published on Football Stryder blog. You can also read and comment there, here you can promote your Bleacher Report profile, while there you can promote your blog via comments if any.
This article is
What is the duplicate article?
Why is this article offensive?
Where is this article plagiarized from?
Why is this article poorly edited?