Climbing the Mountains: Colorado Avalanche 2010-11 NHL Season Preview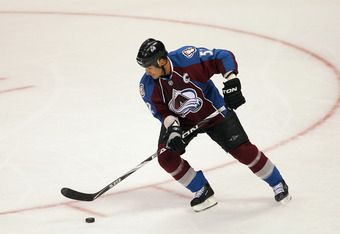 Adam Foote may be nearing the end of his run, but several members of the Colorado Avalanche are just starting their run.
Doug Pensinger/Getty Images
As part of a continuing series, writer Benjamin Benya will be previewing all 30 NHL teams over the next two weeks in preparation for the 2010-2011 regular season.
Up next, the Colorado Avalanche.

Key Additions: C Daniel Winnik, G Jason Bacashihua.

Key Subtractions: D Brett Clark, D Ruslan Salei, RW Marek Svatos, RW Brian Willsie

As one of the biggest surprises in the 2009-10 regular season, the Colorado Avalanche rode early returns into the playoffs and competed mightily with the top seed San Jose Sharks. Despite their best efforts, the Avs fell short in their first quest for the Cup without names like Joe Sakic filling out the roster.

Now, a team with little expectations a year previous has larger visions of glory in the future. Whether or not coach Joe Sacco can duplicate last year's under-the-radar performance with an almost identical team as the rest of the West makes changes remains to be seen.

Colorado's young, upstart offense will be led by Paul Stastny, Matt Duchene, and Ryan O'Reilly. Stastny, the play-making, pass-heavy leader of the squad will center the first line with the up and coming Duchene aiming to capitalize on his splendid rookie season on the second line. O'Reilly, who spiked offensively before the halfway point of the year, may well develop into one of the top defensive forwards in the NHL.

Perhaps one of the best kept, long-term secrets in the NHL is Milan Hejduk, who hopes to return for a full season of duty. Even with injuries, Hejduk has scored 20 goals minimum for ten seasons, making him a valuable commodity on the wing.

Chris Stewart will be another interesting player to watch in the upcoming season, mainly because he netted 28 goals out of obscurity last season. Stewart plays with a fiery passion and a style different than that of previous Colorado wingers. If anything, he'll need to duplicate his breakout numbers to avoid the same exiled fate as previous Avs like Marek Svatos and Wojtek Wolski.

And while Wolski was a talent the team could hardly afford to lose, Peter Mueller, who the Avs received in that trade, is primed for a comeback this year. While Mueller fell into a funk with the Phoenix Coyotes, he's playing rejuvenated hockey in Colorado and has finally contoured to his spot as a left wing rather than a center.

On defense, the Avs are returning with an even younger squad than they boasted last year. Free agent departures left the Avs with various openings that a few rookies might be eye-balling. That said, Adam Foote remains the cornerstone of the blueline.

Foote's contributions to the Colorado roster are some of the most significant in the past 15 years, and though his time is short, several behind him are picking up the slack. Scott Hannan has proven to be worth his value and John-Michael Liles, who had a career low in points last year, will be back with a clean slate of health. Liles' lows were still higher statistically than any other defender on the team.

With Kyle Quincey and Kyle Cumiskey rounding out the budding young team D, things are certainly looking up.

Perhaps the biggest credit to Colorado's surprise success last year was Craig Anderson, the first shining goaltender for the Avalanche since Patrick Roy. Anderson proved he was a worthy successor to the throne with an explosive 38 wins and a .917 save percentage. His 71-game workload may, however, have been his downfall, as a few games into the playoffs the Sharks figured out how to crack Anderson and opened up the flood gates.

Backing him will be Peter Budaj, a less memorable Colorado starter turned temporary shield when Anderson isn't up to the job. Budaj won't be counted on to do too much, though he should see a little more time this season.

Rookie Watch
A college All-American at Boston University, pure hockey fans know a great deal about Kevin Shattenkirk. And for those who are unfamiliar with his stellar, collected, and intelligent play on the back core, they'll soon see Shattenkirk in full force on the main roster.

Outlook
Colorado may be returning with the same roster in principle, but it'll be hard for them to sneak up on opponents this year. They didn't play as well in the final few months of the year as they did in the first two, a substantial question leading into this season. Third in the Northwest, 10th in the Western Conference.

This article is
What is the duplicate article?
Why is this article offensive?
Where is this article plagiarized from?
Why is this article poorly edited?

Colorado Avalanche: Like this team?