Chelsea Vs. Arsenal: Match Preview and Five Players to Watch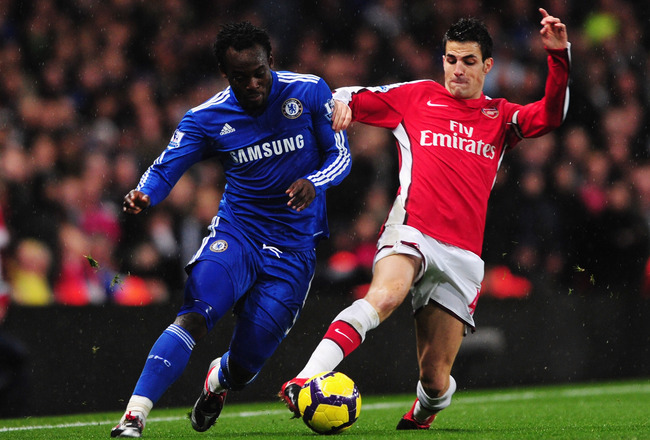 Mike Hewitt/Getty Images
Just six games into the English Premier League season, the tables are shaping up with a mixture of results.
The top three include Chelsea, Manchester United, and Arsenal, which is hardly a surprise to even the most casual of fans. But the promoted West Brom and an inspired Aston Villa both are in the top six and find themselves comfortably in the mix in the early fractions of the 2010 campaign.
Match day seven pits Chelsea and Arsenal at Stamford Bridge in a highlighted Sunday fixture that surely will be one of those games that cannot be missed.
Take some time away from American Football to see two of the Premiership's most prized and celebrated clubs engage in an early season clash.
Both teams are coming off Champions League group wins, Chelsea over Marseille and Arsenal over Partizan Belgrade, as the form of both squads are rising.
Three points for the Blues could establish a healthy buffer between the top two squads and the rest of the league, but a victory for the Gunners eliminates that advantage and creates all the more excitement in the coming weeks.
Florent Malouda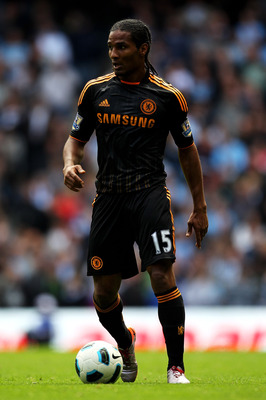 Alex Livesey/Getty Images
Didier Drogba needs no preview, and he commands attention wherever he is on the pitch, so his offensive threat is almost palpable.
With Drogba tied for the lead in assists, Florent Malouda has become a benefactor of his Ivorian teammate's unselfish play by netting a Premier League-leading six goals so far.
Speed and fluidity are his best attributes, and the Frenchman always seems to be in the right place at the right time.
Arsenal may be down on form after a 3-2 loss to West Brom, but they will undoubtedly be prepared for a marquee matchup at Stamford Bridge, and Malouda will provide a counter to potent Gunners' attack.
Never doubt the in-form players in the final third.
Samir Nasri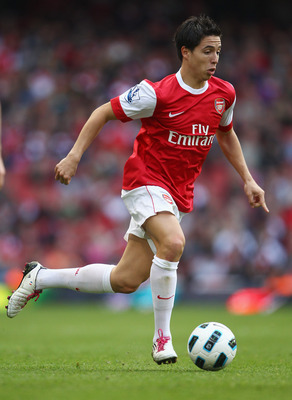 Julian Finney/Getty Images
Samir Nasri scored twice in Arsenal's shocking 3-2 defeat to West Brom, and has four goals in his last two appearances for the Gunners.
His two late goals declared a couple of things for the French international: His form is rising and he is a scoring threat to lean on during the absence of fellow midfielder Cesc Fabregas.
Injuries have hobbled Arsenal's attack in the final third, and confidence will bring an extra gear to a Gunners' side looking to hand Chelsea its second straight Premier League defeat.
Nasri is clever with the ball, and has shown to be a valuable finisher.
John Obi Mikel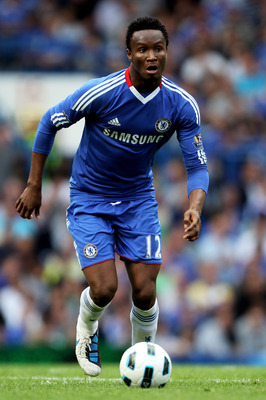 Bryn Lennon/Getty Images
The Nigerian midfielder has become a secured mainstay in the middle for Carlo Ancelotti's squad.
His form is steady, and with Frank Lampard still sidelined with an injury, Mikel's delivery from deep in the midfield into the front has been and will be critical during these next few weeks without Lampard.
Mikel's sheer size presents its own intimidation factor, and he is finally learning how to use his body and his skill set to bring another dimension of control on both offense and defense.
Against a smaller Arsenal midfield, Mikel easily could play a huge role on Sunday.
Marouane Chamakh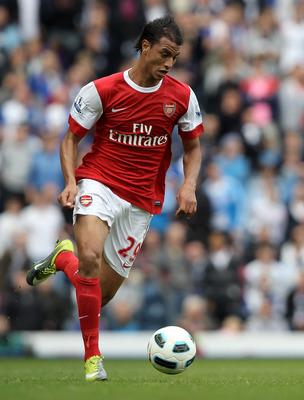 Clive Brunskill/Getty Images
The Marouane Chamakh of late is beginning to look more comfortable up front for Arsenal, and his size in the final third could prove to be a huge crutch for the Gunners' offensive threat.
Though the injury to the glue-man that is Cesc Fabregas brings less consistency in the middle, the improving form of Nasri may prove to lessen the load all around.
Chamakh's ability in the air may end up being the difference maker for the control-heavy offense that Arsene Wenger so proficiently employs with his selection, but Arsenal will need a fully-loaded and determined squad to pull out of Stamford Bridge with three points.
Michael Essien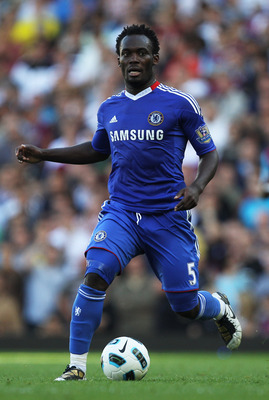 Hamish Blair/Getty Images
Michael Essien hasn't been too far off from spectacular in the early stages of the 2010 campaign, but he is healthy and is closing in on top form.
Several of his long range chances in the 1-0 loss to Manchester City were not the greatest of attempts, but he is getting the opportunities in space, and his timing and placement can only get better.
With teammates Florent Malouda, Didier Drogba and Salomon Kalou playing so well, much of the attention is focused in the final third, granting Essien the space in the 20-30 yard range to unload on goal.
Though small in stature, the Ghanaian plays vastly up to his strengths, easily overpowering the smaller midfield opposition.
Along with John Obi Mikel, the midfield for Chelsea could prove to be the most influencing factor against Arsenal.
Keep Reading

Chelsea: Like this team?