Nice Try at Mile High: Manning and the Colts Roll Over Broncos, 27-13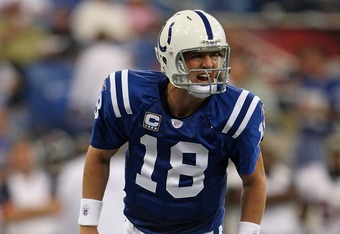 Andy Lyons/Getty Images
Well, that's it for me. I have other business to attend to, thanks to all that followed along.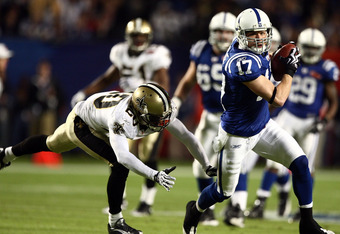 12 catches for 171 yards and two touchdowns, who does Austin Collie think he is Lance "Bambi" Alworth?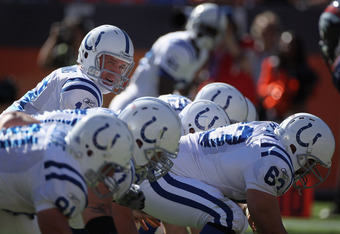 Austin Collie for the touchdown, number two in the game. Colts 27 Broncos 13.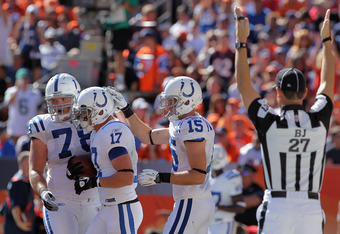 11 catches for 148 yards, Austin Collie is officially a game breaker. He has to be because the Colts can't produce on the ground, only gaining 34 yards so far.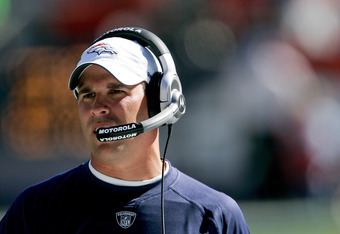 The Broncos will likely give a lot of teams trouble, including the San Diego Chargers. If they can get the run game going, they could contend for the AFC West crown. Although, I would have went for the points there.
Touchdown Indy, 20-10 Colts.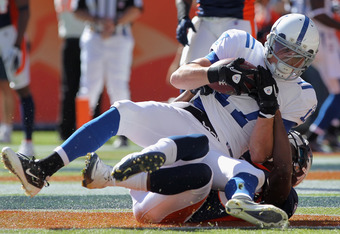 Austin Collie had a respectable season last year but so far this year he looks like he might have a breakout season. He has three catches for 57 yards on this drive alone. He has seven catches for 84 yards total.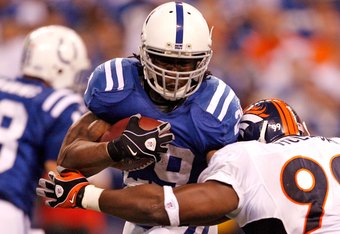 The Colts' running game is stagnant again this week, last week's breakout performance probably had more to do with the Giants then it did with the Colts' ability. If Indy thinks they can run the ball that effectively consistently, they're like John Candy once was: Delirious.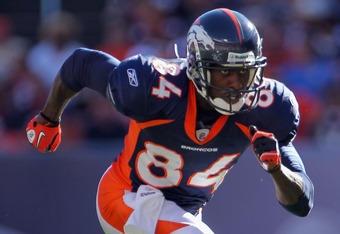 Tim Tebow better get nice and comfortable because Kyle Orton is too good. Touchdown Broncos. 13-10, Colts.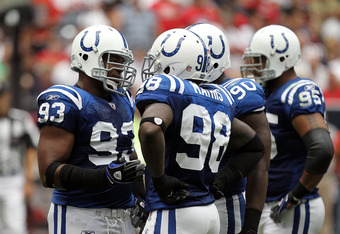 Trying to holdout this defensive line is like trying not to like Tom Hanks, you may convince yourself you can but eventually you watch Turner & Hooch and it's over.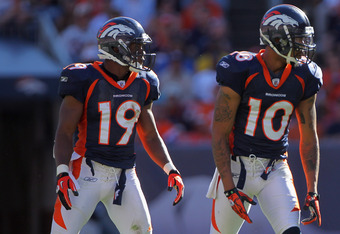 Who knew the Broncos had a dynamic duo at wide receiver? But if either or both have a horrible game, I have dibs on the headline "Broncos Lose on a Royal Gaffe-ney."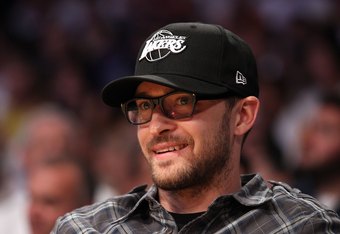 Do you think Justin Timberlake was required to pick the Colts this morning on ESPN because of Peyton's and his obligation to Sony? On fire, on fire...yeah, that was a ping pong reference.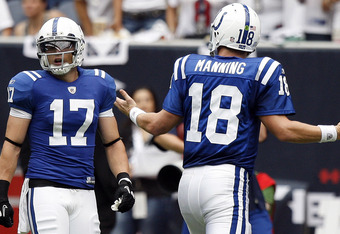 The refs picked up the flag, I'm not sure I agree. The corner was more personal with Austin Collie than Tom Cruise was with Oprah.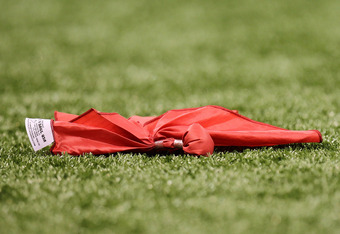 Is it or isn't? What do you think?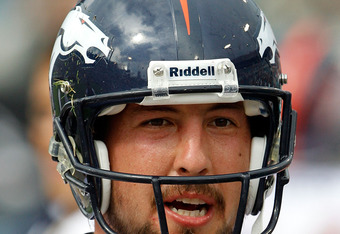 At this point, he's winning the Pulitzer.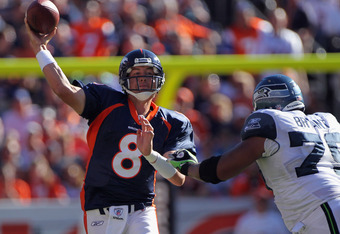 When given time, Kyle Orton is more accurate then Woodward & Bernstein.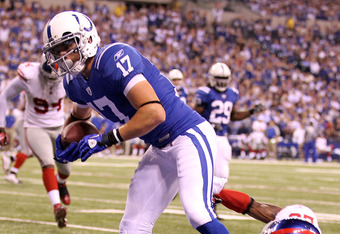 Touchdown Indianapolis. Colts 13 Broncos 0. Since when did Austin Collie become Peyton's favorite?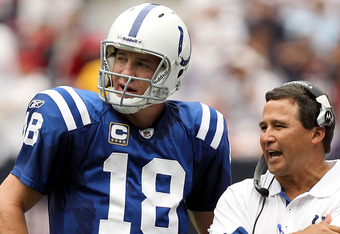 Peyton was seven of 16 passing in the first quarter but gained 99 yards. Don't expect him to be that erratic in the second quarter.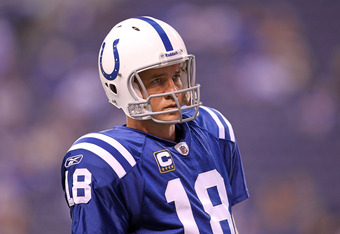 Peyton has been quite inaccurate here in the first quarter, whether it's the pressure or a few throws got away from him, he's over throwing a lot of receivers in the red zone. Granted, the guys he's passing to can't get open.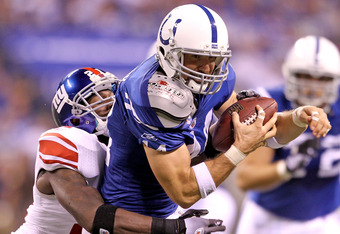 Dallas Clark has to take a beating just to get open. The NFL's version of Hack-a-Shaq? Big play for the Colts, fumble recovery on the punt, ball on the Denver 14-yard line.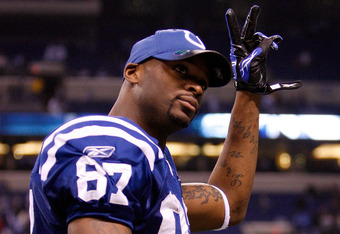 Reggie Wayne has a board held over his head by Colts' staff on the sideline and various heat beating equipment pointed in his direction on the sideline.
Apparently this is why the holdout never happened, Indy gave him his own pit crew.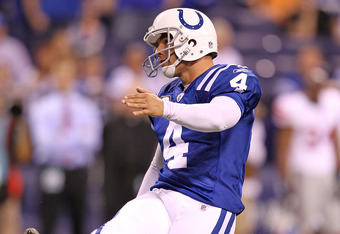 3-0 Colts midway through the first quarter.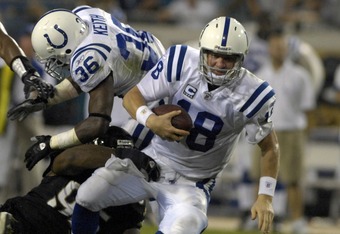 Peyton Manning has been beaten more than Rocky was against Clubber Lang, in the first three weeks. This offensive line needs some help. Either way, just like Balboa, he keeps coming back for more. Nice pass to Reggie Wayne, the Colts are in the red zone.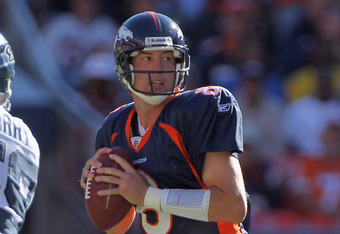 Kyle Orton is like the Steve Buscemi of NFL quarterbacks, he has the talent to hold own against the other guys, he just isn't pretty enough to be a leading man.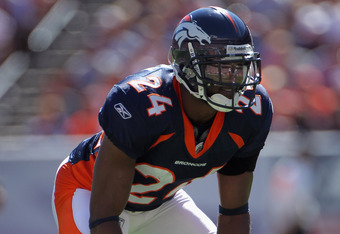 Champ Bailey looks like his old self out there, I wonder if Reggie Wayne wishes he held out now.
This article is
What is the duplicate article?
Why is this article offensive?
Where is this article plagiarized from?
Why is this article poorly edited?

Indianapolis Colts: Like this team?