NASCAR Live Blog: AAA 400, Dover International Speedway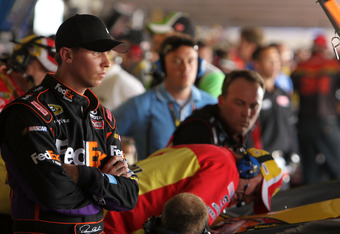 Will Saturday's class between Hamlin and Harvick be repeated?
Nick Laham/Getty Images
Lee Scoggins, NASCAR Featured Columnist here, live blogging the AAA 400 from Dover International Speedway. Join me as we see whether the confrontation between Kevin Harvick and Denny Hamlin during yesterday's practice carries over to today's race, and whether Jimmie Johnson will be giving notice as he starts from the pole position.
I will be sharing my reactions, observations, and never humble opinion on action taking place on and off the track. Check back often, and be sure to share your own comments and observations.
Jimmie Johnson - Winner of the AAA 400 at Dover International Raceway.
That wraps it up for Dover. Thanks for following along as I live-blogged the race today.
Jimmie Johnson has once again tamed the Monster Mile, and Denny Hamlin accomplished his goal of a top ten finish. The finishing order for the top ten in the AAA 400 at Dover International Speedway is:
Jimmie Johnson
Jeff Burton
Joey Logano
Kurt Busch
Carl Edwards
Kyle Busch
Paul Menard
Ryan Newman
Denny Hamlin
A.J. Alllmendinger
In addition to winning the race, Johnson picked up the bonus points for leading the most laps.
Denny Hamlin is holding onto his Chase lead with one of his better performances on the Monster Mile, currently running in the 9th spot. Jeff Gordon and Tony Stewart are not enjoying their usual success at Dover, with Gordon running 11th and Stewart running 21st. Between them, they have nine wins on the Monster Mile. They won't be able to add to the win column today.
Thanks to all of you who have hit the Facebook "Like" button for this live blogging effort...which is the first time I've tried this. While you're at it, you might want to hit the B/R Like Button as well. I'm just saying.
The final round of green-flag pit stops is underway at lap 363. Barring a caution, the rest of the field is going to have their work cut out for them if they are going to catch the Lowes Chevrolet of Jimmie Johnson.
Kyle Busch has lost the handle on the No. 18 Interstate Batteries Toyota. Jeff Burton has passed Busch to go into the second spot with 50 laps remaining. The top ten are:
Jimmie Johnson
Jeff Burton
Kyle Busch
Joey Logano
Kurt Busch
Carl Edwards
Jeff Gordon
Paul Menard
Denny Hamlin
A.J. Allmendinger
Jimmie Johnson and Kyle Busch have combined to win four of the last five Dover races. If everything continues as it is, it will be five out of six. Jimmie Johnson just passed Busch for the lead with 62 laps remaining.
Kyle Busch holds a lead of just under two seconds over Jimmie Johnson at lap 325. The top five is rounded out with Logano, Burton and Kurt Busch.
A.J. Allmendinger has worked his way up to 11th place after his round of misfortune. If the racing gods continue to smile on him, he will be a factor at the end of this race. With just under 100 laps remaining, there is still time for him to get back to the front.
If there's one thing that Kyle Busch does extremely well, it's getting a good start when the green flag waves. He jumped to a huge lead when the race restarted on lap 297. Jimmie Johnson got a terrible restart to help Kyle along.
Lap 291 sees a commercial time-out...I mean a debris caution. NASCAR has waved the yellow for debris in turn three. Pit stops will be important for all of the teams running in the front, especially with the number of speeding penalties that have been handed out today.
Jimmie Johnson's crew gets a little behind and Kyle Busch takes over the lead position with Johnson moving to second.
Green flag pit stops have completed and coming up on the three-quarter mark in the race. The top five in the running order are:
Jimmie Johnson
Kyle Busch
Joey Logano
Carl Edwards
Jeff Burton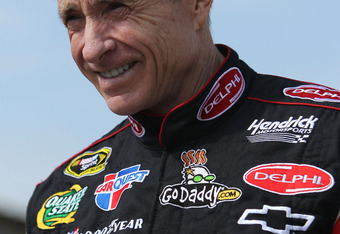 After starting 42nd and being a lap down at one time, Mark Martin has worked his way to 11th place. Looks like the old man may have some racing left in him. Definitely a star performance for the driver of the No. 5, Delphi Chevrolet.
With the exception of Jimmie Johnson, the Chasers who struggled at New Hampshire are seeing their performance problems continue this week on the Monster Mile. Does that indicate a problem with these teams, or is the moon just not in the right phase?
Denny Hamlin is running in 7th, with Kevin Harvick in 9th. The ESPN crew is practically salivating at the thought of Harvick meting out some more punishment on the FedEx car.
Martin Truex Jr. is the latest non-Chaser to get bitten as a loose wheel forces him back to pit road and ruins a good run. There is still a lot of time left, but he's got a lot of work if he's going to get back to the front.
Now it appears Truex has a broken axle, so his day is pretty much a bust as he comes back to pit road and heads to the garage.
Denny Hamlin just dodged his first RCR bullet as Jeff Burton goes around him to take over 6th place. Harvick is next in line to make Denny sweat.
Matt Kenseth blows a left front tire after locking up the breaks when he missed the commitment line on his way to the pits, and tears the left front fender off of his car. All of this in the middle of green flag pit stops that will most likely change the complexion of this race.
Jimmie Johnson comes out of the pits with the lead. Allmendinger sits in 20th and will take the wave around. His crew chief is giving him a pep talk to calm him down and keep his head in the game. He said, "We lead the first half of this race. We'll take the wave around and come back to lead the one lap that matters."
Will A.J. be able to pull the rabbit out of the hat and get back to the front?
Allmendinger made an excellent call. He had a flat right rear tire. If it had blown, or gone completely flat, he might have made his acquaintance with the wall. As it is, there were a couple of chassis adjustments that might be problematic for a while.
Do you think A.J. can find his way back to the lead? He has been the class of the field so far today.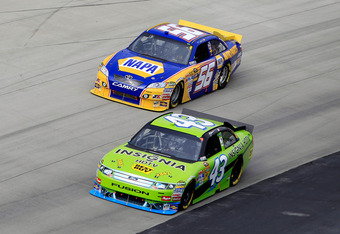 At lap 170, here are the top five:
A.J. Allmendinger
Jimmie Johnson
Martin Truex Jr.
Kurt Busch
Kyle Busch
Allmendinger is fighting a loose car and loosing ground to Johnson, saying on his radio that he might have a tire going down. He's heading for the pits.
Clint Bowyer just found the wall and might have added to his woes for the week. His car was extremely loose and he needed the contact with the wall to prevent what could have been a BIG wreck!
Tony Stewart's Chase hopes pretty much went up in smoke with a speeding penalty on pit road during the green flag stops. He is currently running two laps down to the leader, A.J. Allmendinger. Unless he gets some huge breaks, he is going to find himself in a pretty deep hole with a poor finish today.
Green flag pit stops are in progress. It's fun to see a race that's not influenced so much by the yellow flag, but it sure doesn't create many opportunities for drama. A.J. Allmendinger was leading by almost three full seconds when he became the first car to hit pit road. His pit crew got him out in good shape and he will maintain his lead. Not good news for the rest off the field, especially those teams in danger of being lapped.
There are currently five cars between Kevin Harvick and Denny Hamlin. Harvick has gained 19 spots since the beginning of the race and is the first of the RCR cars that might encounter the 11 FedEx car. Will there be a little added drama if that encounter takes place? Time will tell.
This article is
What is the duplicate article?
Why is this article offensive?
Where is this article plagiarized from?
Why is this article poorly edited?