New Orleans Saints Face Tough Atlanta Falcons Without Reggie Bush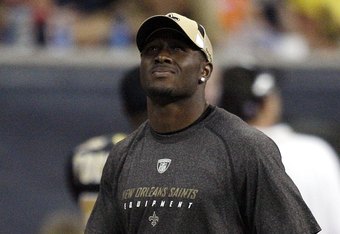 Reggie Bush injured on sideline during New Orleans Saints game.
Bob Levey/Getty Images
First off, let me say that I love the New Orleans Saints chances of going back to the Super Bowl and winning it again. I think they have a great team and the fire is still there. Having said that, I will not play homer and think they are going to go undefeated. This Sunday they are visited by the Atlanta Falcons and I think this is a game the Saints might lose. Why? Reggie Bush is on the sidelines.
Anybody that knows me knows that I'm a Reggie Bush fanatic. I'll fight with anyone about why he "hasn't lived up to the hype" or why he makes the Saints offense roll but I have enough sense to admit when the stats are against me or when the stats support my claims. This Sunday people will see how much the Saints utilize Bush based on the history of stats .
I've heard the talking heads and forum fanatics echo this one stat: the Saints are 7-3 without Bush. That's not bad and at first glance that looks pretty good. Here's the kicker though, sometimes stats need to be compared to other stats in order to stand fireproof. Here are some stats to look at. They show what really happened over the last 3 seasons when the Saints were without Reggie:
GAMES WITHOUT REGGIE BUSH
| | | | | |
| --- | --- | --- | --- | --- |
| 2007 | TEAM PLAYED | OPP.TEAM'S RECORD | RESULT | SCORE |
| | ATLANTA | 4-12 | SAINTS WIN | 34-14 |
| | | | | |
| | ARIZONA | 8-8 | SAINTS WIN | 31-24 |
| | | | | |
| | PHILADELPHIA | 8-8 | SAINTS LOSE | 23-38 |
| | | | | |
| | CHICAGO | 7-9 | SAINTS LOSE | 25-33 |
| | | | | |
| | | | | |
| 2008 | ATLANTA | 11-5 | SAINTS LOSE | 20-34 |
| | | | | |
| | KANSAS CITY | 2-14 | SAINTS WIN | 30-20 |
| | | | | |
| | GREEN BAY | 6-10 | SAINTS WIN | 51-29 |
| | | | | |
| | SAN DIEGO | 8-8 | SAINTS WIN | 37-32 |
| | | | | |
| 2009 | TAMPA BAY | 9-7 | SAINTS WIN | 38-7 |
| | | | | |
| | NEW ENGLAND | 11-5 | SAINTS WIN | 38-17 |
If you look at the wins, with the exception of New England and Tampa last season, none of the teams had a plus.500 record. Not to mention the overall record of the teams the Saints played over the last three seasons without Bush is 74–86. Very telling if you ask me. Sure, I'm a little bias one may say. But the reality is, I watch the games (the ones they show, I live in Los Angeles) and I see about 10 plays a game where Bush comes out of the flats. Drew Brees looks his way, defenders bite, but then he quickly throws it elsewhere to Marques Colston, Jeremy Shockey or someone for a nice gain.
Or I'll see Reggie lined up as receiver in a bunch formation and yet Pierre Thomas gets the ball for a nice gain of yards. I also wonder if when they are in the I-formation and Thomas is in the backfield if the defense is more inclined to think run, especially on 1st and 10, in which those deep play-actions to Devery Henderson or Robert Meachum tend to work.
Jon Gruden said some interesting things during and after the Saints last game on Monday Night Football against the San Francisco 49ers. After Bush got hurt, Gruden mentioned how he talked to Sean Payton. Payton said Bush is one of the most important parts in helping the Saints do what they do offensively. I agree.
Sure, he's getting paid $8 million dollars while averaging around 10 carries a game (if not less) but he's worth it if you watch the film. Did you see him shake the heck out of Patrick Willis? What about the few times he had two defenders on him and took them out of the play merely by being a decoy. Gruden said something to the tune of how he didn't care what you called Bush, a decoy or a third-down back. Without him the Saints offensive has to work harder to do what they do.
The Saints are going to struggle with the Falcons. I wouldn't be surprised if they lost. I have to give them a loss somewhere and I think this might be one of them. The running game hasn't popped off yet and Brees has been kind of flat. Not to say I don't think he'll get it back. I think he will this game but I just have a feeling the Falcons are going to be tougher than we think.
This article is
What is the duplicate article?
Why is this article offensive?
Where is this article plagiarized from?
Why is this article poorly edited?

New Orleans Saints: Like this team?