Stanford vs. Notre Dame Football: Live Blog, Stats, Analysis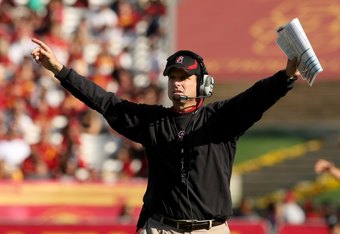 Stephen Dunn/Getty Images
Featured Columnist Dan Scofeld here, live blogging the much anticipated matchup between the visiting Stanford Cardinals and the Notre Dame Fighting Irish.
The 16th-ranked Cardinal are a team on the rise under Jim Harbaugh, and are looking to put the Irish in the ground with a win today. Coming off yet another last-second, heartbreaker, Brian Kelly and his team need a win to remain in the picture.
Join me as we hit on everything from the second coming of Crist to Harbaugh's popping blood vessels to the Flyin' Hawaiian of Manti Te'o.
On the other hand, Notre Dame has a ways to go before getting back to where they want to be. Brian Kelly looks very uncomfortable already, and a fire needs to be lit under this team. It feels too much like the seasons of Weis for improvements to be visible. A terrible loss for the Irish today.
Stanford is a very good football team. They may have been very good with Toby Gearhart in the backfield in 2009, but this team is going to win a ton of games this season. Don't expect them to falter whatsoever, Harbaugh is a fantastic coach.
Notre Dame finally with a touchdown, Crist to Riddick. A successful two-point conversation and the Irish are still behind 35-14.
Somewhere in heaven, Knute Rockne is weeping.
The alma mater is going to be an interesting scene in South Bend today.
Crist to a Stanford linebacker for 6, Stanford up 34-6 with 8 minutes left to play. Kelly looking blank at his playcalling sheets and showing signs of the Weisian stare.
Stanford punches it in for another score and a two-point conversation, 27-6.
Te'o with 18 tackles on the day. What would be the score without him?
Failed 4th down conversation for Notre Dame. Stanford ball with 13 and change to play.
Forget Harbaugh's clipboard, the entire nation needs to feel bad for the beating Dayne Crist is taking today.
Notre Dame's only offense makes his way off the field with an injury. Looks like a left leg injury for No. 5.
First Stanford punt of the game comes with a minute remaining in the 3rd.. and sends the ball back to Notre Dame's 2-yard line. That about sums up the play of Stanford today.
No excuses, but these referres are really calling an unfair game. Notre Dame is beating themselves, but the Pac-10 crew is terrible.
Elsewhere, Manti Te'o continues to conquer mankind.
Interception No. 2 for Luck. 3rd turnover on the day for Stanford.
Here come the Irish.
Things starting to get even worse for the Irish. A poor pass, sack, followed by an anemic punt by Ben Turk leads to Stanford ball once again.
Luck is a very good quarterback and will be a first round pick in the next draft. However, is this guy really a future No. 1 pick? According to some-- yes.
Whitaker again. Stanford 19, Notre Dame 6.
Notre Dame is going to struggle all year long without safety depth. With that said, the starters aren't playing like starters in the first place.
Okay, new question this week.
Mike Mayock or Tom Hammond?
Stanford completely controlling the line of scrimmage in the first half. If they keep it up, this game will be over by the time the fourth quarter rolls around. Kelly will need to make adjustments if he wants to have a shot at a victory here.
Whitaker again for 3, a perfect 3-3 on the day thus far. The Cardinal up 16-6 heading into the second half and will receive to start the 3rd quarter.
An interception for Notre Dame off a deflection, taking points off the board for Stanford near the end of the first half. Irish ball with a minute and change left in the 2nd.
Not only does the Irish defensive line look very shaky, but the offensive line does as well. Not a good recipe for success.
13-6 Stanford on yet another successful field goal. The touchdowns and flashy plays are being saved for the second half so keep those seatbelts tightened.
Does anyone else feel terrible for Harbaugh's clipboard?
Notre Dame's defensive woes today lie solely on the defensive front seven. No pressure and very little run stoppage.
This article is
What is the duplicate article?
Why is this article offensive?
Where is this article plagiarized from?
Why is this article poorly edited?

Notre Dame Football: Like this team?