Lesnar To Lashley: Pro Wrestling's Shameful and Successful In MMA (Video)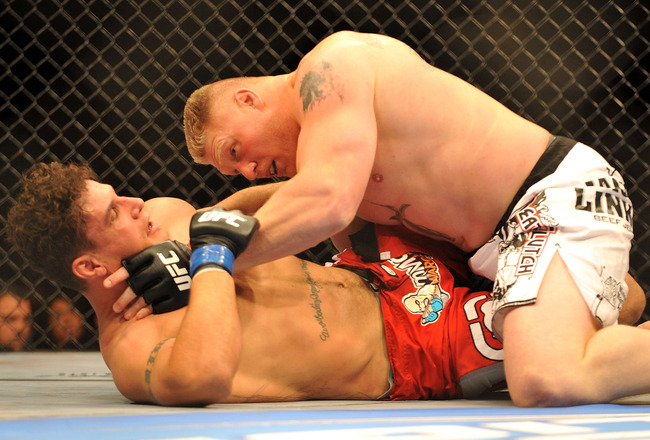 Jon Kopaloff/Getty Images
There is a vast array of comparisons to be made between MMA and professional wrestling. Musclebound tough guys beating each other up, in ring rivalries developing, crazy owners and executives with big mouths and money to spare, etc.
With the similarities so evident, it was inevitable that people begin bouncing from sport to sport. With talks of the WWE's Dave Batista making the jump to MMA, I began to wonder, "Haven't I seen this happen before?" Oh, and indeed I have; we all have. From Kazuyuki Fujita to Don Frye, there is a deep history of pro-wrestlers in MMA and vice versa.
These men's primary objective in life have been to satiate society's longing for violence and competition. In their quest to do so, some have triumphed while others have stumbled. This list shows the best of both world's.
From the WWE to the UFC, TNA to Strikeforce, NJPW to DREAM, and every other combination you can muster up, we'll take a look at who was the best, who was the worst, and who we completely forgot about.
The Ones Who Made It Part 1

Lesnar's first bout against Min-Soo Kim

I thought I'd get this one out of the way quickly.
This man has done it all. He's feuded with the Undertaker. He's feuded with Frank Mir. He's beaten up Jeff Hardy. He's beaten up Randy Couture. He's landed flat on his head in the middle of Wrestlemania. He's almost died from diverticulitis. The guy has a big heart, a big mouth, and a big skill set.
In his short tenure in the UFC, Brock Lesnar has already shaken the world of mixed martial arts to it's core. With wins over Frank Mir, Heath Herring, Randy Couture and most recently Shane Carwin. It looks like this former WWE champion is here to stay.
For your viewing pleasure: Brock's first fight in K-1
The Ones Who Made It Part 2

A Tribute to the World's Most Dangerous Man

Long before Ken Shamrock was flying half way around the world to get his shins blasted and his brains splattered courtesy of Pedro Rizzo, he was tearing up the world of MMA. With victories over Bas Rutten, Masakatsu Funaki, Kimo Leopoldo, and Dan Severn, Ken was not a man to be toyed with. Then in 1997 he made the jump to professional wrestling.
Whether it be in MMA or pro wrestling, Ken Shamrock has had a storied career. From beating down Dwayne "The Rock" Johnson to his induction into the UFC Hall of Fame, fans from both sports will always have fond memories of The World's Most Dangerous Man
For your viewing pleasure: A tribute to Ken Shamrock's glory days
The Ones Who Made It Part 3

Kazushi Sakuraba At His Best

The man. The myth. The Gracie Hunter. Kazushi Sakuraba!
Oh yes, before Kazushi Sakuraba was cartwheeling, butt-spanking, and arm-breaking his way through the Pride Fighting Championship he was indeed a professional wrestler. Trained by wrestling great Billy Robinson, Sakuraba never reached the same pinnacle of success as many of his other UWFI peers. He bounced his way around lower to midcard status for most of his career, but all that changed once the man that would become The Gracie Hunter left the pro wrestling circuit for mixed martial arts.
Bringing with him the flare of professional wrestling, Sakuraba comes to the ring adorned in a mask with a laser show to boot. Don't let this fool you though. This man can fight. With victories over Ken Shamrock, Royce Gracie, Carlos Newton, Kevin Randleman, Renzo Gracie, Vitor Belfort, Ken Shamrock and Quinton Jackson (Yes THAT Quinton Jackson) Kazushi Sakuraba is more than a pro wrestler, and in many ways more than a mixed martial artist.
For your viewing pleasure: The Best of Kazushi Sakuraba
Punching Bags and The Men Who Punched Them Part 1
Remember when everybody was saying that Bobby Lashley was going to be the next Brock Lesnar? Remember when he said he could take on Alistair Overeem? Remember when Chad Griggs violently thrashed him at Strikeforce: Houston?
Bobby Lashley was praised for his achievements in amateur wrestling, his physique, and his early fights in MMA against the likes of Bob Sapp and Wes Sims. However, once he met up with Chad Griggs all the praise started to fizzle out. Notably gassed in the late stages of round 2 and badly cut, Griggs hammered away at Lashley who simply held tight to his leg. Unable to continue, the fight was stopped and the hype train was derailed.
For you viewing pleasure: Bobby Lashley vs. Chad Griggs at Strikeforce: Houston
Punching Bags and The Men Who Punched Them Part 2
Lucha Libre is a beloved institution throughout Mexico and many other parts of central and South America. Who doesn't love watching men in Halloween masks do three spins and a backflip before executing a horribly positioned armbar? People who hate happiness that's who!
How does this play into MMA however? Well, I'm glad you asked. I'd like to introduce Dos Caras Jr.
Dos Caras Jr. had hopes of making it big in MMA and pro-wrestling. In order to do this he did what any logical man with a 4-2 MMA record against low level competition would do; he answered an open challenge issued by none other than Mirko Cro Cop.
No words can effectively sum up how well Caras Jr. did in his Pride debut, but I'll try. After stalking the Croatian around the ring for a few seconds Caras Jr. launched at Cro Cop and landed an amazing dropkick, followed by a powerbomb that set up the inevitable. Caras Jr. then ascended to the top rope and landed a shooting star press for the victory! Wait a minute...wrong match.
Long story short, this fight gives enough evidence to prove Cro Cop was serious when he said, "Left leg cemetary"
For your viewing pleasure: Dos Caras Jr. vs. Mirko Cro Cop at Pride Busido 1 (Fight begins at 3:30)
Punching Bags and The Men Who Punched Them Part 3
Not many fans of today's pro-wrestling scene remember Sean O'haire, but he was a promising rising star around the dawn of the New Millennium. He's been in the ring with everybody from DDP to the Undertaker to Eddie Guerrero and even held a couple of tag team championships in his time. Though never a big star, he was big enough to fill a few seats for Pride 32: Real Deal.
In his first two fights, he looked as promising in MMA as he did in pro-wrestling after defeating English football player turned mixed martial artist, Tony Towers and Shungo Oyama, who despite having a losing record held a win over Renzo Gracie. He fell short against, Min-Soo Kim, but a fight against Eric Esch (aka Butterbean) was sure to put him back on track.
After all the hype and build up the fight began, and what a back and forth epic this fight was! Oh and by the way, by back and forth epic I mean, Butterbean epicly bouncing O'Haire's head off of his fist for a TKO stoppage 29 seconds into round 1.
For your viewing pleasure: Esch vs. O'Haire from Pride 32 (Fight begins at 5:47)
Punching Bags and The Men Who Punched Them Part 4
In the world of Japanese professional wrestling, few men hold the same regard as Yuji Nagata. Under the banner of Japan's largest organization, the NJPW, he has taken out some of the sport's greatest competitors. Whether he be wrestling Kensuke Sasaki, Kurt Angle, or the Ultimo Dragon, Nagata's various submission holds and suplex variations helped him come out victorious more often then not.
So, given his apparent grappling and submission prowess somebody came up with the great idea to toss him into an MMA match. After losing his first fight to Mirko Cro Cop by way of head kick in 21 seconds, an even better idea came about. Toss him in the ring with none other than Fedor Emelianenko!
To put it simply: Nagata needs to fire his manager.
For your viewing pleasure: Yuji Nagata vs Fedor Emelianenko from Inoki Bom-Ba-Ye 2003
The Ones We Forgot About Part 1
When most hear the name Frank Trigg they think about his amazing UFC rivalry with former welterweight champion Matt Hughes. What they don't think about is his not-so-amazing TNA rivalry with AJ Styles.
TNA thought it would be a good idea to launch a storyline based off how Kurt Angle and Trigg kind of look alike. This of course bloomed into one of the worst ideas in the history of professional wrestling. You'd think for a guy who talks so much trash in real life, Trigg would easily able to put on the act and dish out some grade A trash talking for TNA. Too bad Trigg was just about as bad at that as he is against defending rear naked chokes.
After a couple of months of pointless feuding and other stuff that made no sense (as most of us have come to expect out of TNA any way), Trigg was ready to take on AJ Styles. Did they have a legitimate MMA fight? Nope. Did they have a staged wrestling match? Nope. They had a staged MMA match-up. Needless to say it sucked terribly and TNA was dropped Trigg from the roster much like the UFC did.
For your viewing pleasure: One of the only things mildly entertaining Frank Trigg did in TNA
The Ones We Forgot Part 2
Dan Severn is one of MMA's true legends and with a record of 97-16-7 to prove it. He's beaten Paul Buenetello, Ken Shamrock, Oleg Takatarov, Forrest Griffin, Wes Sims, and at 52 years of age is the oldest fighter to come out of the UFC's early days to still actively compete.
Some how, this same man who has fought 120 fights over the course, found the time to squeeze professional wrestling into his repertoire. The amazing thing about it though, was that Severn was pretty darn successful at it too. To this day he holds the record for the fourth longest combined title reign in NWA history. That might not sound like a big deal, but considering the three men ahead of him are Lou Thesz, Ric Flair, and Harley Race, you better believe it's a big deal.
He also had a fair amount of success in the WWE (then WWF) in the mid to late 90s where he would embark on a memorable feud with Owen Hart which ended with his neck being legitimately injured during a piledriver attempt. The best part about his WWF tenure? His 1998 match against the most electrifying man in sports entertainment! I think you know who I'm talking about.
For your viewing pleasure: Dwayne "The Rock" Johnson vs. Dan Severn at King of the Ring 1998
The Ones We Forgot About Part 3
For the most part, the guys on this list have become well known for their involvement in both MMA and pro-wrestling. Even if it is just the image of them being demolished on some highlight reel, people remember what they've done. However, this last pick's only MMA fight is one almost nobody knows about let alone seen.
Scott "Bam Bam" Bigelow, was beloved by wrestling fans world wide. Weighing in at almost 400 pounds never stopped this heavyweight from dashing all about the ring executing cartwheels, moonsaults, diving headbutts, front flips, and flying kicks like he weighed 150 pounds.
In his only MMA appearance, Bam Bam was paired against well known UFC fighter Kimo Leopoldo. The fight was generally uneventful, as Kimo dominated Bam Bam from start to finish and ended the fight by rear naked choke in just over 2 minutes. However, what this fight lacked in competitiveness it made up for in sheer randomness. I have no idea why Bam Bam Bigelow was in Japan fighting Kimo Leopoldo, but I do know it is most certainly the most obscure case of a pro-wrestler competing against a decent mixed martial artist that I've ever come across.
For your viewing pleasure: Bam Bam Bigelow vs. Kimo Leopoldo
The One Nobody Will Ever Forget
If you've never watched Don Frye vs. Yoshihiro Takayama then you need to get to it. In 100 years when people talk about slugfests this will be the fight they talk about.
Both of these men have made waves in the Japanese wrestling circuit and MMA. Frye as a champion mixed martial artist turned pro-wrestler, and Takayama a pro-wrestler turned mixed martial artist. Don't let Takayama's inexperience or win-less record fool you, he gave Don Frye a run for his money in one of the best fights in the history of MMA.
For your viewing pleasure: A highlight of Frye vs. Takayama from Pride 21: Demolition
In Conclusion...
Is it a good thing to see fighters jumping between both sports? Is it a bad thing? In my opinion I think it's a little of both. In some cases we end up with fighters like Brock Lesnar, who turn the world on its head. In other cases we end up with some poor guy in a mask getting the brains knocked out of his head.
Maybe the showmanship of professional wrestling and the competitive realities of MMA can one day find a happy medium (other than Pancrase). Maybe we'll see Chuck Liddell clotheslining the Undertaker, maybe we'll see a figure four leglock in the octagon, or maybe we'll just take enjoyment out of the rare occasions where worlds collide and entertainment is born.
For your viewing pleasure: Love him or hate him, you have to admit that Brock Lesnar can be a funny guy
Keep Reading