Five Minnesota Timberwolves Players Whose Careers are Mirrored in the EPL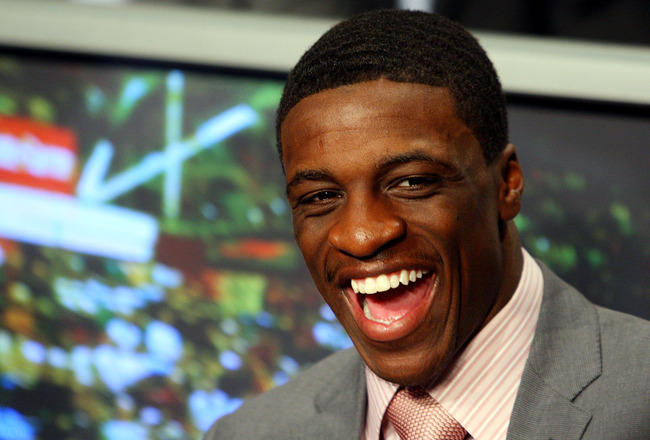 Jim McIsaac/Getty Images
Although the NBA's Minnesota Timberwolves may not have their Premier League Wayne Rooney or Cesc Fabregas just yet, comparisons with the game that those crazy Brits play on the other side of the pond can definitely be made with the current crop of Timberwolves.
I've taken who I am anticipating to be the starting five for the Timberwolves, and after a lot of thinking, come up with their Premier League counterparts. Enjoy!
Darko Milicic – Nikola Zigic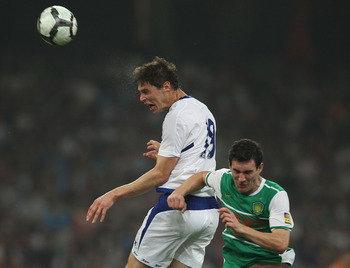 Adam Pretty/Getty Images
As there is no draft system in the Premier League, it's hard to replicate the "draft bust" scenario which has tainted Milicic's career, but there is one player with similar qualities who had massive potential, but never capitalised on it, and like Milicic, he's also Serbian.
Center Forward Nikola Zigic is one of the tallest players in top class professional football, hitting his head on ceilings at a massive 6'7.5'', or 2.02 metres. While he doesn't come close to Milicic's height of 7', or 2.13 metres, in comparison to most footballers Zigic's height is comparable to Manute Bol.
Zigic had a high scoring start to his career at several clubs, and impressed scouts enough to bring him to Russia (which we can compare to college basketball), which gave him the platform to eventually move to Spain (which is of a far better standard). He had a solid season at Racing Santander, convincing Valencia (a very prestigious club) to part with the equivalent to roughly $30 million – which you could say is the equivalent to a second choice pick.
In three seasons, Zigic played just 28 games for Valencia (out of more than 100) and was even loaned back to Racing Santander. In the summer of 2010 he joined the settled Premiership team Birmingham for a far more modest, but still expensive fee of just under $10 million. Here he is not first choice, but has the potential to be a major threat for Birmingham, his fourth club in just four years. The Midwestern team with an empty trophy cabinet (still talking about Birmingham) need to get the best out of Zigic, and his skill set means that there is a high possibility of him at least being able to do a job there.
Similarly, the Timberwolves signed Milicic to arguably an expensive contract ($4 million a year) where they are hoping to finally get the best out of the much travelled Milicic.
Kevin Love – Joe Hart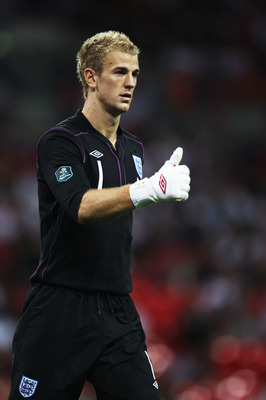 Bryn Lennon/Getty Images
These players may both share romantic surnames, but they have so much more in common.
Both are outstanding young players, and been destined for greatness for some time now. But both have found, in a similar way, that success does not come easy.
Joe Hart was signed for Manchester City in 2006 from Shrewsbury. He had come to their attention representing England under 19s – a year after joining Manchester City he would make the step up to the England under 21s team. He was very highly rated at Shrewsbury, and even made the "Team of the Division" in 2005/2006. It's worth noting that footballers don't tend to hit their peak until their mid-twenties, goalkeepers often not until their thirties. Joe Hart was still a teenager.
Kevin Love was brought to the Timberwolves in the 2008 draft with the fifth pick, in a trade with the Memphis Grizzlies. He was very impressive in his college career at UCLA, becoming a first-team All-American, Pac-10 Freshman and the Player of the Year. In his first two NBA years, despite showing a penchant for getting double-doubles, he played largely as a back up to the more experienced Al Jefferson, one of the players acquired in the infamous Kevin Garnett debacle of a trade.
Despite being regarded as England's future goalkeeper for years to come, he couldn't get into the Manchester City team. Irishman Shay Given, who Manchester City had signed from Newcastle (where the Brown Ale is from) was a domineering presence in-between the sticks for Manchester City, and was definitely not willing to give up his position to a young upstart. But Hart needed experience, and impressed again, spending the season on loan at Birmingham, where he won plaudits and was voted Birmingham's Player of the Year. He was also voted into the PFA team of the year, following in the footsteps of men like Edwin van der Sar, Petr Cech, Shay Given – and even impressive Americans like Brad Friedel and Tim Howard.
This season the fate of both of these players has taken a massive turn around. Following Jefferson's move to the Jazz, and a strong FIBA tournament, Love is the favourite to start the season at his power forward position. It remains to be seen whether he will share it with Michael Beasley, but indications are that B-Easy will adapt his game and position to play small forward.
Hart started the first game of the season as Manchester City's first choice. He undoubtedly deserves it. Shay Given has occupied the bench and the manager, Roberto Mancini, has made it clear he is allowed to go out on loan. Hart is also now considered England's number one goalkeeper, and it's likely he will be for the next ten or fifteen years.
Michael Beasley – Darren Bent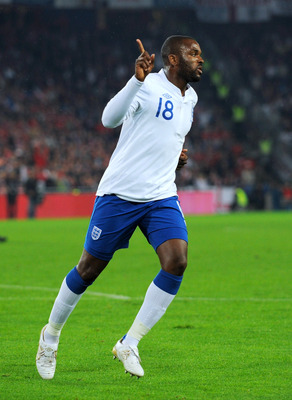 Michael Regan/Getty Images
It would be very easy to focus on some Premiership footballer's experience with drugs and compare him to Michael Beasley, but that would be unfair on him. He's a saint compared to many of the Premier League's footballers. He's come to Minnesota, seeking redemption and a second chance, after his career at the Miami Heat didn't go as planned. He should look at Darren Bent's eventual fate if he ever loses the inspiration to make that turnaround.
Bent's rises in fame and fortune started like many other footballers. His career started at Ipswich Town, where even at a young age, he was comfortably one of their better players, and very dangerous in front of goal. This forced Charlton to buy him, and again, he was very potent in goal. He was almost their sole goal threat, and despite his heroics, they were relegated from their Premier League in 2007. So far so good, but this is where everything began to go wrong for Bent.
It was obvious that a player like Darren Bent was far too good for the Championship (that's the league below the Premier League, we can compare it to college basketball for the sake of comparison) and the bigger clubs began to sniff about. In the same summer that Arsenal sold their superstar striker Thierry Henry for about $24 million, Tottenham (their biggest rivals) signed Darren Bent for an almost identical figure – which you could argue is equivalent to a second choice draft pick. Bent could play, but he was no Henry, and the mocking instantly began. Tottenham had outrageously overpaid (something Tottenham have a habit of doing) for Bent. Despite being prolific in front of goal, he was rarely given a chance – Tottenham had over compensated in the forward position. $24 million is too expensive for a substitute.
The final straw came when Bent missed an easy chance, and the Tottenham manager openly criticised him in front of the press, mockingly saying his wife could have scored the chance. That summer he was sold to Sunderland, a team considered worse than Tottenham.
In his first season at Sunderland, Bent was fantastic. He scored 24 goals in 38 league games, including a goal against Tottenham, which made him the second highest scoring English player in the Premier League. Despite this, he was overlooked by Fabio Capello for the World Cup but he has since played and scored for England against Switzerland.
If Beasley can come close to emulating the turn around that Bent has managed, he will be a fine player for the Timberwolves.
Wesley Johnson – Gael Kakuta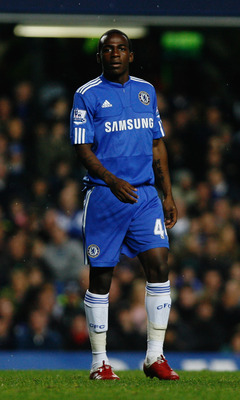 Paul Gilham/Getty Images
After strong performances on the wing for Syracuse, the Timberwolves picked up Johnson with the fourth pick in the 2010 draft. The Timberwolves were unfortunate to only get the fourth pick, having had the second worst record in the NBA. John Wall, Evan Turner and Derrick Favors were obvious choices at one, two and three, but some sections of the media and basketball fans are deriding the Timberwolves for taking Johnson over the fifth pick DeMarcus Cousins, who went to Kentucky.
Johnson is showing that he is a mature, and will fit in perfectly with the Timberwolves athletic triangle offense. The main issue the Timberwolves' scouts had was no doubt Cousins' bad mood and destructive atmosphere – which could ruin any chances of winning momentum this young team has of building. Only time will tell if the Timberwolves made the right choice, but for now all the talking should be done on the basketball court. Players don't need this kind of onus hanging over them before they've laced up their shoes for their first game.
Gael Kakuta's story is worse, and indicates the depths even the big clubs will go to sign young players cheaply. Still only 19, the talented Frenchman joined Lens in 1999, before being scouted and moving to Chelsea in 2007. But in September 2009, it emerged there had been some foul play in the way Chelsea had signed Kakuta, and FIFA announced he would be banned for four month and directly fined over a $1 million. Chelsea were also to be banned from making any transfers for over a year. Chelsea had allegedly convinced Kakuta to break his contract with Lens, making him a free agent.
In the end, the Court of Arbitration for Sport cleared Chelsea and Kakuta of any wrong-doing, and Kakuta has been free to play for Chelsea when he can get into the team. But he will always be remembered as the player that Chelsea nearly sacrificed two transfer windows to sign.
Jonny Flynn – Theo Walcott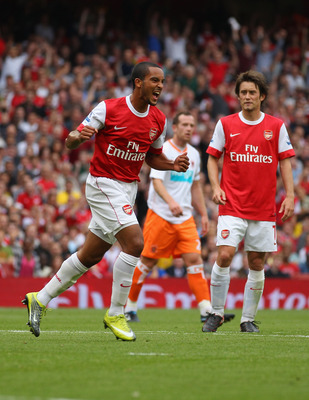 Clive Rose/Getty Images
With just a month separating their ages, Flynn and Walcott round off this list of similar players, here's hoping you've enjoyed it so far. Both Flynn and Walcott, who are both media-savvy and expert playmakers, excelled at the start of their burgeoning careers, despite being so young. Anyone who subscribes to Flynn's twitter feeds, or has read his articles in SLAM magazine knows he is far from shy. Walcott, similarly, shows intelligence and analysis in all his interviews, and is able to elaborate beyond the usual "it was a game of two halves" driveled nonsense.
In Walcott's one and only season of amateur football, he scored more than 100 goals before being snapped up by Swindon Town. He was then signed by Southampton, and this is where he first made a name for himself. In 2005, at the tender age of sixteen he started for the Southampton first team, the youngest player ever to do so. His pace set him apart, last year he was recorded at being able to run 100 meters in 9.9 seconds, and he used to devastating effect, scoring four goals in 21 games. This convinced Arsenal to make him the most expensive teenager in the world, for a maximum fee of nearly $15 million.
Flynn's story is equally impressive. In high school he averaged 26.7 points, 6 assists and 3.5 steals. At Syracuse College, he averaged 15.7 points and 5.3 assists in his freshman year, and was voted the 2009 Big East Tournament's MVP. He made himself available for the 2009 NBA Draft, and was taken sixth by the Minnesota Timberwolves, behind Ricky Rubio who was also picked by the Timberwolves, but ahead of Stephen Curry.
Since then, both players have suffered from the same problems. The Timberwolves run the triangle offense, this doesn't suit Flynn. Arsenal play Walcott on the wing, and not through the center where he is strongest. And despite being popular at their respective clubs, both players are injured right now and won't be able to feature for quite some time. Walcott's injuries have been a major factor in the failure of his Arsenal and England career launching.
But the one thing uniting both these players is the competition they have. In the year of the point guard in which Flynn was drafted, he wasn't taken first. That honour goes to Ricky Rubio, the Timberwolves Spanish starlet who fans are hoping will one day take to the court of the Target Center. In the back of his mind, he must know that when Rubio does arrive, his minutes will severely decrease. Even while he is injured, the Wolves have brought in Luke Ridnour, a man deemed to be more effective at running the triangle offence.
Despite their being more spots on the team for Walcott to play in, the Arsenal team has a lot of strength in depth. Although Walcott did have an explosive start to this season before his injury, getting four goals in three games, Arsenal have continued to win without him. And while he might have been accustomed to being the young, English starlet from Arsenal, he might have lost that title when he returns. Jack Wilshere, 18, is having a break out season and is showing maturity beyond his years.
In order to keep their places, both players, as talented as they are, will need to raise their games.
Keep Reading

Minnesota Timberwolves: Like this team?