Squared Circle: Six Reasons Why Managers Need To Be Revived In WWE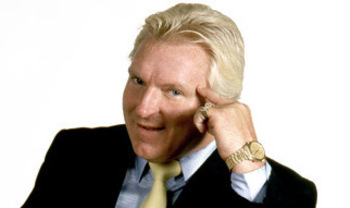 Names such as Bobby "The Brain" Heenan, Jimmy Hart and Captain Lou Albano are easily recognised within professional wrestling.
Some of us actually remember watching these men at ringside riling up the crowds while their man ran rampant in the ring.
Whilst they were never warriors of the squared circle and could never stand toe-to-toe with the likes of Hulk Hogan or The Undertaker, they were respected all the same.
It is something that has been missing, in large number, from wrestling shows over the past 10 to 15 years.
There are minor exceptions such as The Great Khali's translator Ranjin Singh or Ted DiBiase's valet Maryse but they lack a true managerial purpose.
Ironically in a company such as the WWE managers could fit into the fold easier than before because of it''s current state.
Whilst I could go on about it here I am going to list six reasons as to why managers could work in today's WWE.
6) Better Crowd Interactions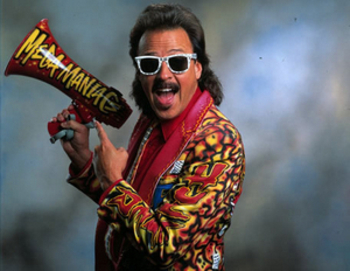 How many times have you been watching Raw, Smackdown and even PPVs where the crowd remains quiet regardless of how the action is playing out in the ring.
There is almost a complete flurry of high flying moves and impact spots to get the crowd going but sometimes they stay dead.
A manager with the right words can spark a reaction from even the most reserved of wrestling fans.
Let's face facts here, wrestling fans are some of the easiest people to verbally provoke. I swear some people are at ringside purely to start having a go at their target of hate in the business.
Someone like Jimmy Hart proved that either face of heel managers could get the people going. As a face he could get the crowd cheering the likes of Hulk Hogan.
Flip the coin and he could get you booing the likes of The Honky Tonk Man. His non-stop mega-phone banter made sure the crowd always remained active.
Yet this is only a superficial reason and thus comes in at the lowest place...
5) Easier Heat For Heels/Pops For Faces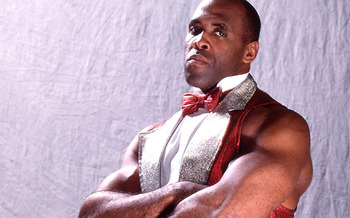 Okay I know technically Virgil wasn't a manager, but bear with me on this one since enforcers are just as important for this point.
In today's WWE when a heel wants to cheat he only has a few options and after being repeated so many times they become tiresome. After all you can only put your feet on the rope so many times before the fans begin to call it.
Adding managers means a few more tricks can be added to a heel's repertoire.
Old but reliable heat magnets such as distracting the ref when a face has a winning pin or putting the heel's foot on the rope to stop a three count are always going to provoke boos.
Then there is the abuse these guy take from faces when they have screwed them over one too many times.
Poor Virgil used to be a regular punching bag for Ted DiBiase's opponents. It allows heat for the heel to reach a certain magnitude.
It all builds up to that great moment when the face finally gets their hands on their main target.
4) Alliances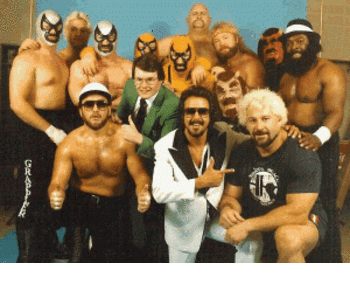 Back in the 80s if you fought a guy who was managed by Jimmy Hart or Bobby Heenan chances were that you could end up fighting a whole groups of guys managed by them.
With today's alliances rarely extending beyond tag teams and temporary agreements the run ins are something almost reserved for an enemy of a competitor currently having a match.
Managers lent a degree of unpredictability in the result of a match. Sometimes no one would interfere but it was always possible that an associate of the heel wrestler could appear. There was a high chance a face could be set to feud with several men at once.
When a wrestler feuds with a manager they can be some of the most memorable. Look at The Undertaker vs. Harvey Wippleman's entourage of stars.
Some younger stars who struggle to get over or just need that streak of matches to get the going could benefit from such feuds.
3) Easier Face/Heel Turns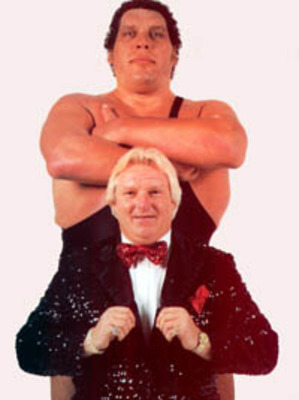 Vince McMahon knew that when Andre the Giant was going to face Hulk Hogan for the WWE Championship at WrestleMania III there was going to be a split audience.
Naturally part of the crowd would want the humongous Andre to walk away as WWE Champion instead of the Hulkster.
The answer was simple. Andre was to be made a heel. The problem was that he had been a face within the WWE for almost 14 years.
Just turning Andre heel wouldn't have been enough. It was decided he had to team with one of the most hated men in the World Wrestling Federation at the time.
Being associated with Bobby "The Brain" Heenan was enough for the crowd to turn on Andre in its entirety.
Today some of the reasons for turning heel or face are weak or poorly executed.
Sometimes all it takes it one man to promise success and fame. A man who is hated by the crowd that managed to tempt a fan favourite to their way of thinking.
It can also help a face push be instantly popular when a heel finally becomes tired of their manager and leaves them laid out after one berating too many.
2) Magic Mouths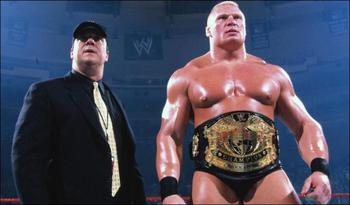 Had Paul Heyman not become the manager of Brock Lesnar, as originally intended (he was being set up as Chris Benoit's manager), the great push of 2002 may of never happened.
Whilst it was obvious Lesnar had the in-ring talent, early on his promo's were stiff and unconvincing. The voice of Heyman gave authority to what WWE wanted us to believe about "The Next Big Thing."
I think we can agree that a lack of mic skills keeps a good majority of men and women, who are good in the ring, outside of the main event picture.
Another big name of today who once had a problem with the mic is The Undertaker. This is why originally he used to say very few words in a monotonous tone.
Without Paul Bearer, it is highly likely the Deadman would have faded away during the early 90s.
Believe me some guys today could benefit from having others talking for them. John Morrison for one could easily use someone like Bobby Heenan to put him across during promos.
It would get rid of that awkward uncomfort seen in JoMo every time he is on a mic.
1) More Credibility When Pushing Certain Superstars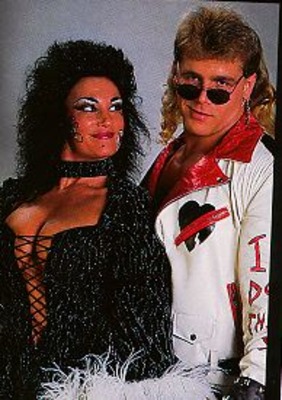 When The Rockers split up and Shawn Michaels wanted to make it as a singles star he had a huge problem.
He very rarely fought outside of the tag team and because of that reason he had no credibility in one-on-one situations. WWE needed to make us care about the future HBK.
Sherri Martel had gained the reputation of being a manager of champions. She had worked with the likes of Macho Man Randy Savage when he was WWE Champion.
Martel's reputation meant that if she was paired with Michaels it would show he had potential. Kayfabe it meant one of the best managers saw something in him. In reality it meant HBK was worth investing in.
This is a point that could not become a reality for a little while. Since there are no managers in WWE today there can be no managers of champions (unless one was brought back from the past like Jimmy Hart who is currently in TNA).
Today WWE has trouble in making us care about their young stars. It's one of the reasons push reigns are so overused.
If someone like Sheamus had a man like Paul Heyman backing him on his way to the WWE Championship maybe he could have been more convincing (of course better booking would also help).
Conclusion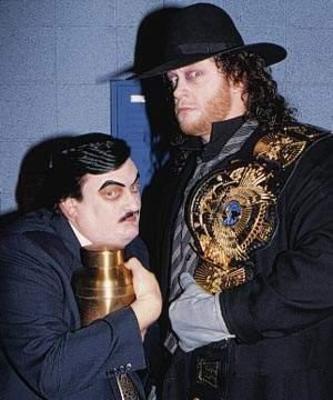 So what do you think?
Should managers return to WWE?
I personally think no harm could come from it as long as they don't over do it. It allows newer talent to be taken more seriously in the ring whilst they develop their mic skills and puts new layers on feuds.
What is your favourite manager-wrestler combination?
See you next time in Squared Circle.
Keep Reading