NCAA May Allow Losing Teams in Bowl Games: Soon Everyone Will Get a Trophy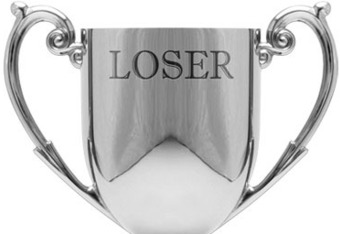 They say that money is the root of all evil, and as it turns out, it may the root of some pretty terrible football in the future as well.
It's hard not to be disappointed with the NCAA after finding out that they may allow losing teams to participate in bowl games soon. It seems like the sport is rapidly heading down the same path as many youth sporting leagues—the ones that give everybody a trophy.
Of course, in those little leagues, the idea is to spare everyone's feelings. After all, we're striving to do away with our archaic forms of negative reinforcement in this country.
This is something else entirely though, and it most certainly has nothing to do with sparing anyone's feelings. Pretty soon every college football team in the country is going to get a chance to participate in some bowl game or another, not because everyone really deserves to play in them, but because even the most low level bowl game is going to make money for somebody.
We'll start sending 1-11 teams off to distant areas of the country, or maybe even overseas, to determine which of them can muster big wins over their peers who've posted similar records. Then, we'll award each player (from both teams) with a ring or a trophy, most likely made out of aluminum. Each university will receive a check and we'll hear all about how wonderful it is that half the nation gets to end their season on a positive note.
This, of course, is the bright side of what will end up happening if college football continues down this road.
The bad part? The regular season scheduling by major programs will becoming absolutely shameful.
If we're going to have so many bowl games, that even 0-12 and 1-11 teams are able to participate, they can't exactly prohibit teams from loading their schedules with FCS opponents.
Right now, you can only count one win over an FCS opponent towards the requirement for bowl eligibility. But, if there's no minimum level of success necessary to earn a place in the post-season, then soon the rules regarding the scheduling of FCS teams will go too and teams will just start filling their out-of-conference schedules with cupcakes.
The pitiful schedules of the present, like Rutgers' out-of-conference slate last season which consisted of Howard, Florida International, Maryland, Texas Southern and Army, will soon look tough.
And what's more, you'll see today's upper-class in the BCS conferences further strengthen their grip on the rest of the country. When everyone gets to a bowl game, the differences in payout for the bowls will likely shrink. The elite bowl games will still pay out very well, but after that, it's probably a good bet that the rest of the bowls will pay similarly.
So, for the lower level teams, who don't have the resources to compete with the BCS' elite programs, where's the incentive to even try to get better? It will be gone, and consequently many programs will stop working so hard to put a great team on the field.
The coaches and the players will still give it their all, of course. The love of the game still means something on the field, and in the stands. Once you go beyond that though, to the universities and the sponsors and the BCS, it's all about money.
Now, sadly, the money seems to mean a hell of a lot more than the love of the game.
This article is
What is the duplicate article?
Why is this article offensive?
Where is this article plagiarized from?
Why is this article poorly edited?