Miami Hurricanes vs. Pittsburgh Panthers: Live Blog, Stats, and Analysis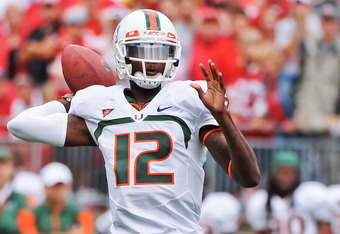 Jamie Sabau/Getty Images
Hello and welcome to my live blog! This is James Walker, National Writer for Bleacher Report, and starting at 7:30PM ET, I will kick-off with opinions, facts, and random comments regarding the "The U" and Pitt.
The game is on ESPN, so feel free to follow along and comment on what is posted. Bring your "A" game and fresh takes, and let's enjoy this great game together!
11:05PM: Thank you for all the comments and reads! Next live blog is Saturday night: Kentucky at Florida.
11:02PM: OK - let's take a look at this blood bath's statistics:
Final score: Miami 31 Pitt 3
Passing: Miami 248 yards, Pitt 104 yards
Rushing: Miami 101 yards, Pitt 114 yards
Penalties: Miami 8-78, Pitt 9-35
Turnovers: Miami 2 Pitt 3
Time of possession: Miami 27:17, Pitt 32:43
11:00PM: Does Pitt score? No. Game over. Thanks for playing, Pitt.
10:59PM: Wait! Pitt's in the red zone. Does Shannon send the first string back in?
10:57PM: Excellent - down to only 2:10 left in the game. Perhaps the refs will call the game on the basis of mercy.
10:56PM: Craig James: "He brings the wood every time he swings the axe." Shouldn't the wood already be there when you swing an axe? Must be that SMU education.
10:54PM: What does Wannstedt say in the post-game locker room speech? "We've got to get back to fundamentals!"
10:53PM: The Panthers are on the ground dead, and the Canes put another bullet in their head. Great - a mercy killing. You know its bad when an ACC team destroys you even if it's "The U".
10:52PM: The band has left the stadium. They've had enough.
10:51PM: Please, please, please Miami run out the clock. Put Pitt out of there misery.
10:49PM: Bostick: "The ball was for you, bonehead!" WR: "Oh, sorry."
10:48PM: This just in - a flag.
10:44PM: Great, Miami with an INT, but they cost themselves yards. It was fourth down. Good coaching, Shannon.
10:43PM: Another helmet and fourth down for Pitt.
10:41PM: The only good thing I've seen in this game is the Guinness commercial. Slainte!
10:36PM: Where was No. 19 in the first half? Three in a row after an initial sack.
10:35PM: New Pitt QB—same result.
10:30PM: OK, Shannon, take your foot off Wannstedt's throat. Did you really need to put Harris back in?
10:27PM: If I were in the stands, I would be heading out of the stands. Parking lot in 10 minutes my friends. This one is over.
10:26PM: Pitt is it's own worst enemy tonight. Wannstedt is still a mediocre coach; I don't care what anyone says.
10:25PM: Taking out Harris may have inspired the Panthers.
10:22PM: This game needs a MASH unit. Wow.
10:21PM: Jacory Harris is on the ground. Highsmith getting ready to come in to replace Harris.
10:17PM: Pitt puts three points on the board. No shutout. Now run the clock out, Canes.
This article is
What is the duplicate article?
Why is this article offensive?
Where is this article plagiarized from?
Why is this article poorly edited?

Miami Hurricanes Football: Like this team?