Mike Leach: 10 Reasons He'll Fail Miserably at New Mexico
Ronald Martinez/Getty Images

According to KOB-FM in Albuquerque, New Mexico, the University of New Mexico may be hiring a new football coach, and that coach just might be former Texas Tech coach Mike Leach.
Leach was terminated by Texas Tech after an incident involving his treatment of an injured player, and he has since taken up broadcasting as a college football analyst for CBS Sports.
Leach was the winningest coach in Texas Tech history (in any sport), and the 0-3 New Mexico Lobos could sure use his guidance.
Current Lobos coach Mike Locksley has a pathetic 1-14 record with the team, and he has been suspended for some questionable off-field behavior.
The University of New Mexico has not confirmed this rumor, but a coach like Leach could help to revive their football team.
However, the Lobos should proceed with caution when hiring Leach, and here's why.
Begin Slideshow

»
Current New Mexico head coach Mike Locksley's firing will have to do with more than just losing football games.
Locksley has received bad press because of a physical altercation with another coach, sexual harassment allegations, and profane outbursts against UNM student reporters.
We can't blame New Mexico for going in a different direction, but will Mike Leach really be the change the university needs?
The University of New Mexico isn't exactly a football powerhouse.
And Mike Leach isn't going to change that anytime soon.
High school recruits aren't going to want to play football for an awful team.
And they really aren't going to want to play for a coach who might lock them in a shed.
Thomas B. Shea/Getty Images

Mike Leach is not afraid to speak his mind, and that could be a good thing.
But not when he spends an entire press conference bashing officials.
In 2007, after a big game against the Texas Longhorns, Mike Leach accused officials of favoritism and incompetency. He thought that since the head official was from Austin, Texas he was showing his bias toward the Longhorns.
The Lobos need all the help they can get, and beginning a season with officials already hating you is not a good start.
That's right. Mike Leach is one of only five Division I coaches that has never played college football.
Instead, Leach was more of an intellectual when he attended BYU, and his unique offensive plays reflect his imagination.
That all sounds nice, but if you didn't play college ball, how can you relate to college players?
Now I've never played football (obviously), but you don't see me running around trying to coach.
Since Leach lost his job with Texas Tech, he has spent his time battling the university in the courtroom and providing college football analysis for CBSSports.
But he hasn't been coaching.
He has only been out of the game for about a year, but we have to imagine it will take him some time to get back into the swing of things.
Sure New Mexico could be a fresh start for Leach, but he still has to be pretty bitter about his termination from Texas Tech.
The Lobos better hope that he doesn't take this out on his team.
It will take a bunch of work for Leach to whip the Lobos into shape, but even if he does, his team will still be in the Mountain West Conference.
This means less consideration for bowl games, and he can just about kiss a national championship goodbye.
Leach has definitely burned some bridges during his career, but he really dropped the ball when he did so with Craig James.
So you want your football team to do well and earn a bunch of media exposure?
You probably shouldn't mess with ESPN.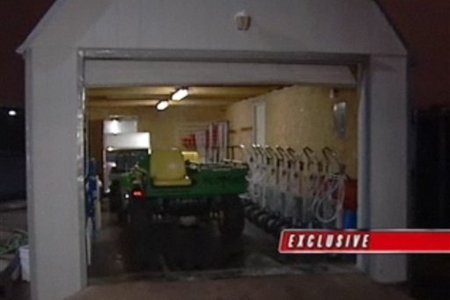 Image source: Sbnation.com
So how did Leach get on Craig James' bad side?
Well, I think it might have had something to do with how Leach dealt with James' son Adam when he suffered from a concussion.
Leach allegedly ordered Adam James to stand in a darkened garage during practice, knowing that the young man had been injured. Texas Tech suspended and ultimately fired Leach for his actions, and Leach has since filed a wrongful termination suit against the university.
Leach has stated in interviews that Adam James was "lazy and entitled" and that his father was annoyingly persistent when lobbying for his son's playing time.
I get that Adam James is probably a spoiled brat, but don't lock him in a garage!