25 Greatest Fictional Athletes of All Time
How many times have you watched a sports movie and thought, "How great would it be if that character played in real life?"
It would be awesome to get to see all the fictional athletes from some of the best and worse sports movies of all time actually play their sport in real time. How would they play? Would they be as good as they are shown in the movie? Do they stand a chance in their respective league to even achieve playing time?
This article features some of the greatest fictional athletes of all time but mainly from the movies almost everybody knows. And by greatest, I mean, the best of the best. The characters from those sport films that make you wish they were real.
Enjoy!
Begin Slideshow

»
Kenny Powers was a great athlete. If you watched the first season of Eastbound and Down on HBO then you would already have known that about him.
"When my ass was 19 years old I changed the face of Professional Baseball." - Kenny Powers
Kelly Leak was the best young baseball player I can remember from a sports film of all time. I do not recall a better outfielder at his age. He hit the pants of the ball too.
Oh and by the way, he was played by the same guy who played Freddy Krueger in the new Nightmare on Elm Street. I guess his baseball career never took off but becoming a horror icon instead is a pretty good place to fall.
Cal Noughton Jr: Shake and bake!
Ricky Bobby: What does that do? Does that blow your mind? That just happened!
Jean Girard: Is that a catchphrase or epilepsy?
From being part of the crew to becoming a Nascar legend in just a few years, there is no reason not to include Ricky Bobby on the list.
The movie might have made be a big giant joke on Nascar but it does give us a guy that knows how to drive a race car. So, for that reason, he makes this list.
On one hand, I never thought I would be putting Forrest Gump on any of my sports lists but then it occurred to me, that guy could run.
In fact, he ran himself into a college football scholarship at the University of Alabama. How can he not be considered a player on this list? I would like to move him up a few more spots but there is just too much talent ahead of him.
For 21 days, Crash Davis was in the Majors. But since then he lived in minor league hell for 12 years. But that makes him that much more valuable in the league of pretend.
He knows what it takes to hang on to a dream for so long. He never quits on the game of baseball, he just retires and moves on to possibly coaching.
Whether he would have been a good player or not is debatable. But I want him on this list as a coach.
Paul Crewe went to prison for grand theft auto and was sentenced to three years at Allenville Penitentiary in Texas.
That is how the story begins but what it doesn't explain is exactly how good he was in the NFL. They talk about some of the things he accomplished in his career during small talk here and there but they never fully discuss his career.
I have to assume that according to the reputation he has in the prison, he had to have been a Peyton Manning-type of quarterback. Now I am not saying he is Peyton, I am just saying he is similar to him, a leader that wins football games.
The steroids probably would not have helped his cause in real life nor would the attempted rape but nonetheless, Steve Lattimer inspired football players of all shapes and sizes to use intimidation as an extra skill set.
From his face painting to his car window head banging stunt, this guy was crazy but belonged in the football world. Where else would his skills be useful? The DMV?
Another football player lost to a career-ending injury. That is the title of Lance Harbor's life story. He had it all and thanks to Coach Bud Kilmer, he lost it all on one play.
If his knee had not been blown out, we might have seen Lance playing for Ohio State or Texas but we never got that chance. He left the game too early. The talent was there but the knees were not. He had a great throwing arm.
Lance was the prototypical high school All-American quarterback.
"Why you don't you just go HOME? That's your HOME! Are you too good for your HOME? ANSWER ME!"
Imagine a real life golf pro that could drive the ball over 400 yards. He would be unbeatable.
I understand that Happy Gilmore did not have a short game but with a year of training under his belt, he would come back as the best ever.
He has a talent that every golfer would love to have, a long drive.
It is another story about a true athlete playing a pretend one. The Shark is played by the greatest linebacker to ever play the game, Lawrence Taylor and he brings the same attitude.
The Shark knows he has a neck injury that could cause his death but he plays anyways. He pushes on for the money and the love of football.
I would love to see this guy on Sundays, wait a minute, I think I used to, oh no, that was another crazy lunatic named LT.
He might not be able to hit the ball 400 yards but he has the overall skill set that makes him an instant contender in the real world.
He makes the calls that most pros are too afraid to do. Instead of laying up, he goes for it. When a gut choice needs to be made, Tin Cup makes it. He has the gall to be fun to watch and let's face it, the PGA could use someone to entertain us these days.
He is a showman, a show off, and a Ricky Henderson clone. He has the base-stealing abilities that most players wished they had.
An as most of you know, he came back for another Major League flick with a stronger set of skills: the ability to hit the long ball.
To see a player named after one of the best ever in the Majors would have been a reason worth watching television.
Willie Beamen makes the list for several reasons.
He went from being a seventh round, third string quarterback to starter, in one day. He had one of the worst first games of his life and could have been sent packing but his natural Michael Vick-like abilities helped him lead his team to the Pantheon Cup Championship (Super Bowl).
He belongs here for his talent that we barely had a chance to see. When I say barely, I mean we only got to watch one season. If he was real, he would have went on to play several years breaking numerous records along the way.
WILD THING! YOU MAKE MY HEART SING!
How bad ass of an entrance was that? Talk about intimidating to opponents.
Just put aside the fact that he throws a baseball over 100 miles an hour, think about how any team would have wanted this gun in their bullpen when the time is needed.
Many people will argue this one. I almost bet that most people will hate that I included a professional wrestler in the mix but he belongs.
Robin Ramzinski, aka The Ram, was the best at what he did. He was a legend in a sport that has higher turnover than Wal-Mart. He became known for his hardcore antics and never-give-up style.
The fact that wrestling is fake should not deter you away from his passion and abilities. Whether you like it or not, wrestling is a sport and he was the best.
The easiest way to explain Rod Tidwell is to let him do all the talking:
Jerry: "I started talking to Dennis Wilburn about your re-negotiation this morning."
Rod: "Talking. Jerry Rice, Andre Reed, Chris Carter... I smoke all these fools. Yet, they are making the big sweet dollars. They are making the... quan, and you are talking."


A female boxer has no place on this list, except for Maggie Fitzgerald.
As a real person, she would have climbed to the top of the world of female boxing with ease and why? Because she wanted it more than anyone else. She worked harder than anyone around her. She never quit and knew what it took to earn a victory.
Maggie would have been such a dominant fighter that people would want to watch her go out there and get a first round TKO.
Joe Kane was such a brilliant depiction of how tough life can be for a student athlete and Heisman candidate.
After suffering through tough times dealing with alcohol, Joe gets sent to rehab. When he returned, he leads his team to a second half comeback against Georgia Tech and sends them to a major bowl game along with a conference title.
Joe represents plenty of different real life athletes but his overall talent puts him on this list.
Although Reggie Dunlop was not the best hockey player in the world, he could have been.
The movie depicted him as a player coach that was on the brink of ending his career. So we should go back to when this guy first started playing hockey. That is when he would have been the best success.
Put a guy like Reg in the NHL today and they would have kicked him out yesterday.
Any kid who can hit the cover off a baseball deserves to be on this list. I don't even care if it was a one-hit wonder and he never played again. Since Mythbusters proved that no one could knock the cover off a baseball, that makes his feat much more impressive because he did the impossible.
I understand that it is a movie but this list is all about the greatest fictional characters of all time and Benny "The Jet" Rodriguez was one of the best. In the movie he grew up to be a great baseball player so it was a no brainer anyways.
The first man to beat Rocky in the ring. The foe turned friend of the greatest fictional athlete of all time, Apollo Creed belongs on my list for the simple fact that if this were real life, he and Rocky would have dominated the sport as best friends.
They would have both won and continued to beat on each other until their bones collapsed. It would have been a match made in boxing heaven.
Ok, so maybe the guy playing the character is a real life superstar but that shouldn't affect the list. The list is about fictional sports characters and Jesus Shuttlesworth was just that, a fictional character.
That being said, if the real Jesus played in the NBA, we would have seen a more well rounded player than the streaking-shooting Ray Allen. It would have been nice to see him play in the NBA.
How does a man who only played one season of professional baseball become the second best athlete on this list?
That is easy. He was a great baseball player had it not been for some crazy woman, played by Barbara Hershey, shooting him, he would have become one of the greatest.
But since this is all fictional, we can pretend that the real life Roy Hobbs would have been a beast in the majors. His arm strength combined with his hitting makes him another Babe Ruth type.
So let's face it, Roy Hobbs is Babe Ruth without the stats.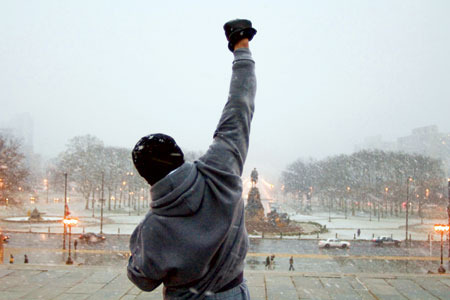 Who else should be the greatest?
There were six films created about the legendary fictional character and rightfully so. The story was too good to tell in only one film.
Rocky Balboa is the greatest fictional athlete of all time, easily.