10 Funniest YouTube Fan Reactions in Sports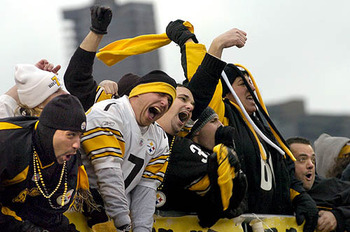 Sports are more than just athletes playing a game.
Sports evoke emotions in all of us that nothing else in the world could come close to replicating.
We all cheer on our favorite teams and athletes, but sometimes fans get carried away.
And when they do, they make some priceless YouTube videos.
Here we have a list of the ten greatest fan reactions in sports circulating around the Internet.
10. The World's Reaction to Landon Donovan's Goal
Even though soccer is pretty far down the list of the most popular sports in America, this video shows fans all over the world rallying behind the American team as they play in the World Cup.
U-S-A! U-S-A!
9. Bears Fans React to Calving Johnson Catch
These Bears fans seem certain that the call will not be in their favor.
But they are definitely in for a surprise!
8. Michigan Loses to Appalachian State
Yes, these are Ohio State fans.
Yes, they are cheering on Appalachian State.
And yes, Michigan lost.
7. Ohio Bobcats Beat Georgetown
During the most recent NCAA March Madness, the Ohio University Bobcats pulled off an upset over the Georgetown Hoyas.
I was in the midst of that mob of students that night.
The best part is:
This was during finals week.
O-U! Oh Yeah!
6. Raiders Fan Reaction To NFL Draft
This Raiders fan wanted Oakland to draft Michael Crabtree. Instead, they went with Darrius Heyward.
Enjoy.
5. Steelers Win Sixth Championship
Here we have a beautiful montage of Steelers fans reacting to Pittsburgh's sixth championship.
The guy in the vest in Tampa is the best part!
4. 2004 World Series
These Red Sox fans are celebrating as the Sox win the 2004 World Series.
Awe! Look at that cute little bromance going on with the two guys on the right.
3. Blackhawks Win Stanely Cup
Hockey fans are the greatest.
Watch these Blackhawks fans celebrate winning the Stanley Cup.
2. Booing Kevin Kolb
Eagles fans are so hard to please. First they didn't want McNabb.
Now they don't want Kevin Kolb.
1. Red Wings Fans
Here we have Red Wings fans watching in agony as the Wings lose in Game 6.
I love Detroit.
Keep Reading