The UFC comes to Conseco Fieldhouse in Indianapolis, Indiana with a card that is sure to be a betting man's nightmare. Despite the lack of a star-studded cast, this card presents fans with plenty of intriguing match-ups.
Can Cro Cop give longtime fans one more significant victory? How will Ryan Bader react to elite level opposition? Is Evan Dunham the next Lightweight contender? All of these questions will be answered on Saturday night!
I encourage you to read my breakdowns to see why I made the predictions that I made. At the end of the breakdowns, I will have my official picks listed. Thanks for reading. Enjoy the fights!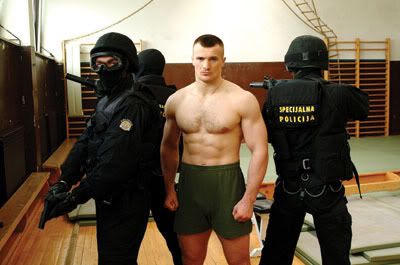 Mirko "Cro Cop" Filipovic Vs. Frank Mir
WIll this be Cro Cop's last fight in the UFC?
Key Victories :
Cro Cop (Josh Barnett, Wanderlei Silva, Aleksander Emelianenko, Mark Coleman, Igor Vovchanchyn, Kevin Randleman, Heath Herring, Kazuyuki Fujita, Kazushi Sakuraba, Ikuhisa Minowa, Hidehiko Yoshida, Pat Barry)
Mir (Brock Lesnar, Antonio Rodrigo Nogueira, Tim Sylvia, Cheick Kongo, Antoni Hardonk)
Forecast :
After being spoiled by UFC 117 and UFC 118, we come to this main event. Is this an interesting bout? Definitely. Is it worth $44.95? I'll let you be the judge of that as legendary Pride superstar Mirko Cro Cop takes on former UFC Heavyweight Champion Frank Mir.
Fighting out of Las Vegas Nevada, Mir trains with Mark Dellagrotte and Ken Hahn at Team Sityodtong. He is a black belt in BJJ and Kenpo Karate. In high school, his father encouraged him to join the wrestling team. As a senior, Mir compiled a 44-1 record and won the Nevada State Championship.
Despite the state title, BJJ has remained Mir's true passion. He earned his black belt from Ricardo Pires after defeating Tim Sylvia at UFC 48 for the Heavyweight title. The engrained image of Mir snapping Sylvia's forearm over six years ago still shakes fans to this day.
His BJJ credentials stands as the 2001 Blue Belt Pan-American Champion and 2007 NAGA Absolute Division Champion. At UFC 111, Mir was stopped in the first round after getting roughed up Street Fighter style by Shane Carwin.
Cro Cop was born in Vinkovci, Croatia. He spent four years as a member of the Croatian Parliament. The nickname, Cro Cop, is short for Croatian Cop. Cro Cop served as a member of Croatia's elite Police Special Forces, the Lucko Anti-Terrorist Unit.
In combative competition, he was the IKBF World Heavyweight Full Contact Champion, K-1 World Grand Prix Runner Up (1999, 2000), and the 2006 PrideFC Openweight Grand Prix Champion. Out of 28 wins, 21 have ended by knockout.
Cro Cop currently trains at Vos Gym. The gym is known for producing world class Kickboxers like Ivan Hippolyte, Ernesto Hoost, and Remy Bonjasky. At UFC 115, Cro Cop submitted Pat Barry in one of the friendliest fights ever seen.
Keys to Victory :
I'm going to give Mir the same advice I'm sure was given to the Ultimate Warrior before his legendary showdown with Hulk Hogan at Wrestlemania Six. Don't believe the hype! Just believe what you see.
Mir needs to pressure Cro Cop on the feet. People have come to the premature conclusion that Mir has to take this fight to the ground. In his handling of Nogueira and Kongo, Mir has shown significant strides in his boxing. There is no reason to think that he couldn't find the same success against Cro Cop.
Despite a decline in performance, Cro Cop is still a dangerous striker. Mir has to avoid circling towards his left high kick. The speed at which Cro Cop hurls his leg remains freakish and could make it a quick night for the knockout-prone Mir.
A great way to stop incoming kicks is to close the distance. Lately, Cro Cop seems really tentative and slow on the outside. Mir should be aggressive in the exchanges, cut off the octagon, and push the Croatian against the fence. As the bigger, stronger fighter, Mir should be able to have his way with Cro Cop à la Cheick Kongo style.
Cro Cop may need Clay Guida's cornerman to slap some urgency in him for this bout. This fight will be the ultimate testament of where he's at in his MMA career.
Mir will likely try to close the gap with his favored jab-straight-uppercut combination. Cro Cop has to utilize more footwork than we're accustomed to seeing if he doesn't want to get pinned against the cage.
The body may deteriorate and age, but knowledge is the one thing that always remains constant. Mir's boxing is improved, but it can't make up for the plethora of kickboxing experience Cro Cop has gained throughout his lifetime.
Cro Cop has to best Mir in the exchanges. When the distance closes, he needs to circle and try to keep the action in the center. This isn't going to be a playground scuffle like his bout with Barry. We need to see an angry and determined Cro Cop. With all of the people underestimating his chances, there is plenty to be amped up about.
Prediction :
The lore of the Croatian warrior decapitating domes off millions is a façade to newer fans. All they see is a fairy-tale, and all hardcore fans see is a shell of the man many considered the most feared striker on the planet.
Fans shouldn't count Cro Cop out completely. There is always a lingering hope that the vintage Cro Cop emerges.
I won't hold my breathe. Look for Mir to pick a sluggish Cro Cop apart on the feet. A second round mistake by the waning Croatian will lead to the guillotine finish.
Antonio Rogerio Nogueira Vs. Ryan "Darth" Bader
Key Victories :
Nogueira (Alistair Overeem, Dan Henderson, Kazuhiro Nakamura, Luiz Arthur Cane, Vladimir Matyushenko, Kazushi Sakuraba)
Bader (Keith Jardine, Eric Schafer)
Forecast :
It's rumored that the winner of this important Light Heavyweight clash will face Jon "Bones" Jones in a bout that could have title implications.
For years, Antonio Rogerio Nogueira (Lil' Nog) has competed against some of the best fighters in the world. Is Ryan Bader ready for elite level competition? The time has come to find out.
Fighting out of Gardena, California, Nogueira is a member of Team Black House along with Antonio Rodrigo Nogueira (Big Nog), Anderson Silva, Lyoto Machida, Jose Aldo, and Junior Dos Santos. He is a black belt in BJJ and judo.
Along with solid grappling, Nogueira is also a talented boxer. As an amateur boxer, he was the Brazilian Super Heavyweight Champion in 2006 and 2007. In the 2007 Pan American Games, he took home a bronze medal. At UFC 114, Nogueira barely escaped embarrassment after eking out a split decision over Jason Brilz.
Fighting out of Tempe, Arizona, Bader is a three-time PAC 10 Champion and a two-time Division I All-American at Arizona State University. He wrestled alongside C.B. Dollaway and number one Heavyweight contender, Cain Velasquez.
Formerly of Arizona Combat Sports, Bader now trains at the Lion's Den Arizona. Many remember him as the season eight winner of The Ultimate Fighter. At UFC 110, Bader secured the biggest victory of his MMA career after stopping Keith Jardine.
Keys to Victory :
Nogueira has to rectify the wrongs of his bout with Brilz. Bader will present him with similar problems on a grander scale.
We have to see improved takedown defense from Nogueira. He has to keep the bout standing and use his superior boxing to pick Bader apart on the outside. Bader is persistent with his takedowns.
Nogueira has to be scrappy in his defense and make Bader work for everything he gets. If there is a question mark surrounding Bader, it's his cardio.
On the feet, Nogueira has to watch out for Bader's haymakers. Bader isn't a technical striker, but he packs a lot of power behind his punches. Nogueira has avoid getting involved in wild exchanges.
If taken down, Nogueira needs to keep an active guard like he did against Brilz in the third round. He can't sit there and let Bader ride out time from top position.
Bader can't outbox Nogueira for three rounds. This doesn't mean he can't find success on the feet. In his KO loss to Rameau Thierry Sokoudjou, Nogueira showed vulnerability to an overly aggressive and heavy-handed striker. Bader has the ability to present a similar threat.
With that said, takedowns and top control should remain the primary objective. Nogueira shouldn't prove difficult to take down, but it will be an otherworldly challenge for Bader in keeping him down and controlling him. Unlike Jardine, Nogueira presents an offensive challenge from bottom.
Bader has to avoid getting sloppy when posturing or transitioning and watch out for sweeps and submissions. He needs to be patient and look to grind out the crafty grappler.
Prediction :
This is a tough matchup for Nogueira stylistically. Despite being young, Bader shows the rare maturity in sticking to his strengths. He is an explosive wrestler who will constantly hunt for takedowns and top control. Nogueira doesn't have the defensive skill set to stop the shot.
The fight will all come down to what Nogueira is able to do from bottom.
If Nogueira is somehow able to stop the shot, Bader could find himself in serious trouble. I just don't see the fight going that way. Barring a late submission rally, Bader will put on a wrestling clinic and grind out the unanimous decision.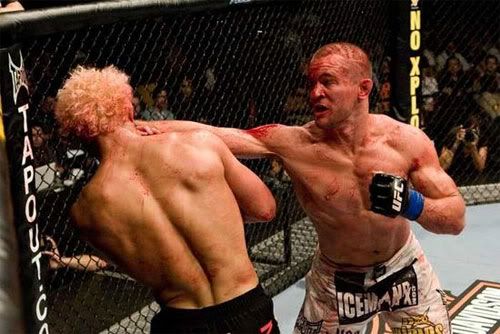 Chris "Lights Out" Lytle Vs. Matt "The Terror" Serra
Key Victories :
Lytle (Kazuo Misaki, Aaron Riley, Pat Healy, Paul Taylor, Kevin Burns, Matt Brown)
Serra (Georges St. Pierre, Chris Lytle, Frank Trigg, Yves Edwards)
Forecast :
In the rematch of the TUF 4 finals, Chris Lytle will try to avenge his controversial split decision loss to Matt Serra.
After defeating Lytle, Serra was awarded an opportunity to challenge Georges St. Pierre for the Welterweight title. In one of the greatest upsets in MMA history, Serra took the title from St. Pierre at UFC 69 by first round TKO stoppage.
This has to make Chris Lytle wonder about a reverse of fate. What if he got the opportunity against St. Pierre instead of Serra?
Born in Indianapolis, Indiana, Lytle trains at the Integrated Fighting Academy. His style consists of boxing, BJJ (black belt), and wrestling. He has finished 19 of his 29 victories by submission.
Throughout his UFC career, Lytle has earned seven fight bonuses including four Fight of the Nights, two Submission of the Nights, and a Knockout of the Night.
At UFC 116, he submitted Matt Brown in the second round with an armbar.
Fighting out of East Meadow, New York, Serra is a 2nd degree black belt in BJJ. He trains at Serra Jiu-Jitsu. His grappling credentials includes a silver medal at the 2001 ADCC World Submission Wrestling Championships, a CBJJ shared title, and a Pan-American Championship.
At UFC 109, Serra crushed Frank Trigg in Knockout of the Night fashion by first round stoppage.
Keys to Victory :
Lytle has to let his hands go in this fight. I know Serra is a lovable guy, but Lytle can't afford to waste significant time stalemated in the clinch. Serra is a little fireball during exchanges.
He's wobbled the likes of Georges St. Pierre, Matt Hughes, Frank Trigg, and Karo Parisyan. Lytle is the more proficient boxer, but he'll have to beware of Serra's missiles.
If the bout strikes even on the feet, it would prove wise for Lytle to mix things up by seeking the takedown. Despite struggling in Serra's guard the first time around, he could really leave a good impression on the judges if he's able to take Serra down.
Lytle may have a sturdy chin, but Serra should still test the standup. He has the power to hurt Lytle and put this fight away early. Lytle has the tendency to get baited in unnecessary exchanges with willing opponents. Serra needs to draw Lytle in the pocket and fire off hooks and overhands.
If he finds himself losing the exchanges, Serra should take the long-term directive of clinching Lytle against the fence and working for takedowns. He has to realize that winning the fight outweighs being exciting, and he can't become a bobblehead for the crowd's amusement.
Prediction :
I don't foresee any finishes in this one. Lytle has never been knocked out or submitted, and Serra has only been stopped by Georges St. Pierre and a crazy spinning back fist from Shonie Carter. As exciting as both guys are, their similarities enabled them to shut down each other's offense and caused a lot of stalemating at the TUF 4 Finale.
I expect this fight to take a similar route. Serra will hang strong in the exchanges and win the clinch wars. A takedown or two will be all that's needed to hand "The Terror" the majority decision.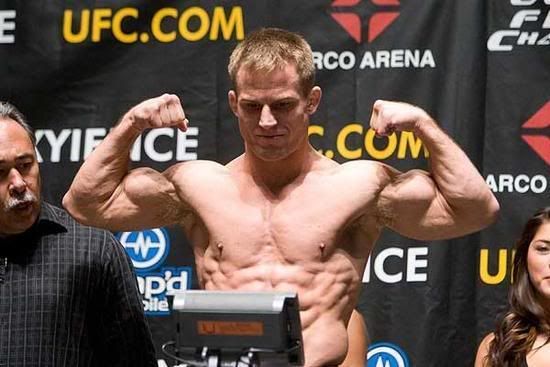 Evan "3-D" Dunham Vs. "The Muscle Shark" Sean Sherk
Key Victories :
Dunham (Tyson Griffin, Efrain Escudero, Marcus Aurelio)
Sherk (Tyson Griffin, Kenny Florian, Karo Parisyan, Nick Diaz, Hermes Franca, Benji Radach, Manvel Gamburyan)
Forecast :
Forget the T.Ocho Show. This fight is in "3-D"! Grab a soda and popcorn baby because rising star Evan Dunham is taking on former UFC Lightweight Champion Sean Sherk…Whoop!
If Chris Berman was an MMA commentator, this would be his pitch on Saturday MMA Countdown…ok moving on…
Fighting out of Las Vegas, Nevada, Evan Dunham trains at Xtreme Couture and Throwdown Training Center. He's constantly surrounded by guys like Randy Couture, Forrest Griffin, Gray Maynard, and Tyson Griffin.
As a black belt in BJJ, the majority of Dunham's victories have come by submission. At UFC 115, he fought and defeated fellow Xtreme Couture teammate, Tyson Griffin.
Dunham is currently undefeated in his professional MMA career.
Fighting out of Oak Grove, Minnesota, Sean Sherk trains at Minnesota Martial Arts Academy with Brock Lesnar, Brock Larson, and Jacob Volkmann. He has competed against the best in the world and contended for titles at both Welterweight and Lightweight.
While competing in Pride, Japanese fans nicknamed him "Muscle Shark" due to his short and hulking frame.
It's been over a year since Sherk last competed. Constant injuries have forced Sherk to pull out of his last three proposed bouts. At UFC 98, he lost a unanimous decision to current UFC Lightweight Champion, Frankie Edgar.
Keys to Victory :
Depending on which Sherk shows up, Dunham may be forced to defend some takedowns. Sherk has an explosive shot and strong base from top. If taken down, Dunham could find himself in trouble. Sherk's small, muscular frame makes him incredibly difficult to submit and control from bottom.
Dunham has to force the grappling on his terms. He needs to use his reach to work Sherk with one-twos and look to grab the takedown. On the ground, he'll have to be careful during transitions to keep Sherk from scrambling free.
During exchanges, Dunham has to avoid telegraphing his kicks and giving up easy takedowns. The outcome of this fight will be determined by the ability to secure and defend takedowns.
Sherk can't allow himself to turn into Jorge Gurgel. What happened to the aggressive wrestler hell-bent on going for takedowns? It's time to ignore the boos and do what must be done to ensure a prosperous UFC future.
Sherk needs to use his boxing to setup his shot. I'm not talking a couple of shots either. We need to see the Sherk of old relentlessly seeking takedowns. Dunham is an incredible BJJ player. Sherk has to be careful when working from top.
The deathtrap for wrestlers against Dunham is the body triangle. Dunham is snakelike in securing back control. If Sherk wishes to avoid the same situations that frustrated Griffin, he can't allow Dunham to take his back.
Prediction :
This should be a very competitive bout. Dunham is a serious contender with a bright future ahead of him in the UFC, but Sherk is the more desperate fighter.
With all of the injuries and inconsistencies, Sherk may be on the chopping block in this bout. I wouldn't be surprised if the UFC releases him from his contract should he lose at UFC 119.
I expect to see a vintage Sean Sherk performance. He'll look for more takedowns and try to control from top. It'll be a tough fight, but Sherk will take home the split decision.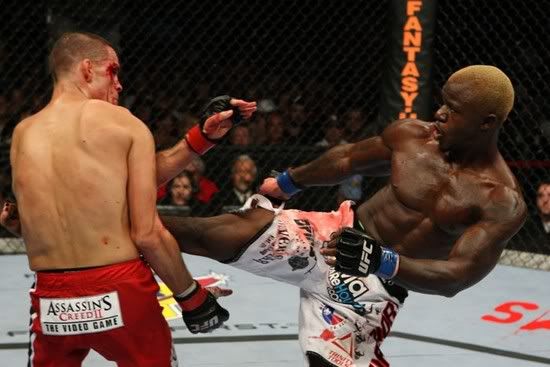 Melvin "The Young Assassin" Guillard Vs. Jeremy "Lil Heathen" Stephens
Key Victories :
Guillard (Marcus Davis, Gleison Tibau, Dennis Siver, Rob Emerson, Gabe Ruediger)
Stephens (Sam Stout, Rafael Dos Anjos, Cole Miller)
Forecast :
Fighting out of Albuquerque, New Mexico, Melvin Guillard trains at Jackson's MMA. The popular camp includes fighters like Georges St. Pierre, Rashad Evans, Nate Marquardt, and Jon Jones. Guillard is a blue belt in BJJ and a brown belt in judo. He has ended 14 bouts by knockout.
At UFC 114, he stopped Waylon Lowe in the first round with a devastating knee to the body.
Jeremy Stephens fights out of The Arena Team in San Diego, California. He began his amateur career at the age of 16 and started training full-time at 18. The majority of his victories have come by knockout (13).
In his past two fights, Stephens has earned fight bonuses. At UFC 113, he defeated Sam Stout by split decision. The bout earned Fight of the Night honors.
Keys to Victory :
We all know what Guillard offers on the feet. He isn't the most technical striker, but he possesses the ability to explode in the pocket with powerful strikes that deliver highlight-worthy finishes.
Despite his standup abilities, Guillard is a vastly underrated wrestler. If the exchanges aren't going his way, it'll be interesting to see if he changes levels and shoots for takedowns.
On the feet, Guillard has to avoid getting caught overreaching. Stephens has a nasty right that can ruffle the best of chins. We need to see a more mature Guillard in this bout. He'll have to be patient and use every tool at his disposal.
With Greg Jackson in Guillard's corner, Stephens had better be prepared to defend takedowns. Jackson is a mastermind at formulating gameplans and exposing weaknesses. Stephens can't go into the bout blind and bank on a slugfest.
Guillard may be explosive, but he has shown definitive holes in his boxing defense. He tends to leave his hands low and keep his head high during exchanges. Stephens needs to be aggressive and try to take advantage of these mistakes.
If taken down, Stephens should stay calm and find an opening to scramble. Guillard's top control is a huge question mark in regards to his grappling.
Prediction :
This bout should generate enough standup explosions to keep the "Just Bleed" fans going for weeks. The fireworks won't last long. Guillard will get dropped early and revert to wrestling out of desperation. Stephens's inability to defend the shot will be his downfall as Guillard takes the split decision.
Official Picks
Frank Mir By Round 2 Guillotine Choke
Ryan Bader By Unanimous Decision
Matt Serra By Majority Decision
Sean Sherk By Split Decision
Melvin Guillard By Split Decision