Toronto Maple Leafs vs. Ottawa Senators: Live Blog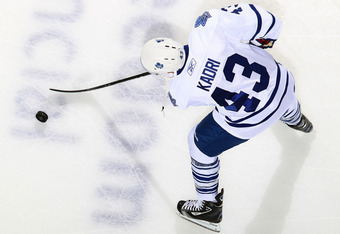 Claus Andersen/Getty Images
Welcome to the Toronto Maple Leafs vs. Ottawa Senators live blog!
Tonight is game one of nine pre-season games that will be played by the Maple Leafs.
This year's pre-season begins with two home games against the Ottawa Senators before a home-and-home with the Philadelphia Flyers, two games against the Buffalo Sabres and another one against the Senators.
Thursday's game against the Flyers, however, will be played in London, Ontario. Philadelphia will play as the home team.
Youngsters Marcel Mueller and Jerry D'Amigo are expected to be in the lineup tonight, along with Mike Zigomanis, Joey Crabb, Jay Rosehill, Christian Hanson and Mike Brown.
New additions Colby Armstrong, Kris Versteeg and Brett Lebda are all expected to play as well, while Dion Phaneuf, Tomas Kaberle and Carl Gunnarson will also dress.
Nazem Kadri, who needs a great pre-season after a poor rookie camp and training camp, will centre a line consisting Versteeg and Armstrong.
Other note ables include Simon Gysbers and Matt Lashoff.
Jonas Gustavsson, meanwhile, will get the start in net, with rookie Jussi Rynnas replacing him halfway through, according to Mike Ulmer of MapleLeafs.NHL.com.
Stay tuned right here for live updates on goals, penalties and stats, beginning at 7pm eastern time.
You can contact Lukas by e-mail at lukas@gacksports.com and follow him on Twitter @lukas_nhl.
Final score tonight is 5-0 Ottawa. Follow me on Twitter @lukas_nhl for the latest news and rumors, as well as game updates. I can be contacted by e-mail at lukas@gacksports.com or lhardonk@insidehockey.com.
Mike Zigomanis of the Leafs just hit the post.
Leafs are now 3-0 in fights tonight. Hason with the win.
Gunnarsson is going off for holding. 3:00 remaining.
...as I have been tonight.
I will, in all likely hood, be doing this on Twitter tomorrow night.
I will not be doing this tomorrow, so follow me on Twitter @lukas_nhl for game updates, analysis and opinion, as well as rumors, news and notes.
5-0. Chris Kelly. This game just went from bad to ugly.
4-0 Ottawa with a power play goal. Chris Neal scored it.
Beach ball on the ice! Leafs are going to the box.
Leafs finally get out of their own end.
Leafs are 0/8 on the PP tonight.
Leafs to the PP. Too Many Men called against OTT.
Huge fight between Spencer and Brown to begin the 3rd. Brown makes the Leafs 2-0 in the fight department tonight.
Corey Locke makes it 3-0.
Leafs are now 0/7 on the power play.
Seventh PP for the Leafs.
Chris Campoli is headed to the penalty box.
Leafs are going back to the power play and taking out Gustavsson in favour of Rynnas.
Shots this period at 7-1 Toronto.
ANOTHER OTTAWA PENALTY! Leafs up 5-3 for 1:24. Carkner this time. Tripping.
This article is
What is the duplicate article?
Why is this article offensive?
Where is this article plagiarized from?
Why is this article poorly edited?

Toronto Maple Leafs: Like this team?